Now that you have optimized your Google listing, it's time to create some interactivity with customers and potential prospects. One easy way is to post to your profile through the update process. To start, simply click on the "Add Update" button.
This opens the Add Update dialog, which allows you to enter a description (up to 1,500 characters), a button of your choice, and up to 10 photos. In the example below, we are going to link to the weekly digital marketing columns at Augusta Business Daily using the Learn More button.
Click the post to submit, and the post will be added to your update if approved. See the image below for the finished product:
You have the choice of 6 different buttons to choose from for your post: Book, Order Online, Buy, Learn More, Sign Up and Call Now. If you simply want to add an update like "Happy Thanksgiving," you can choose to have no button.
Let's look at using the post to provide your customers with an opportunity to buy products or services online. To do this, start again by clicking on the Add Update button.
This time, we will add an Order Online button that will link to our website and online store, in this case, at GroupRB.com. We will post our digital marketing business package.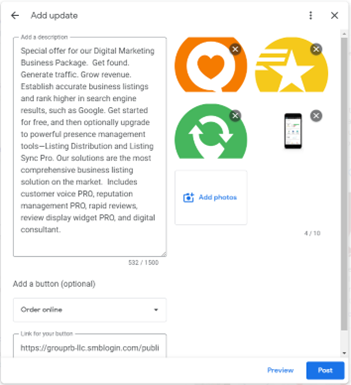 You can see the finished product here:
Tips on writing your posts
1. Keep 'em short. We are all busy and multi-tasking. If we are searching for info, we are mostly looking for quick-hit answers and not a dissertation. It's like social media, man!
2. Add some pix. Any type of graphic will generate a bit more interest – take advantage of this tool. If you are looking for great pix, check out Canva. The free version has more than enough images and photos to get you started.
3. Choose the right button for a call to action. If you want them to buy, use Order Now; if you are providing information, Learn More may be more appropriate. Know your audience.
4. Don't use hashtags. – not relevant for these posts and will do more harm than good.
5. Keep your posts business-related. This is not a social media platform. It's 100 percent business-focused, at least according to Google.
So what does it all mean?
If you have followed along the last few weeks, congratulations! You are on the right track to use your Business Profile to attract more customers.
Give yourself a pat on the back and we'll see you next week.
As always, if you want to do a complementary audit on your business to see where you stand today, you can do so at https://grouprb.com/get-your-free-online-audit-report/.
Until next time, remember that you deserve marketing that actually works.