A most unusual manufacturing company moved into Sage Mill Industrial Park in October, Central States Manufacturing, and they are already running their steel products as fast as they can.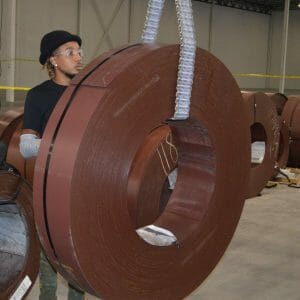 The sparkling new Graniteville plant produces metal roofing and siding panels. An observer can watch the raw materials, including 5-ton coils of steel, about a mile long, come in one end of the mammoth cave of a building, measuring 105,000 square feet, go through processing by teams of employees as they make them into exactly fitting pieces of a predesigned steel building before, then driven out the other end before it 'rolls' out onto I-20 (about two miles away).
According to Luis Ortiz, Human Resource Business Partner and one of the two top executives at the Graniteville plant, Central States made a $13 million upfront investment in the new operation.
They make metal building components and packaging and after less than a month they are already making "tons" of it around the clock. This is the 11th location, all in the United States. He pointed to a large empty space cordoned off for now saying, "That was outdoors a week ago. We are building very fast and are about to put in a second and third line of production. Things are starting up very well," he said of the immaculate steel cavern.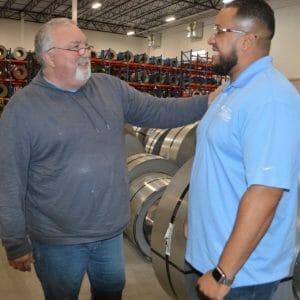 "It had better be clean!" said Rick Neeley, Ortiz's partner as GM of Operations, who had just walked up to speak with Ortiz. "That's in my territory and I'm ornery," he said in a theatrical attempt to act grumpy.
"We began operations three weeks ago," said Ortiz. "As of today, we have 43 employees and will have a full complement of 70 when we reach maximum by the beginning of the year. We direct hire, locally or through references through national employment companies, such as Indeed, Zip Recruiter, LinkedIn and Facebook. As HR director, hiring has been his main job for the first month, but it is going very well. "We are finding a good quality of applicant in this area," he said.
"We have also had tremendous support from Will Williams, director of the Aiken Economic Development Partnership.
"They have tremendous knowledge of the advantages of their area, and they bring in the resources of the state through the South Carolina Department of Commerce. They have all kinds of help for prospective industry of job recruiting and business resources available to companies, such as S.C. Works, Ready S.C. and Aiken Technical College. At Aiken Tech they tailor a training program for the skills our employees will need. Those are services we didn't get from other states," Oritz said.
"Perhaps our biggest difference from most manufacturing environments is that we are 100 percent employee-owned, an ESOP, which is an Employee Stock Ownership Plan. The company is an "S Corporation" which does not pay corporate taxes but pays profits to their employee's benefits package.
Our mission statement is "To provide well-being and financial freedom for our employees."
Forbes Magazine recently published an article they titled "The Million Dollar Driver," in which they highlighted one of Central States drivers who retired with $1.25 million in savings. It is not uncommon that an employee retires from Central States after 20 years with a million-dollar portfolio," says Ortiz.
"This is not a regular job," said Ortiz. "It is important that our employees are happy from Day One because they will become owners. This is not a job, it is a career, a career and a culture. Some of our mottos, by which we really work, are: Own It, Can Do and Act in Love."
"We are very happy with our move here," said Ortiz. "Have you seen the weather outside?" asked Ortiz.
You can reach Luis Ortiz or Rick Neeley at:
Central States Manufacturing, Inc.
4025 Central States Way, Graniteville, SC 29829
205.302.0455 Office, 210.416.3565 Cell, www.centralstatesmfg.com