Death of a technology leader in CSRA
Today's "buzz" begins with the death of a respected former journalist and successful CSRA technology business owner Jimmy Bennett.
He spent 20 years writing and editing for community newspapers in Statesboro, Eastman, Jessup and Canton. He became the editor of True Citizen newspaper in Waynesboro, GA before going into the computer business. Bennett died last week due to complications from Covid-19. My last email exchange with him showed me how much he still cared about local journalism.
"Chuck Smith has joined the growing number of legacy business owners closing their businesses and riding off into the sunset. Pratt-Dudley, Johnson Motor Co. and now Smitty's Auto Service, 85 years old. Couple of stories there. The Smiths and the whys of old line businesses just shutting down. The man is an angel is among us. Those were the last words Jimmy wrote to me.
He used to own Computer One for many years on Washington Road before selling that business and then developed a great web company called, "Southfire Media" that he eventually merged with the M3 ad agency.
The following was an excerpt posted on social media from Jimmy's Southfire/M3 colleagues. "After building his business completely from the ground up, Jimmy joined together with M3 Agency in January 2018 to form an incredibly successful partnership. Jimmy's core beliefs, dedication to customer service, and work ethic will remain a staple in our operating philosophy as we continue to manage and operate Southfire Media."
RIP Jimmy and thanks for always sharing your reporting chops with me. Yes, we did a few Smitty and Johnson Motor Company stories and hope you saw them.
The old Food Lion is in good hands
Have you seen the transformation of the old Food Lion shopping center on the corner of the Riverwatch Parkway extension and Old Evans Road—en route to Lakeside High? What was once a hidden center behind trees and kind of dingy is now fitting of its' Evans address.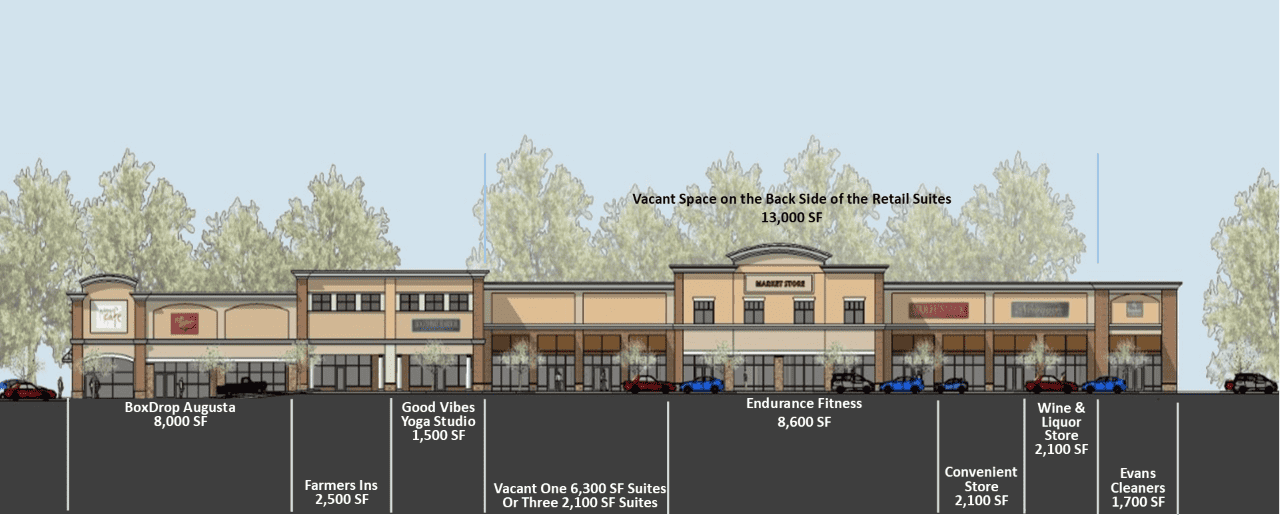 I just got word from the Beman Group/Blanchard and Calhoun Real Estate that 4,000 square feet of the old Food Lion will be taken up by an owner who will have side by side stores: SMOK'N HOT, a combination tobacco/vape/lottery/convenience store and HOT SHOT LIQUOR.
"I have 6,300 square feet left of vacant retail up front and around 13k square feet of vacant space on the back side—which could be storage/warehouse or professional," said commercial agent Scott Brantley.
Fitness Club Updates
The centerpiece of the new Riverwatch/Old Evans development is Endurance Fitness, an 8600 square foot gym owned by Amanda and Cliff Jennings, a local mortgage broker. The Jennings also own their flagship fitness center of the same name in North Augusta.
The Family "Y" is shutting its' doors this month in downtown Augusta after moving into the old National Science Center on 7th Street to make way for TaxSlayer's purchase of their building at 945 Broad Street in January 2017.
Family Y officials posted this note on its' website and sent out letters to members.
"Historically, the Downtown Y has operated at a deficit since its reopening at the original Broad Street location. When we moved the Y to the current Riverfront Y location, it continued to operate at a loss. In 2020, COVID hit and, like many other businesses and organizations that have suffered during the past two years, our YMCA association was also hit hard. Fortunately, revenue has steadily increased over the last six months at multiple locations, but our Riverfront Y has continued operating at a significant loss. For the reasons stated, it is with sincere regret to tell you that as of November 30, 2021, we will close our Riverfront YMCA.
There used to be 11 locations of the YMCA. Now nine remains open for members.
The Marshall Family Y closed a year ago off of North Belair Road in Evans and merged with the Steiner Branch in Grovetown next to the Columbia County Exhibition Center.