Editor's Note:
Wes Hennings never met a meal he walked away from and is an opinionated eater! Each Thursday, he shares the results of a business lunch he's had with a colleague as a way to advise our business community on the good, bad, and the tasty across the CSRA. He doesn't let ABD or the restaurant know where he is going and his opinions are his own. He grades the restaurants he visits on a 1-5 scale with "5" being outstanding. We call this our "Real Business Lunch Review".
Food Quality: 4
Service: 5
Business Meeting: 3
Value: 5
Average Score: 4.25 of 5

I think this week we've accomplished one of my favorite things we can do with this column, and that is to find a tasty spot to eat that you've likely never heard of, much less experienced. The Purple Hull is a non-descript metal warehouse typed building set off Atomic Road in North Augusta that shares driveways with the Barbecue Barn and would be easy to miss even if you drive this stretch regularly.
While it features the menu of a typical small-town diner (with burgers, Phillies, and even some seafood), the Purple Hull is a dressed-up hot bar for lunch. And it's certainly not fancy. But when the food tastes good and it comes at a good price, it doesn't have to be.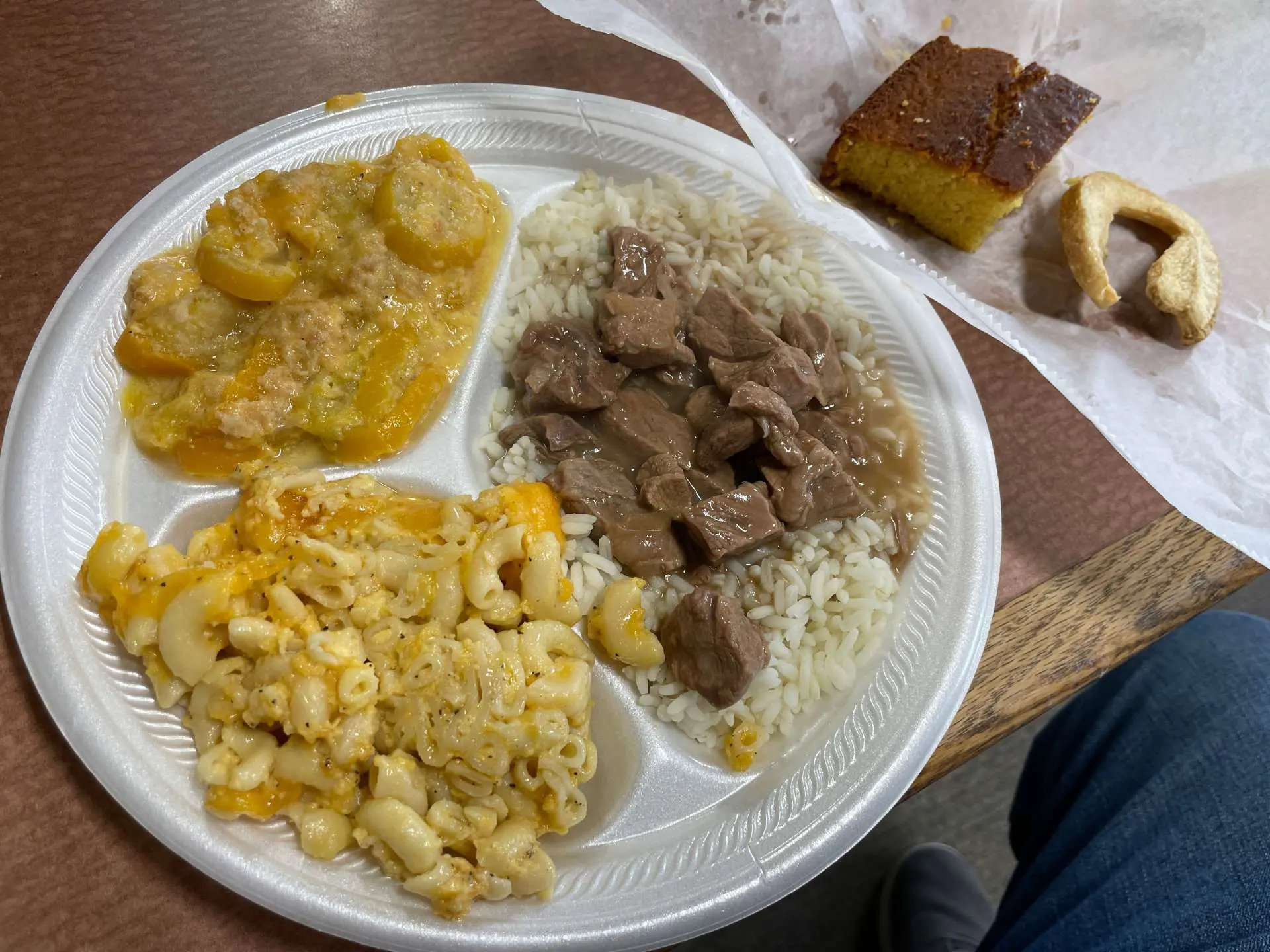 The menu when I was there was rice with either beef tips or baked chicken or grilled pork chops. I can't tell you how long it's been since I've had some beef tips and gravy over rice, so I had to partake and add mac and cheese, squash casserole, and cornbread as the sides. Yes, it was way more food than I needed at lunch, but I sacrificed and cleaned my plate anyway.
My lunch companion for the day also sacrificed to try something off the grill menu and had a burger with onion rings. While the rings were tasty, he said they were likely just average and what you'd expect to find around town, but the burger was stepped up a notch. Maybe not the best in town, but you could do much worse.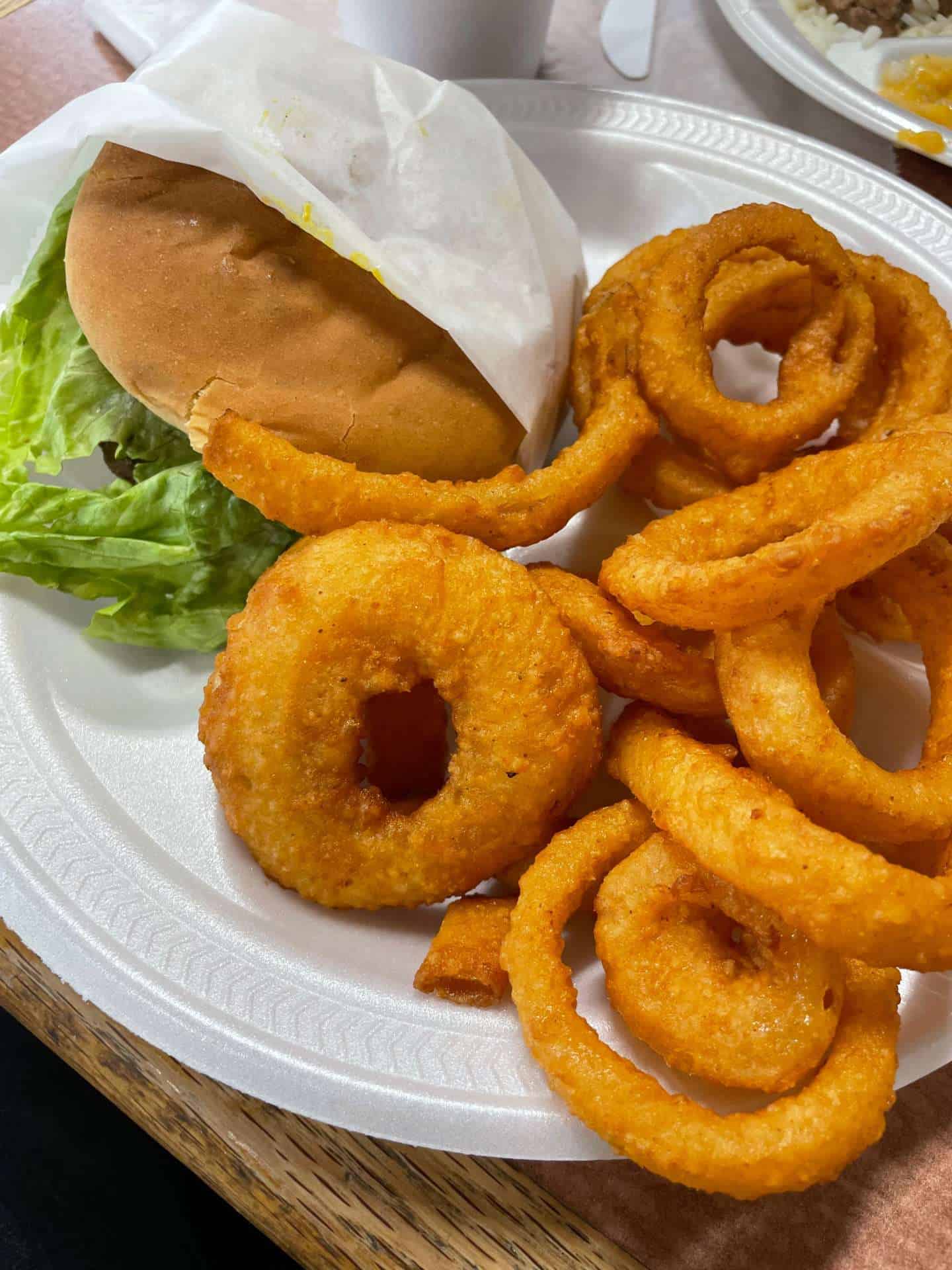 It was also one of the best values I've found around town with nearly everything at the $10 mark, and most including a drink. Perhaps, this is why even though we showed up at 11 a.m. there was already a line, including many of North Augusta's finest. I'm not sure I've ever felt as protected during a meal with about three tables of police officers in the same dining room as me. When I feel like I've found the secret that keeps some of our finest public servants nourished, I feel like I've really done something.
I was a little shocked that adding a second side dish to the plate also added $3 to the price. I feel like a meat and two sides is the standard, but it still clocked in under fifteen bucks with a drink, so I'll keep my complaining to a minimum.
You can probably gather that this is not the establishment where you would take someone to impress, but it's definitely a spot for a good meal and good conversation. I feel like they could probably experiment a bit with the flavor profile on the dishes to elevate them just a bit, but salt and pepper made it all good and made me ready to go back.
Our meal ended with the owner passing around bites of a pork ribeye he just got in stock so he could decide if it should go on the menu. I felt like I was deep in the community aspect of North Augusta, and I barely left the beaten trail. The Purple Hull is both an experience and a meal I certainly recommend.
The Purple Hull
10298 Atomic Rd B
North Augusta, SC
thepurplehullcsra.com