Editor's Note:
Wes Hennings never met a meal he walked away from and is an opinionated eater! Each Thursday he shares the results of a business lunch he's had with a colleague as a way to advise our business community on the good, bad, and tasty across the CSRA. He doesn't let ABD or the restaurant know where he is going and his opinions are his own. He grades the restaurants he visits on a 1-5 scale with "5" being outstanding. We call this our "Real Business Lunch Review".
Food Quality: 5
Service: 4
Business Meeting: 5
Value: 5
Overall Rating: 4.75 out of 5
For a business lunch in downtown Augusta, today's stop may be your best bet. I've made numerous trips to the Whiskey Bar (Kitchen) on Broad Street and, like always, this time again confirmed it's one of the best lunches in town.
At first glance, it looks like another bar with burgers, but when you really start to peruse the menu, you'll notice an Asian influence as well. It's not many places where you could choose a chili burger or katsu curry rice, but this is one of the few. Some might even call it fusion.
Just walking in, you can tell this is elevated fare, without the super-elevated price. Wooden booths and high-top tables ensure that the experience doesn't feel too pretentious, but the quality of food makes you wonder if you are having lunch or a nicer dinner out.
Most people I dine with opt for the burgers, and they are definitely some of the best in town. If you aren't down for red meat, anything can be substituted with chicken or made meat-free as well.
My lunch companion for the day opted for a chicken sandwich and maple chili as the dip for fries. This is one of those sauces that alone make it worth the visit. I had the pig sandwich, which is a nice panko-breaded pork filet with slaw and katsu on a roll. Both entrees passed with flying colors, and sweet potato fries were a hit as well.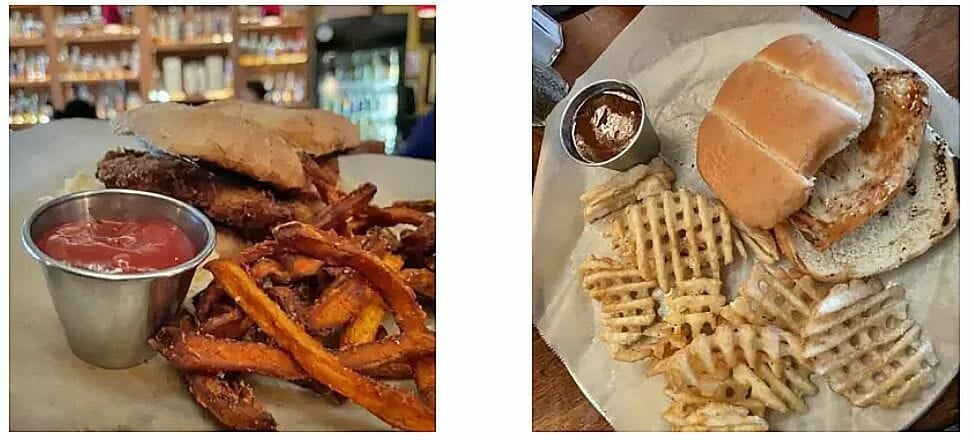 While open and somewhat loud, Whiskey Bar is definitely one of those places in Augusta I'd always consider for a business lunch. Conversation flows easily and the atmosphere is welcoming and casual.
There's usually one downside, and at WBK, it's the fact that the service speed can be very hit or miss. On some visits, you will find yourself in and out in a flash. And then there's the time that with the wait for a seat, for the food, and for the check, you would almost need a double lunch break.
However, if you have the time, and a taste for some great food, Whiskey Bar (Kitchen) is certainly an Augusta must.
Whiskey Bar (Kitchen)
1048 BROAD ST
AUGUSTA, GA 30901
whiskeybarkitchen.com
Do you enjoy and benefit from ABD's business news? If so, CLICK HERE to find out ways you can help ABD achieve and expand our mission!