Editor's Note:
Wes Hennings never met a meal he walked away from and is an opinionated eater! Each Thursday he shares the results of a business lunch he's had with a colleague as a way to advise our business community on the good, bad, and tasty across the CSRA. He doesn't let ABD or the restaurant know where he is going and his opinions are his own. He grades the restaurants he visits on a 1-5 scale with "5" being outstanding. We call this our "Real Business Lunch Review".
Food Quality: 2
Service: 3
Business Meeting: 3
Value: 1
Overall Rating: 2.25 out of 5
I possibly had a first this week. I think this is the first time in the history of this column that I couldn't finish a meal. Not because of generous portion sizes, but simply because it did not taste good at all.
So to anyone traveling over the holiday season from the Augusta Regional Airport, please don't plan on a meal at the gate, because a meal generally requires food that you would want to eat.
My wife and I had the chance to travel to Las Vegas for a conference about a week before Thanksgiving. So instead of grabbing food on the way to the airport, I thought I'd sit down at the cafe near the few gates at Augusta Regional. It's counter service, so you order your food and grab a drink, then they call your number.
I was honestly shocked at how fast my food was ready. Pimento cheese sounded like the most Augusta option available, so I decided that was where I would focus my eating prowess. After one bite, I looked at my wife and said, "This is not good."
The pimento cheese was straight from a cold container, and probably a generic one because whatever you get at Costco is much better. It was on a cold brioche bun, which was possibly good except the temperature of the bread and an overwhelming amount of pimento cheese completely overshadowed any flavor that may have been there.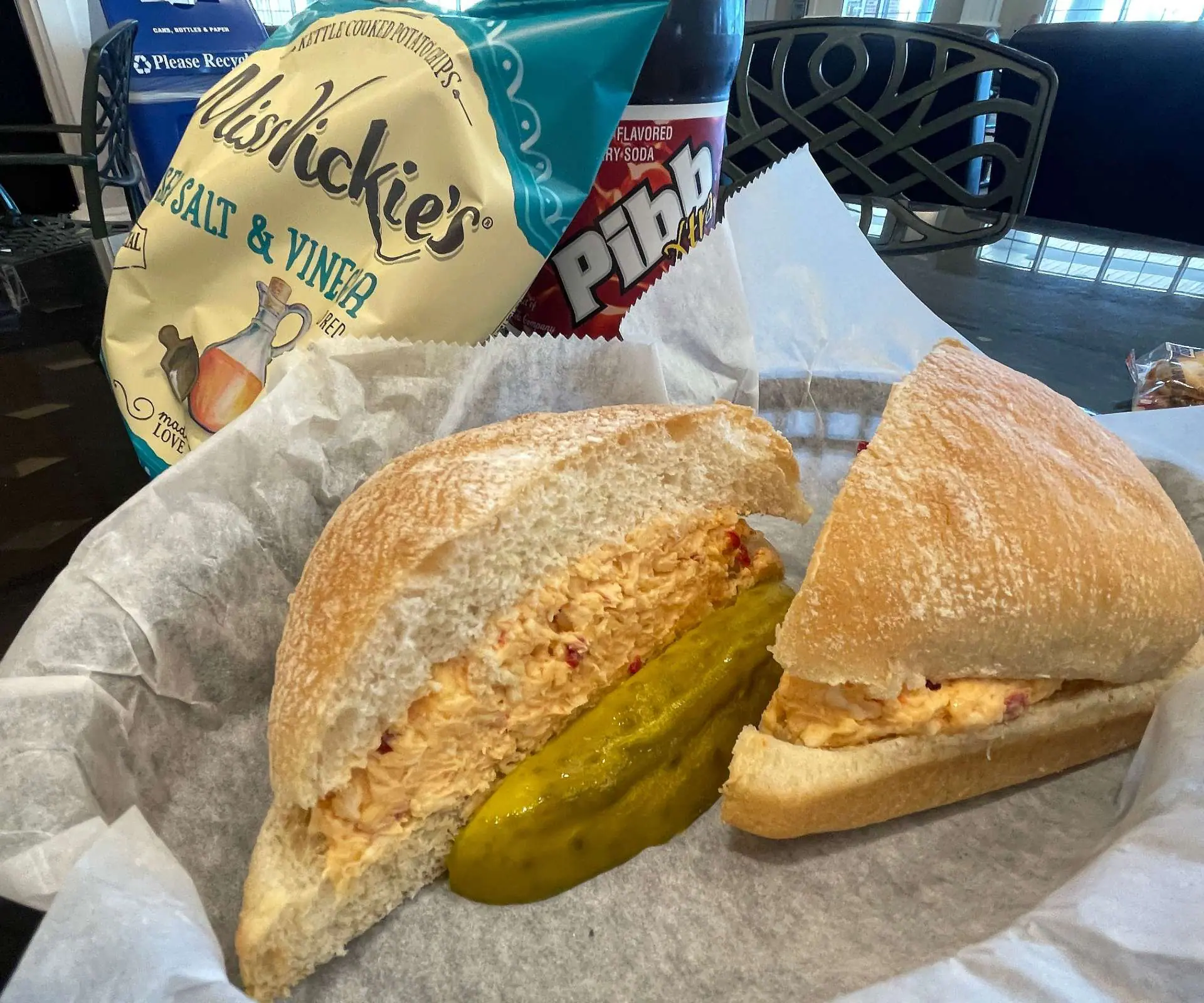 I ate half of half the sandwich and decided it simply wasn't worth it. Thank goodness I got chips along with it because that was the only thing that would pacify my hunger until we reached the Charlotte airport where there are actually decent dining options. I can't give you any credit for a bag of chips though. Drinks are also straight from the bottle.
It seems like all of the options are cold sandwiches in different varieties, like roast beef or ham. I looked around to see if I just made a bad choice, but no one seemed to particularly be enjoying their meal. Perhaps, they were and just didn't want to be in an airport.
And value? Well, any meal in a terminal will be overpriced, but to barely be edible and cost you twenty bucks for a cold sandwich – it's skyway robbery.
I feel like Augusta Regional tries hard to make itself a viable and convenient alternative to driving to the big airports. My suggestion? Add a dining option that may make people want to spend a little time in the airport before they board.
So this cafe is a hard pass. Without a captive audience and monopoly on food service, this is definitely a restaurant that would never take off.
In other news, I just wanted to say I am truly thankful for everyone who reads these musings and subscribes to ABD. I hope your holiday meals receive top marks from the people who matter most to you.
Do you enjoy and benefit from ABD's business news? If so, CLICK HERE to find out ways you can help ABD achieve and expand our mission!