Editor's Note:
Wes Hennings never met a meal he walked away from and is an opinionated eater! Each Thursday he shares the results of a business lunch he's had with a colleague as a way to advise our business community on the good, bad, and tasty across the CSRA. He doesn't let ABD or the restaurant know where he is going and his opinions are his own. He grades the restaurants he visits on a 1-5 scale with "5" being outstanding. We call this our "Real Business Lunch Review".
Food Quality: 5
Service: 5
Business Meeting: 3
Value: 5
Overall Rating: 4.5 out of 5
Today, I finally made it into one of those restaurants I've been driving past for a while, but have never been inside. Honestly, it just seemed like another chicken joint in an already crowded coup. So, how does Slim Chickens hold up against the field? Well, it may just be the mother hen.
Slim Chickens replaced PDQ on the historic corner of Washington Road and North Belair in Evans. (The other PDQ location seems to be a car lot with no cars, so I'm not sure how that works, but I digress.) PDQ was good enough for chicken and fries, but couldn't seem to get a foothold between our plethora of Chick-fil-a and Zaxby's locations. So, it took me a while to get to Slim Chickens, because I didn't know how long it would actually stick around. A little research would have shown me that this is a national chain with locations in a ton of states, but I never got that far.
Now that I've been, I hope it's here to stay, because the service and food quality definitely give it a claw up over some of the other options. The first thing you'll notice is a clean and bright atmosphere, and while I wouldn't suggest it for the suits and ties, it's a nice place to sit for lunch and a chat. Then, we were met by a very friendly counter employee who talked us through some of their options since we were new.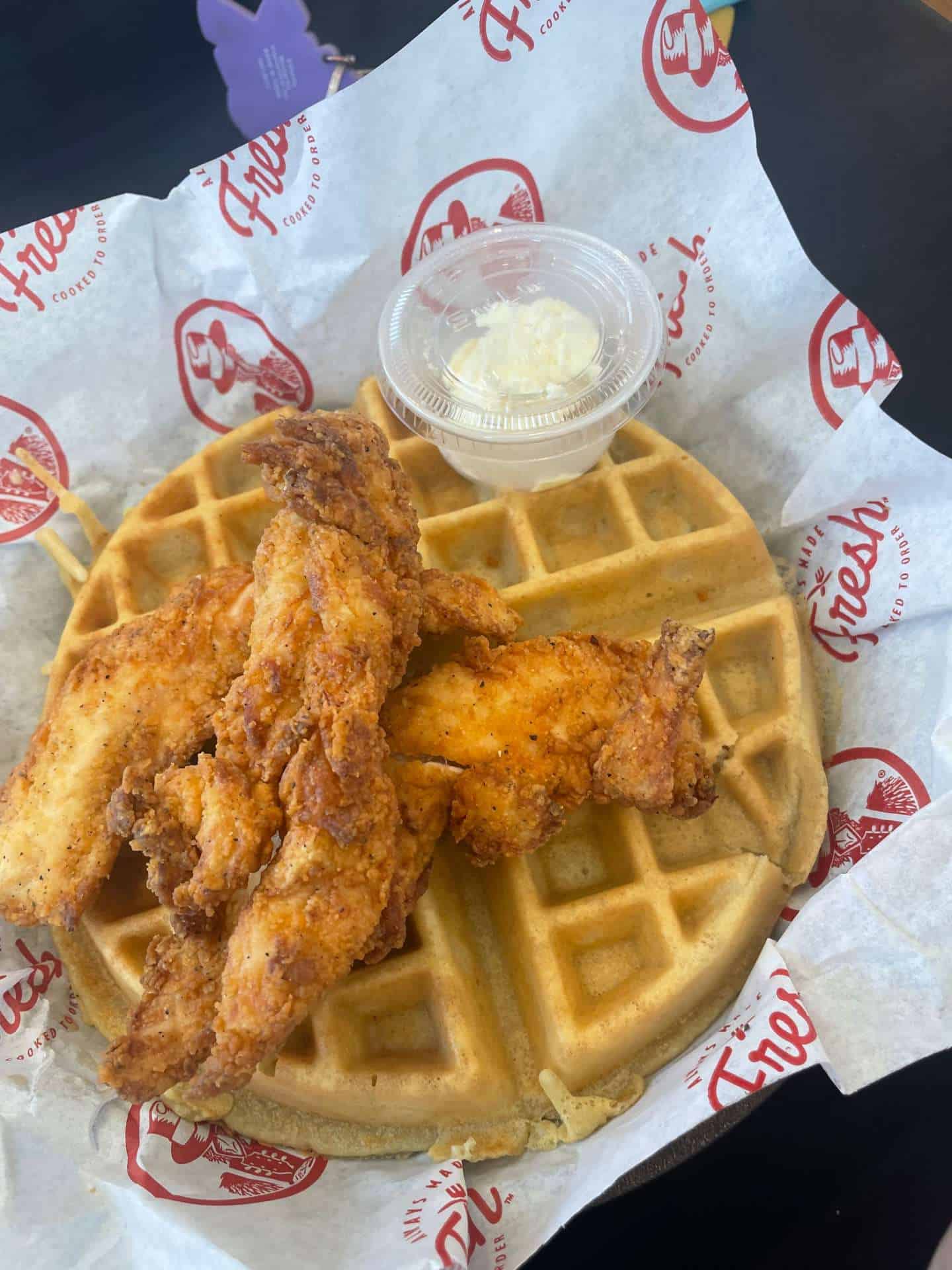 My wife is a big fan of chicken and waffles, so that's what she ordered. I decided I should probably stick with a strip basket, since that's likely the best comparison to other places. But they also have sandwiches and wraps because of course.
As we sat down and they brought the order to the table, I was expecting basically the same as everywhere else, but I was pleasantly surprised that the flavor was a notch or two above what all the other chicken places provide. It's not Mama's chicken or even as good as some of your sit-down meal experiences, but it was an unexpected lunch in a predictable market.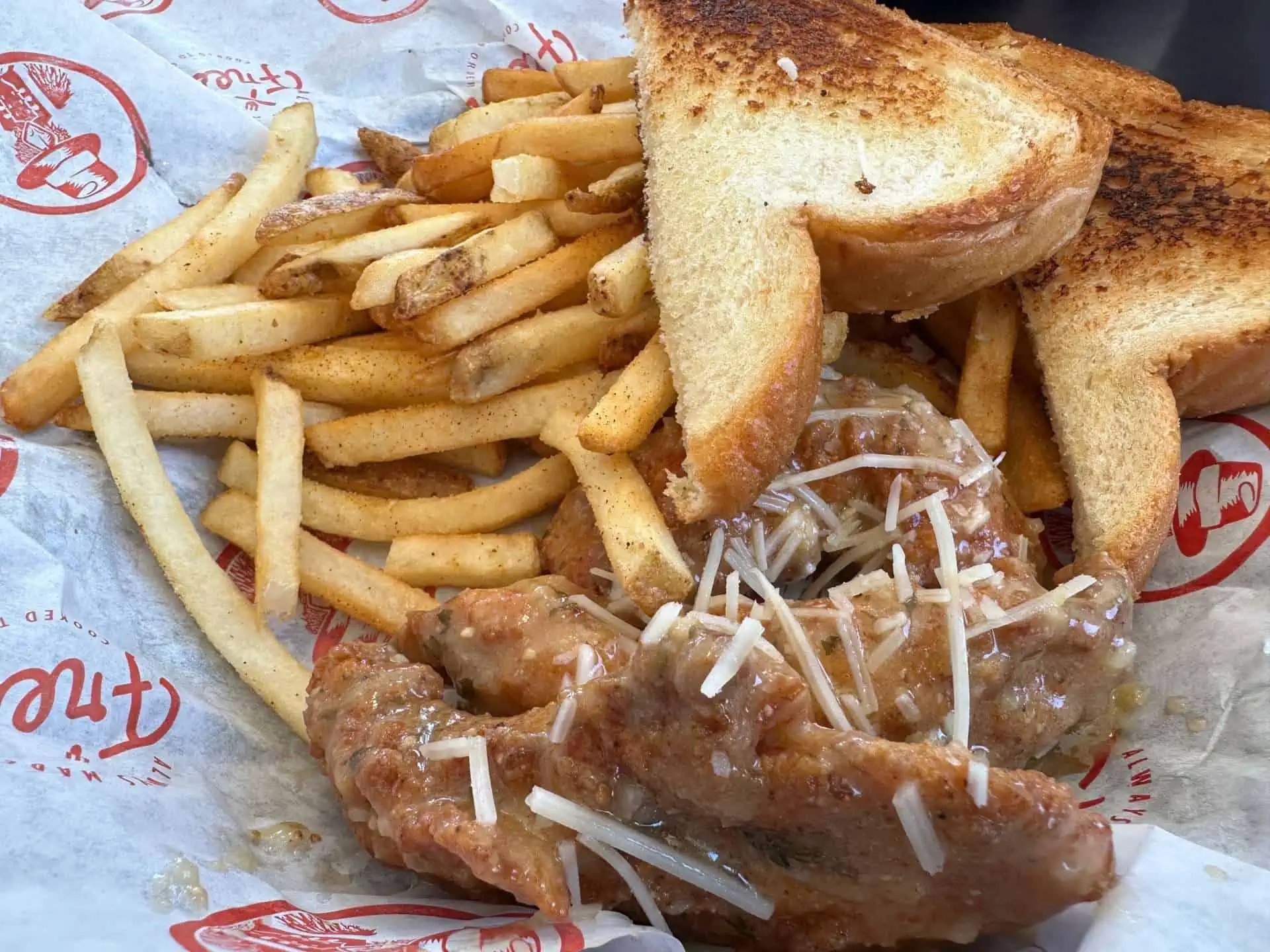 I had my tenders sauced with garlic parmesan, but I think I would have almost preferred them plain. I also caught my wife stealing my fries because they were crisp and had just a hint of seasoning. So often, seasoned fries can be overwhelmed with whatever they are doused in.
Maybe I'm overselling here. Slim Chickens is good, but not on my list of very favorites. My wife and I decided to put it on the list of options whenever we need to fight the traffic in Evans. And while I didn't think we needed another chicken place in this town, Slim Chickens is one I'm glad we have. I feel like I can't end this without another chicken pun, so we'll just say that today's eatery is one worth crossing the road to find.
Slim Chickens
4311 Washington Road
slimchickens.com