Editor's Note:
Wes Hennings never met a meal he walked away from and is an opinionated eater! Each Thursday he shares the results of a business lunch he's had with a colleague as a way to advise our business community on the good, bad and the tasty across the CSRA. He doesn't let ABD or the restaurant know where he is going and his opinions are his own. He grades the restaurants he visits on a 1-5 scale with "5" being outstanding. We call this our "Real Business Lunch Review".
Food Quality: 4
Service: 3
Business Meeting: 4
Value: 5
Average Score: 4.0 of 5
One of my first stops for this little food corner was the new(ish) Toki Jr. in North Augusta. So, this week it was time for a trip to the mothership in Evans. It's a great place to get a hibachi fix without the fun, but also the time required to watch them cook right in front of you.
Hibachi is often an event, reserved for birthday parties and business celebrations. But at Toki, it's easy to make the Japanese staples an everyday lunch. The menu diverges in two directions – hibachi dishes and sushi. So, we went both routes to give you a good feel for what you can get.
Off the sushi menu, we selected the salmon avocado roll and then on the hibachi side we went with the most popular lunch – teriyaki chicken. All hibachi lunches come with soup and salad. The soup is typical broth with one mushroom and some scallions, and the salad here never impresses as it's just lettuce and some dressing.
The chicken, vegetables and rice were all cooked well and not too crispy, as can often happen. Of course, I drown the rice in white (aka yum yum) sauce, so how could it be bad with that many calories and fat added? For around ten bucks, this will probably be your lunch with leftovers.  The value is high.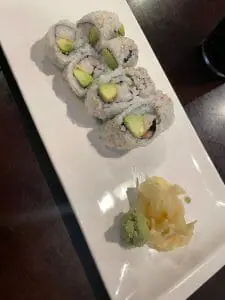 As for the sushi side, Toki is about as good as you will find in the area, but now significantly better than the other joints around town. Sushi is definitely subjective, but at Toki, it's priced fairly. The roll at this lunch was one of the less expensive, but there's an endless selection with specialty rolls, hand rolls, and sashimi.
If you want a roll and a flavor of the hibachi, there's also a bento box lunch. Sadly, that's just the California roll and white rice, so you're losing a bit of the flair from each side of the menu. But I assume it's a good way to sample it all if you're one of those who can't decide.
Toki is a great place to stop and have some lunch and satisfy those cravings for the flavors of the east. It's a cozy spot, but perfectly acceptable to chat business or catch up on gossip with friends. And if you need a hibachi hit without the time commitment, this is your spot.
Toki
362 Furys Ferry Rd. Ste 4
Martinez, GA 30907
tokijapanesesteakhouse.com