Editor's Note:
Wes Hennings never met a meal he walked away from and is an opinionated eater! Each Thursday, he shares the results of a business lunch he's had with a colleague as a way to advise our business community on the good, bad, and the tasty across the CSRA. He doesn't let ABD or the restaurant know where he is going and his opinions are his own. He grades the restaurants he visits on a 1-5 scale with "5" being outstanding. We call this our "Real Business Lunch Review".
Food Quality: 4
Service: 4
Business Meeting: 4
Value: 3
Average Score: 3.75 out of 5
I'll just start by saying it's an odd day when a boy from a very charismatic Christian upbringing finds himself walking into the World of Beer. What would my youth pastor say? However, while I'm sure the beer is great, it was the accompanying meals that we were coming for today, so let's dive into how this drink spot fares on the actual food front.
I was surprised that a place that I would expect to have largely the feel of a bar had a pretty robust menu. Of course, there were the typical bar food type appetizers, including a huge German pretzel with beer cheese, which we got for the table. It has a cool presentation where it hangs from a large hook. Sadly, our pretzel was so soft it fell off the hook, losing some of the pizazz. Our server offered to bring us another, but that would have been way too wasteful.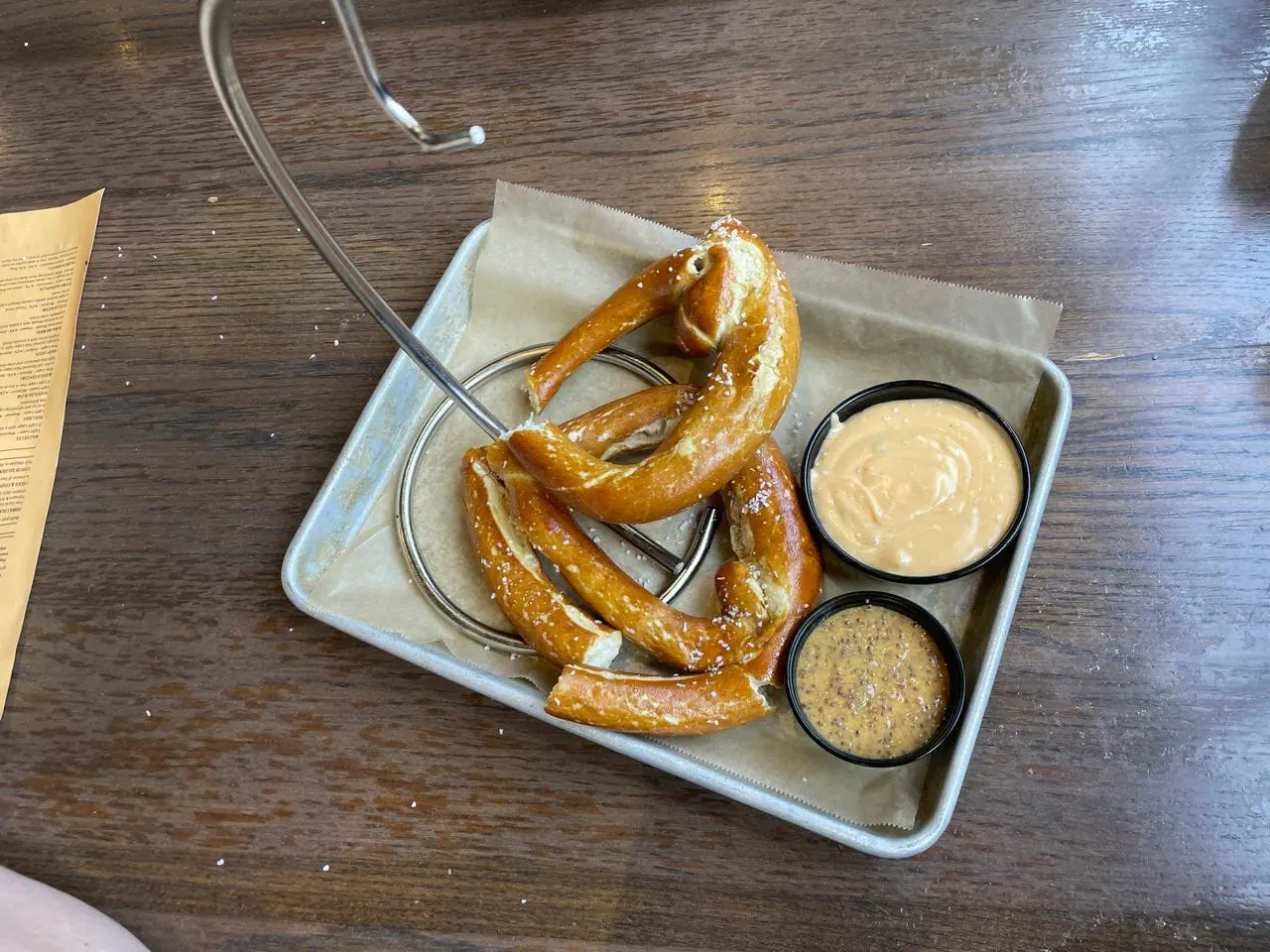 We had three diners today – my wife and I, plus a good friend. I had the Chimay Burger with mushrooms, onions, and a garlic aioli that packed an atypical level of spice. Our friend went for the French dip, which was dressed incorrectly the first time, and then way underdone upon the second arrival. He said the flavor of the dish was good, but of course, it was a less-than-stellar experience.
The burger, on the other hand, was very tasty and a definite recommend. My wife, as usual, opted for a plain chicken sandwich, which she said was fine, but I imagine would have been better coated in the buffalo sauce that it typically holds.
Our server was very polite and relatively quick. I wouldn't call it a speedy meal, but no longer than a typical lunch at any eat-in establishment. I suppose where my disappointment set in was the cost of the meal. The sandwiches are all around $15 before you add a drink. Plus, the pretzel was a true splurge at $10, and they topped it off with a $3 upcharge for the beer cheese. I would think beer cheese would be a little easier to come by at a place with a beer in the name.
It wasn't crowded, even smack dab in the middle of the lunch hour. Perhaps, people don't associate it with a middle-of-the-day dining experience. So yes, the food was good and it was a decent place to sit with people and eat, but the experience and price definitely put it in the middle of the pack of the places I would pick for a CSRA lunch.
World of Beer
2819 Washington Rd.
https://worldofbeer.com/locations/augusta/