The Augusta Metro Chamber of Commerce has honored the men who have been leading the ambitious road projects in East Central Georgia.
This is the 10th year that road projects in the Department of Transportation's District 12 have been funded by a transportation special purpose local option sales tax (T-SPLOST).
The individuals recognized were Phil Wahl, James Kendrick, Mark Ivey, Ben Tarbutton III, and James Alfriend who make up the Citizen Review Panel (CRP) that oversees progress. Assisting the panel was Don Grantham, a former GDOT board member, and former Richmond County Commissioner, Dr. Hameed Malik, Director of Engineering for Augusta-Richmond County.

Special recognition was given to Grantham by Chamber Board Chairman, Dennis Trotter. As the former District 12 board member, Grantham personally managed the 50 projects dedicated to Augusta-Richmond County.
"We extend our appreciation for the unending guidance, advocacy, and leadership provided at the state level to ensure all projects were financed to the highest level and completed or currently under completion," said Trotter.
Trotter said Malik managed and contracted the 50 projects within Augusta-Richmond County including final construction approvals for projects on Broad, Greene, and Telfair Street.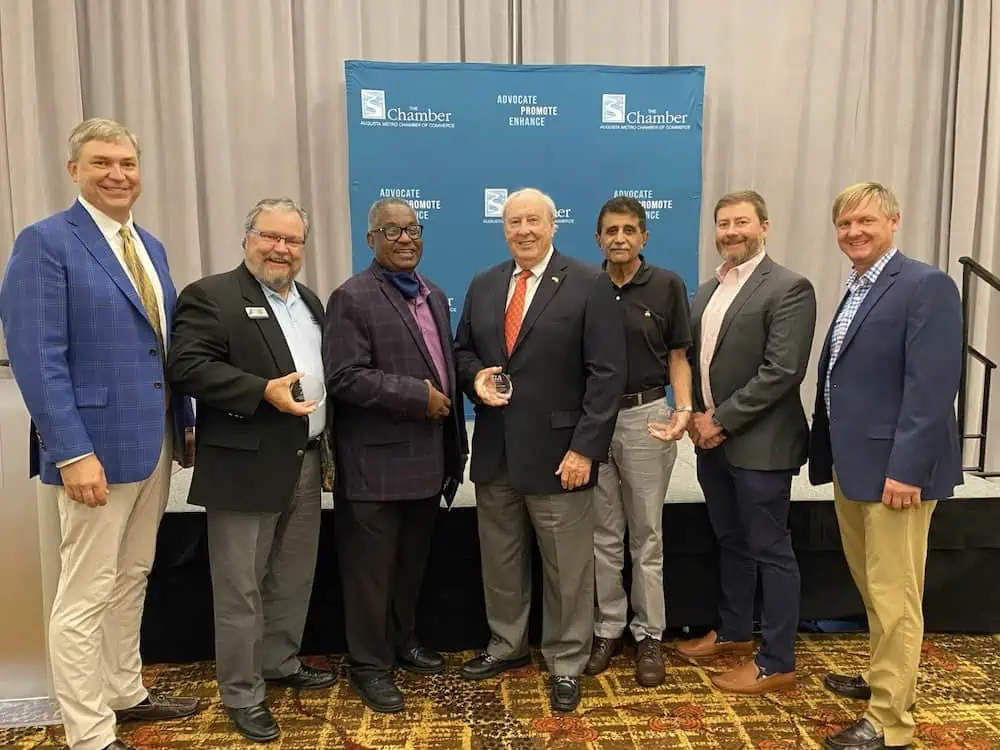 Since taking effect, three-quarters of a billion dollars have been collected.
"In Augusta- Richmond County and in Columbia County, over $411 million of infrastructure projects, which would not have happened if we didn't have this one penny sales tax," said Wahl, chairman of the CRP. He said that breaks down to $246 million in Richmond and $165 million in Columbia County.
"The good thing is when we talked about the three-quarters of a billion dollars with their $327 billion of other funds. So, it really tops almost to a billion dollars that we received benefit from because federal funding and other state funding has helped to leverage these projects," he added.
In 2012, the majority of voters in the 13 county GDOT District 12 approved the tax, authorized by the Georgia Transportation Investment Act. GDOT manages the projects, and the Department of Revenue and State Financing and Investment Commission handle the funds.
According to the GDOT website, there were 84 projects in Augusta-Richmond County in the first ten years, including the extension of Riverwatch Parkway from Baston Road to Washington Road, complete resurfacing of major corridors including Gordon Highway, Berckmans Road realignment and widening and the conversion of the 5th Street Bridge to a pedestrian bridge.
The T-SPLOST has been approved for another ten years. GDOT says money raised will be used for 162 projects.
To learn more about special projects funded by regional TIA sales tax collections, visit www.ga-tia.com.