If you have ever seen Air Force One, sitting on the tarmac or flashing by overhead, you've felt the awe and pride evoked by this elegant symbol of American pride and power.
Aiken businessman and master detailer Chris Williams (pictured above with pride) says it happens to him every time he is privileged to "climb" aboard – being overwhelmed with a feeling of reverence for what the plane symbolizes and the beauty in flight that flashes around the world. Aeronautical veterans say they climb aboard whenever they walk up the bright white moveable stairway that is among the first of many thrills they experience during their day on Air Force One, tail number SAM 970 (SAM for Special Air Mission). They are boarding that famous work of art that carries the American President, and with him, American prestige around the world.
But for Williams of Aiken, he climbs right up on the fuselage and gets to work.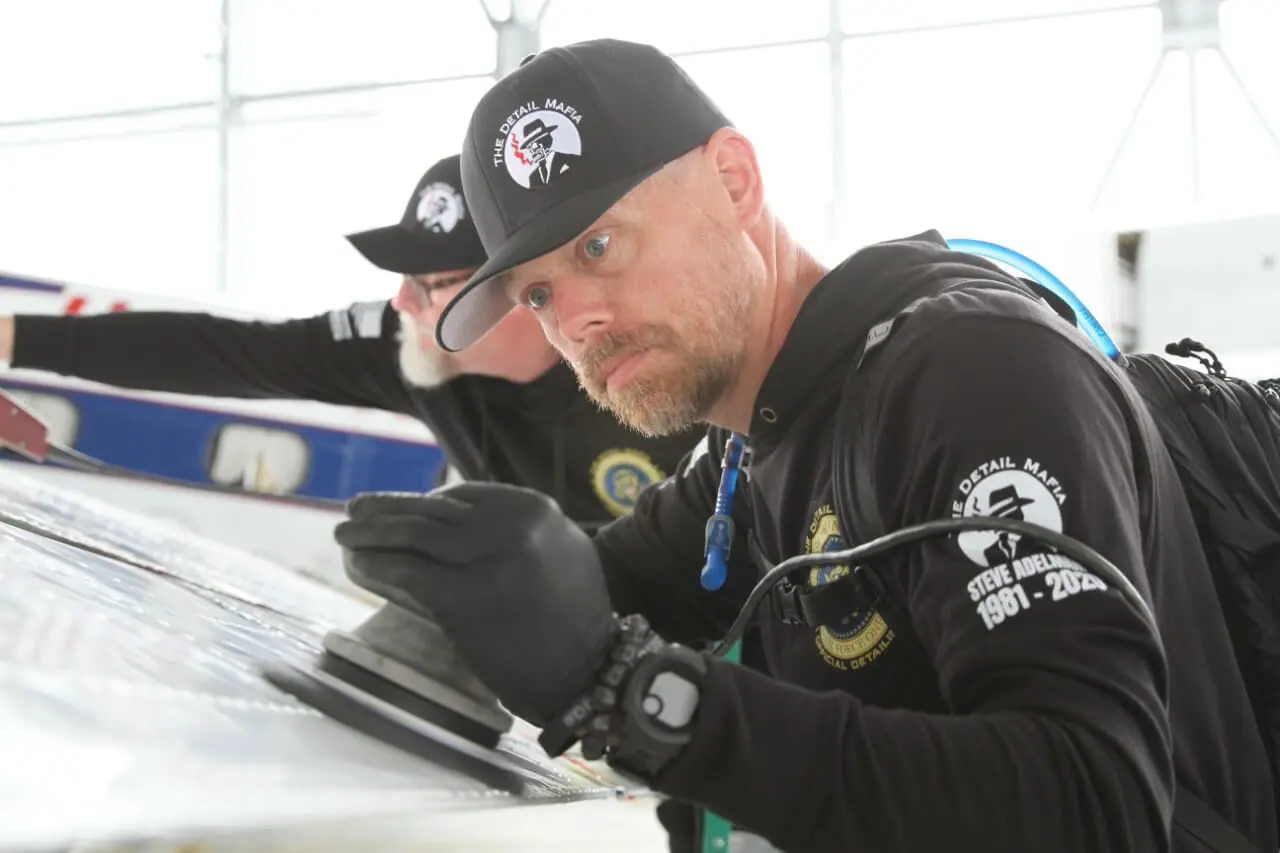 Earlier this year Williams was chosen from an elite corps of skilled detail artists, fine craftsmen who volunteer to restore the brilliant shine and iconic paint signature to the best-known symbol of America on Earth.
Williams is a South Aiken High School graduate and former police officer in Aiken and SRS security force member.
He's also owner of East Coast Custom Detailing in Aiken, was selected for the much-anticipated 2021 Air Force One Detailing Team at the Boeing Museum of Flight in Seattle, July 11-18. "I've got to admit it's an amazing group. To be selected as one out of 19 others, it was amazing. I take pride in my work and to be selected to work next to each of these other master craftsmen, it was quite an honor. Every one of them are great mentors to me. I was the rookie. And then when they chose me to work on the plane's tail with its highly symbolic American flag and the plane's ID numbers, it was a great honor as a rookie to be chosen that special duty among many of the best detailing specialists in the country."
After a two-year delay due to the Covid-19 pandemic, and thanks to a generous benefactor, Master automotive and aircraft detailer Renny Doyle of Detailing Success, Williams and a select few others, returned to the Museum of Flight this year. It was a smaller but more streamlined Air Force One detailing team that continues the preservation of the first presidential jet that sits proudly on display at the museum. Also on their agenda was the restoration of a highly revered World War II B-29 Super Fortress Bomber that will take its own place among the pantheon of pride in America's aviation history.
Williams and other team members are successful detailing business owners who pay their own way to Seattle and donate their time and skills to the project. When they are not volunteering to shine up and repair iconic American aircraft, they spend most of their time restoring the dazzling looks of iconic automobiles.
"I have chosen Chris for the AFO Team because he brings skill, experience, and a commitment to the art of detailing to the project," said Doyle when the 20 – usually 60 – members of the detailing team were announced early this year. "These are priceless vintage aircraft and there is no room for mistakes. I trust Chris' eye for perfection, and I look forward to having him on the team this year."
This is not the Air Force One that will carry President Joe Biden to and from Geneva, Switzerland this week to meet with Russian President Vladimir Putin. Williams' canvas is the original Air Force One commissioned by President Dwight D. Eisenhower and ridden around the world by Presidents John F. Kennedy, Lyndon B. Johnson, and Richard M. Nixon. "It was the first 'flying Oval Office,'" said Kimberly Ballard, spokesperson for the project from her base at Huntsville, Ala.
"Along with these iconic American presidents, this plane flew some pretty iconic passengers including Jackie Kennedy, Henry Kissinger, Nikita Khrushchev and even Marilyn Monroe," said Ballard, letting go of a small part of her voluminous historical knowledge of the mighty American symbol.
The group also brought back the grandeur of a once-mighty B-29 Superfortress bomber, still scarred with 76-year-old holes where fifty-caliber anti-aircraft bullets ripped through her aluminum skin while flying sorties over the Pacific and Japan during WWII. It was B-29s that dropped the two atom bombs on Japan that brought an end to the war.
This B-29 was rescued by the Museum of Flight after abandonment in an Arizona desert. Said Ballard, The Air Force One Detailing Team "brought the war-torn aircraft back to its original shing glory."
Do you enjoy and benefit from ABD's business news? If so, CLICK HERE to find out ways you can help ABD achieve and expand our mission!