Dr. Neeraja Chandrasekaran wants to help her clients improve their self-confidence by making them look and feel younger.
Early next month, Chandrasekaran, a local family medicine physician, plans to launch Luna Medical Spa, which will be located inside Le' Salon Day Spa at 807-B Oakhurst Drive in Evans. She will begin accepting clients next week.
The business will offer a variety of noninvasive cosmetic services, including Botox injections, laser hair removal, and HydraFacial treatments, as well as IV hydration therapies with vitamins.
"It's where medicine meets the cosmetic world," she said. "I've always had a passion for women's healthcare."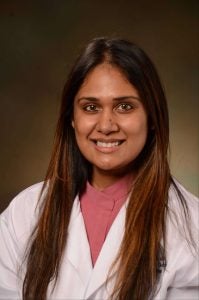 But Chandrasekaran, who completed her residency at Augusta University and works as a hospitalist at Piedmont Augusta, also offers services for men, including platelet-rich plasma injections that can help to improve their sexual health.
"It's pretty interesting what we can do with platelet-rich plasma these days," she said.
For these treatments, Chandrasekaran extracts her clients' plasma from one part of the body and injects it into another.
Her cosmetic services will also be available to people with various skin types.
"In populations of color, skincare can be especially challenging," she said.
Because Chandrasekaran will offer cosmetic services, she can't bill insurance, so patients will be required to pay out of pocket or sign up for financing.
She will have close to 10 employees, including estheticians and nurses.
"I'm really excited about improving their (clients') perceptions of their image," Chandrasekaran said.
For more information on Luna's services or to schedule an appointment, visit lunamedispa.com/ or call 706-715-4858.