When does a bargain become a blessing? I sought the answer to that question with my visit to Harlem.
There, I met with Loreen Reynolds (president) and Stephaney Crenshaw (vice president) of the board of the non-profit Attic Treasures thrift store. Both have volunteered for many years and are having a wide-ranging positive impact in Harlem and neighboring communities.
In 2008, the thrift store in town was about to close its doors. Five local folks decided to step in and rent more space. Their goal was to create a thrift store for the community, run by volunteers from the community. Their other main goal was to give their profits back to the community and provide clothing, housewares, furniture, toys, and many other items at prices that were affordable for everyone.

The original location served as a home base for four years. In 2012, the store's leadership decided to take a big step of faith by renting a former Gurley's grocery store. It became Attic Treasures' new home while providing a much larger space and greatly expanded parking. They knew that decision meant they would have to bring in more money and expand their volunteer base to keep things going. From day one, it was clear that their faith was rewarded as their own expectations were exceeded. In fact, both ladies told me they could now fill up another store of the same size if they had the space to do so.
One of the reasons the store exists is to bring in money and then distribute all proceeds to organizations and individuals in need. When they started in 2008, they were able to give away several hundred dollars a month. Now, they give away thousands of dollars each month.
The main store offers about 10,000 square feet of shopping space and a minimum of six volunteers are needed each time the doors are open.
Stephaney said it this way: "God sends who we need, he always has. He sends what we need and who we need."
I asked Loreen to spell out the goal of Attic Treasures. Her response?
"To make money to give back to the local community, but also to keep our prices low enough so the average person can get what they need. So, that's why all our adult clothing is two dollars. It could be a prom dress, it could be a leather coat, but it's going to be two dollars,' she said.
Stephaney chimed in with this fun fact: "Little kid's clothes are fifty cents. I bought my grandson a three-piece suit here, and it was fifty cents."
Donations come from all over the community, even from cities like Augusta and Evans. This is mainly because folks want to support a place that gives back in a consistent and impactful way with no paid staff and very little overhead.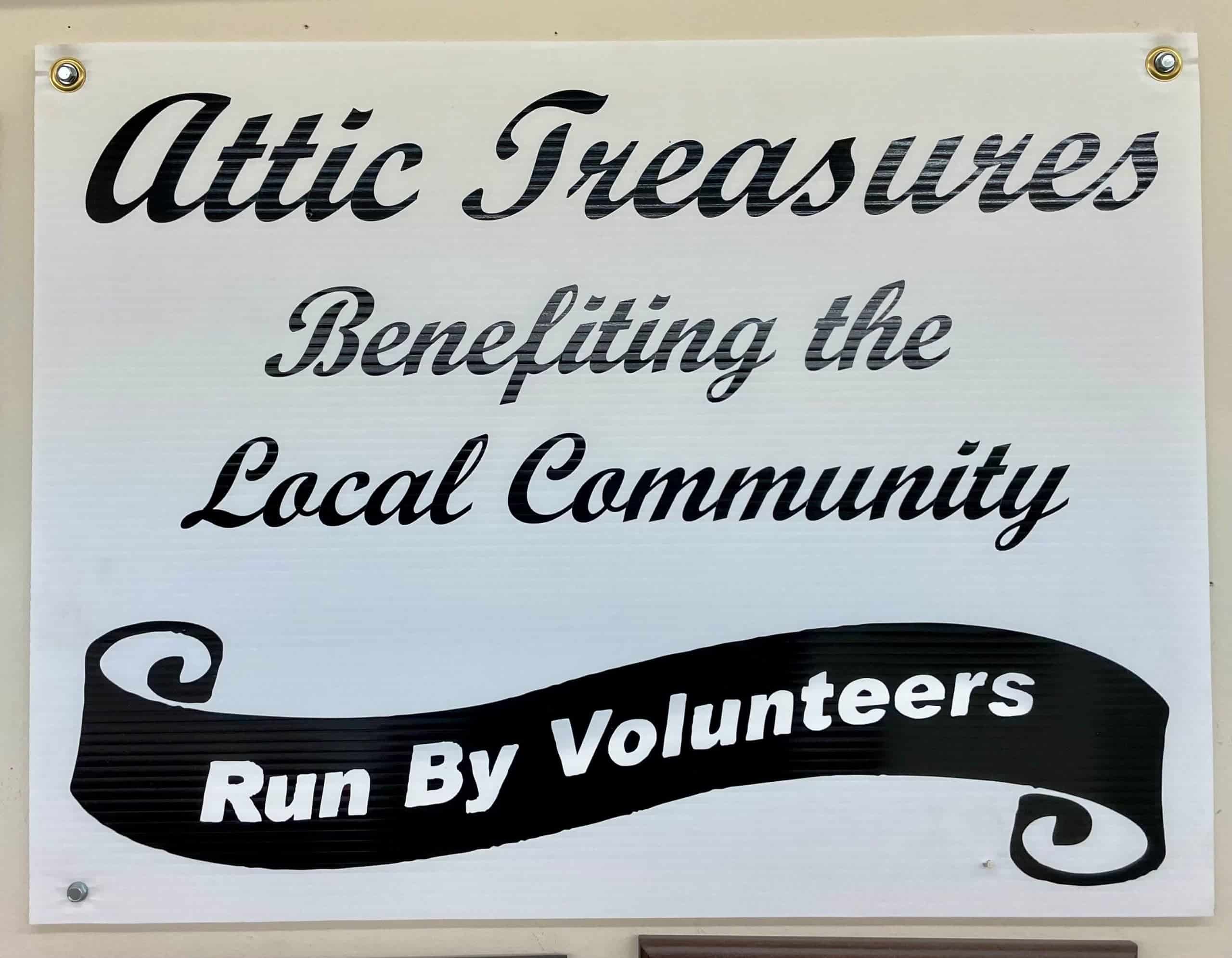 What kind of places receive support from Attic Treasures? It's a long list! Two years ago, they began their support of the local food bank and have since added the food bank in Appling. They also provide support to Feathered Friends bird sanctuary, the animal shelter, the VA Fisher House, local churches, and sports teams at the high school. They also provide some assistance with families who are dealing with catastrophic circumstances. They get requests for funding from many different places, so their guidelines stipulate that the organization or individual making the request must be from Columbia or McDuffie County, or the request directly impacts someone in one of those counties. Individuals can receive clothing, furniture, or household goods when they make a written request on the letterhead of another non-profit organization. Once a month, store volunteers meet and decide where the proceeds from sales that month should be distributed.
The store provides annual support to six local schools and one-thousand-dollar scholarships to local area high school students from Grovetown, Harlem, and Thomson, as well as private and homeschooled students. They awarded fourteen of these scholarships last year.
On Thursday mornings, particular customers, many of whom are regulars, begin lining up a couple of hours before the store opens to discover the best bargains. Along with their always low prices, they offer monthly sales with even further discounts.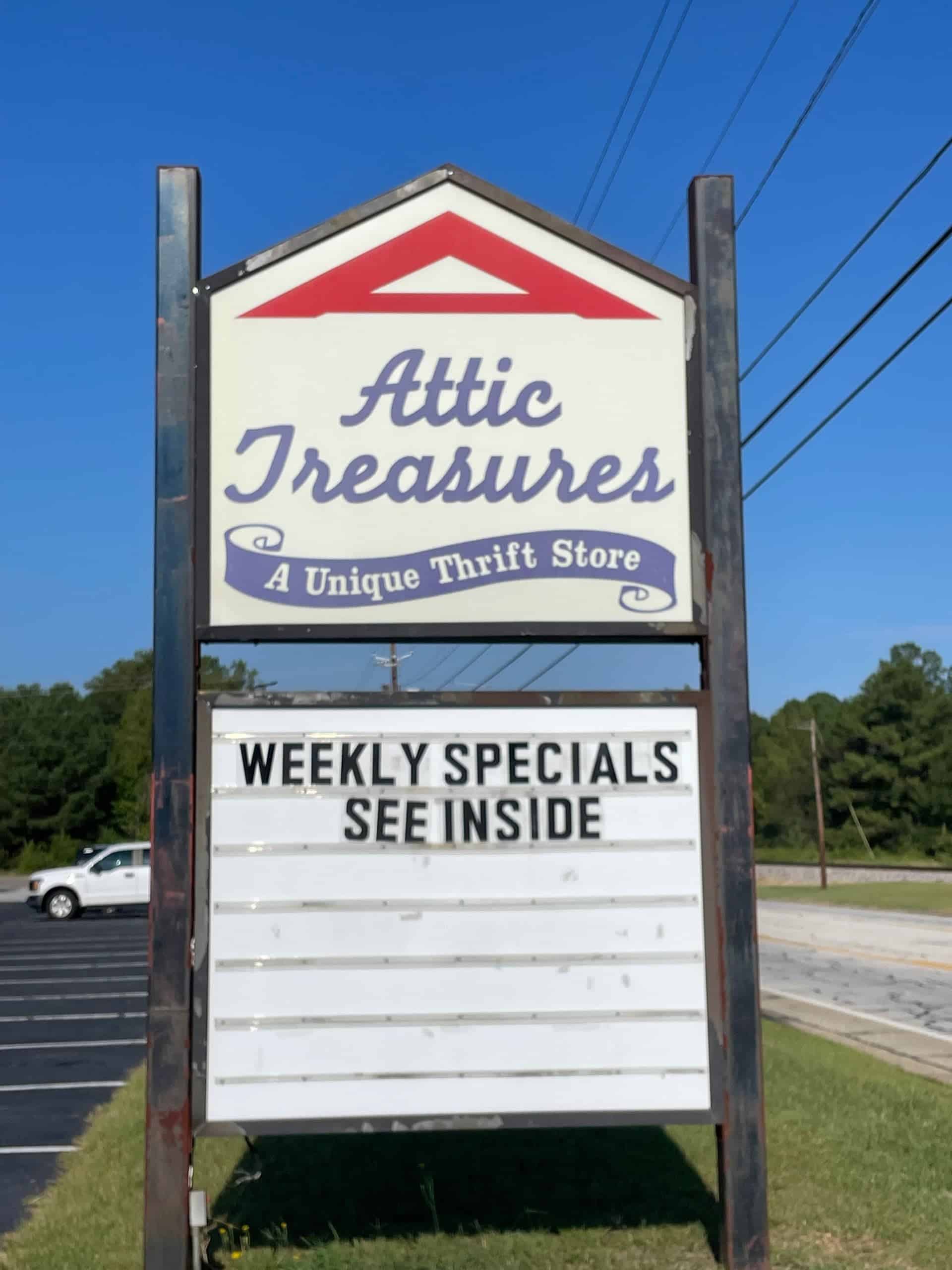 Attic Treasures is open Thursday and Friday, from 10 a.m. to 4 p.m. and Saturdays, from 10 a.m. to 2 p.m. Donations are accepted daily from 9 a.m. to 6 p.m. (on the back dock). Just ring the doorbell. (The store could always use additional volunteers, as well as men's clothing and tools).
Loreen and Stephaney have been friends for 32 years and are both deeply invested in the store. They both want to keep the store operating smoothly and want people to find what they need when they come in.
Stephaney offered this observation: "The best thing is people come in here and say I have been looking for blah, blah, blah and I was driving by and a voice in my head, (Stephaney said "God") told them to drive in here and they walk over and find this one thing that they're looking for. And that happens ALL the time and that's one of the reasons I love it so much."
In the past few years, they have more than doubled their monthly income and number of volunteers. Many who serve have done so for years. Volunteers are honored in several specific ways throughout the year for their investment in the store. Loreen and Stephaney want people to clearly understand they are volunteers, just like everyone who serves at the store.
I asked both ladies how long they planned to keep doing what they're doing. Neither have plans to stop volunteering in the foreseeable future. Is there a downside to volunteering at the store?
Loreen said, "We can't go out and shop anywhere- it's like I'm not buying anything, it's too much. Seriously."
The Pastor of my church recently reminded me that, "God gives generously, and when we give, we reflect his generous nature."
Attic Treasures certainly is an example of this truth.