A developer and property manager of Augusta and Southeastern apartment complexes used to move others in— is moving into a new home for its growing company.
On March 21st, ABD told you that tenants of the co-working space at 901 Greene Street were asked to vacate the premises on April 17th to make way for a new owner.
ATC Development and its 30 employees will be moving into the 15,200 square foot building in May. The property was listed for $2.7 Million in early 2022.
The building has more than 40 individual glass-wall offices, a classroom, several conference rooms, event space, and a café.
"We want to play a part in the downtown Augusta renaissance, both now and the future." Shelly Martin, ATC's Vice President of Operations, is looking forward to the change of scenery. "Our staff couldn't be more excited about getting to work in such an innovative and modern space and being within walking distance to some of the best restaurants for lunch," said Martin. "With our upcoming downtown apartment community, it will be great to be right around the corner from our next project."
Just three blocks from ATC's new headquarters will be the site at the corner of 12th and Greene. It will be called "The Standard of Augusta."
"We'll build two urban mid-rise apartment buildings downtown and so this move is a logical extension of this newest phase of our company growth," said CEO Woody Belangia, who is proud ATC Development is a part of the city's progress.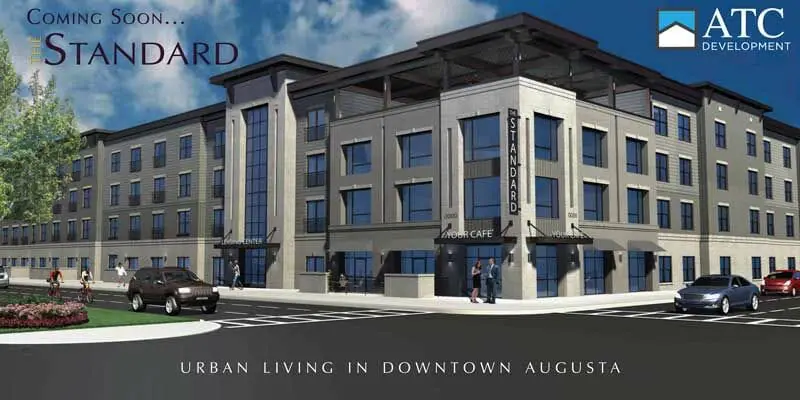 ATC Development began developing multi-family communities in 1975. Its portfolio now consists of 11 properties and over 2,200 units in the Southeastern region, including several in Augusta like the ones surrounding Rae's Coastal Café off of Walton Way Extension.
ATC designs, builds, owns, and manages its apartment portfolio.
In April, building owners will prepare the facility for ATC, after having tried for more than three years to make the co-working space profitable—but could not.
As for tenants Jeff Brotherton and Allen Childs, who ABD profiled in our initial story—they have both found another "co-working space" opportunity.
Childs and his team at Roof Savers Georgia are going to share space with an insurance agency in Martinez and Brotherton, the creative leader of E35 Media will be sharing space in North Augusta in a medical office building.