Dr. Rick Franza, Dean of the Hull College of Business, discusses a different, timely business topic each Monday in this column. This week, he reminisces about his time as a host for the Red Carpet Tour and what it means for the Augusta community. The interview has been edited for clarity and impact.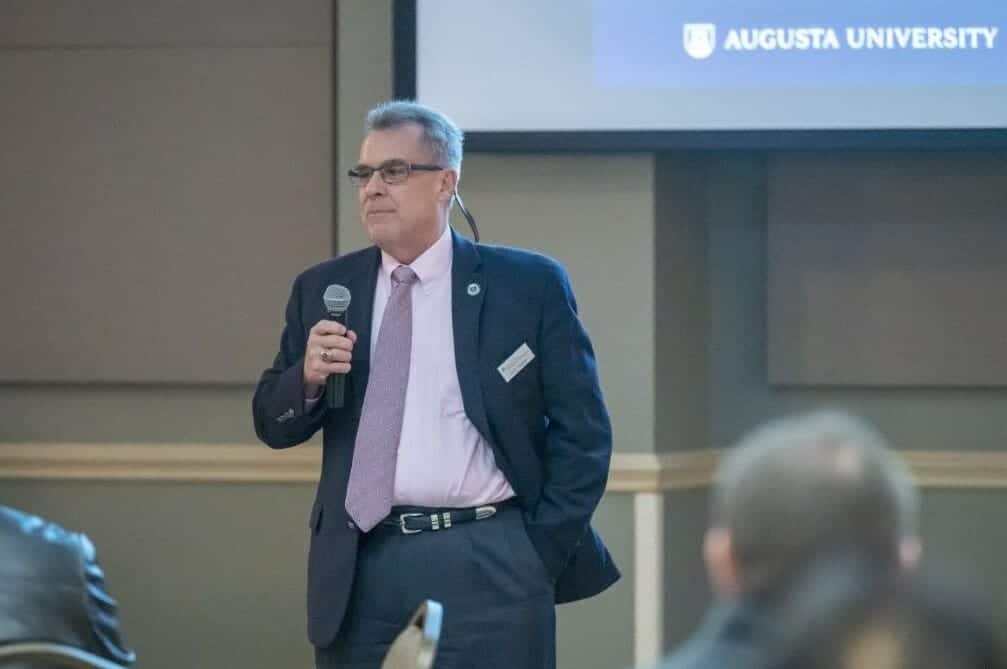 ABD: It's Masters Week and a part of that is the annual Red Carpet Tour sponsored by the Georgia Chamber of Commerce and the Georgia Department of Economic Development. You had an opportunity to take part in a Red Carpet Tour, so what does it entail?
Rick: I served as a host for the 2018 Red Carpet Tour. It's to promote business opportunities in Georgia. They invite CEOs of small and medium-sized businesses from around the country and internationally, and some senior vice presidents of large companies to take part. The purpose is to either get them to move their company to Georgia or to open another location in Georgia.
ABD: How does Augusta play a part in this?
Rick: The Masters is an integral part of it but not the only part. The visitors arrive in Atlanta on Wednesday of tournament week. There are about 40 or 50 people, and each one is assigned a host from various parts of Georgia. I represented the Augusta Metro Chamber of Commerce.
ABD: What was your role as a host?
Rick: I was assigned to one of the visitors and reached out to him before he came here. There's a one-on-one connection, but we're doing lots of things with the group, so there's interaction with many of the others.
On Wednesday evening, there's a dinner at the Governor's Mansion, then on Thursday morning, everyone is bused to Augusta and meets in a tent across the street from Augusta National. The local chambers get to do a little talk. It's the chance for all the Augusta-area people to have a little time in the sun. Then they spend the rest of the day on the course.
On Friday, the group usually goes to another area of Georgia – like the Golden Isles, Savannah, or Valdosta – and spends the day there doing activities. Then Saturday morning, they return to Augusta and spend the rest of the day on the course. After that, they usually fly back to Atlanta Saturday night because most of them have return flights on Sunday.
ABD: How does this benefit Augusta?
Rick: It's not always a direct benefit, but they're in Augusta twice, once coming in on 20 and then to the airport, so they get exposed to Augusta that way. It's a great way to build exposure but most of the exposure to Augusta is fairly narrow.
ABD: Do most of the visitors know anything about Augusta other than The Masters?
Rick: The guy I was assigned to did because he had a cyber information technology company. A lot of people didn't know about the manufacturing here. Some knew about cyber. But people were surprised. Like most of us before coming here, they didn't know much more than The Masters.
ABD: How about Augusta University? Did people know about that?
Rick: People had no idea who we were. Some knew about the Medical College of Georgia but none of them knew we were connected. It was an excellent opportunity for branding the university and as a business school.
For me, it helped not just those visitors, but also the 40 other hosts from around the state. It enabled me, without being obnoxious, to expose people to the university and the business school.
ABD: Do people from the tour respond by opening businesses in Georgia?
Rick: I don't have the statistics but I understand the response is pretty good. I got the sense that the people from the Georgia economic group do a good job of vetting these people. They're super excited about the Masters, don't get me wrong, but they have a sincere interest in Georgia. They were sincerely asking questions about education, taxes, and the workforce.
ABD: Would you recommend being a host to other business people?
Rick: Absolutely! It's great for your business and it's a great learning experience about other businesses. There's a lot to it that's positive. I can't think of anything that's a downside.
It was great fun, but I'm not sure I could do it again. I was exhausted. I went home Saturday night and slept until the Masters broadcast came on the next day. But if I was in my 40's, I'd do it every year. It's well worth it.