This reporter's been to a café and lounge in San Francisco where they didn't serve alcohol; actually, been to one in Paris too. But, I can't say I've ever seen one in South Carolina.
But Carla and J.J. Ponce created Jacl's Café and Lounge, across Pendleton Street from St. Thaddeus Church, to be just that, a respite for the mind and body.
Jacl's is also a haven for board game players and folks who just want some peace and quiet.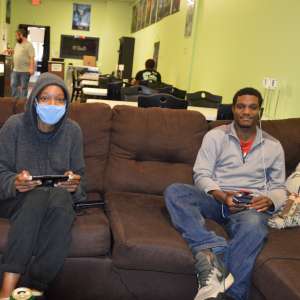 Going on day and night (they stay open until 10 on weekdays and 1 a.m., on Friday and Saturday nights) are intense knots of people playing Magic the Gathering, Dungeons and Dragons, Pokémon and all manner of other games.
But Jacl's has multiple personalities.
It is also a fine coffee and tea café with coffee brewed by well-trained baristas on the exact method for some of the world's best brews.
There are no video games, says co-owner J.J., only tabletop contests that is just one part of their effort to bring socialization back to the game room.
The parents of two, Alex and Lana, Carla "used to be that mother who drove the kids to Columbia or someplace with a game room and stayed all night before the drive home.
Both J.J. and Carla, and by then the kids, were such devoted game board players that they began to consider opening one in Aiken. J.J. still has a solid day-time job but he's now also Jacl's bookkeeper and he stays around at night to be with his family.
Besides the distance, it was the personal touch that helped them decide to open their own shop. "Most of the places they drove to had owners and managers who didn't remember our names or the games we played, or what coffee we liked. When we started our own shop, we promised ourselves, 'We are never going to turn into that place."
There is laughter ringing out all around you. That is out front in the stuffed chairs and couches area around the café/lounge. It's a little different in the game room in the back where people are hunched over their games and the silence is like monks eating dinner; there's a lot of thinking going on.
Listening to the customers gets them into the menu too. Many of the foods they serve are the versions brought in by their friends who come in all the time. You have to be a VIP Member, which they didn't explain, to get your item on the menu. There's also a "secret menu" for regular customers. "Hey, you have to have some fun when you stay in one place all day long!" says Carla.
They have snacks for the gamers and meals for the relaxers and a quiet room for people who want to just read or study.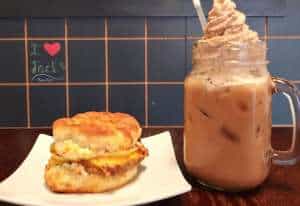 "Almost all the board games came from our house, like three sets of Monopoly and the other games we all grew up with. Some of our fans brought games from their homes too," says J.J.
"Everything is PG or lower," he says and that goes for the television too which is usually tuned to Netflix or … We don't have explicitly violent or sexually oriented games, videos or television"
Jacl's is also certified as both a Safe Zone and Safe Space.
"We and our managers have to pass a five-hour class and our servers are trained in crisis management too. A Safe Space is a place where an endangered person or a runaway can find some sanctuary, even battered wives," said Carla. A Safe Zone is very similar but with the added training for the particular dangers faced by the LGBTQ community.
It might just come down to the coffee!
"Our customers love our coffee," laughs Carla. Well, she's always laughing.
"We hear it all the time – You have ruined me for coffee!" Or they say, "we went on vacation and couldn't drink coffee the whole time!"
"One thing about our coffee," says J.J., is the consistency. If you came in one week and got a certain flavor and came back, it will taste exactly the same."
"The bean recipe is my own," says Carla. "I went to coffee school." It is locally roasted at Stone Roastery by Brad Stone in North Augusta.
We strive for a peaceful place. We want nothing but camaraderie. A welcome open space everyone will enjoy. A good example is the number of father/daughter teams who come in to play together.
J.J. comes down to be with his family at night and says rarely he hears an argument, but, "It's almost always something about the rules of the game, not any real issue."
We were both in the U.S. Army and from that lifestyle and training, we don't watch the news. After dinner is reading time and that's the way our kids have grown up," says Carla.
But that is where they got their devotion to making life easier for first responders. Any on-duty police officer gets a free cup of coffee at Jacl's and they deliver it to the dispatchers.
"We are so pro-police, fire and military," says Carla. "Anything we can do to make their duty a little more comfortable."
"Whenever you come in and tell our barista that you want to "Add a Cup of Joe" you pay for an extra one and they put a chip in a basket. Then whenever anyone in service comes in, we pull the chip out and show them that "yours is already paid for."
It's all about family and friendships. Says Carla, "Jacl's is an anagram of our family, J.J., Alex, Carla and Lana."
116 Pendleton St., SW, Aiken, SC 29801, (803) 226-0296
Sunday through Thursday, 8 a.m. – 10 p.m., Friday & Saturday, 8 a.m., 1 p.m.
[email protected] – http://www.jaclscafe.com/ – or just search for jacl's of Facebook