Anne Luckey has painted murals at various locations throughout the CSRA, but this week, her canvas is mobile.
For the first time this year, Luckey, a local artist and owner of ArtsAnneCrafts, is painting unique Masters designs on sneakers just in time for the 2023 tournament. She was inspired to take on the project by one of her Facebook followers.
Luckey has already completed seven or eight pairs of shoes and has several more waiting to be painted. Because the tournament is next week, she has stopped accepting orders for Masters-themed shoes, but she'll be able to produce more after it's over. While Luckey is painting multiple pairs of shoes, no two will look the same.
"It depends on the style of the shoe," she said. "One lady had Nike shoes, and I painted Amen Corner on them; my stuff is very unique."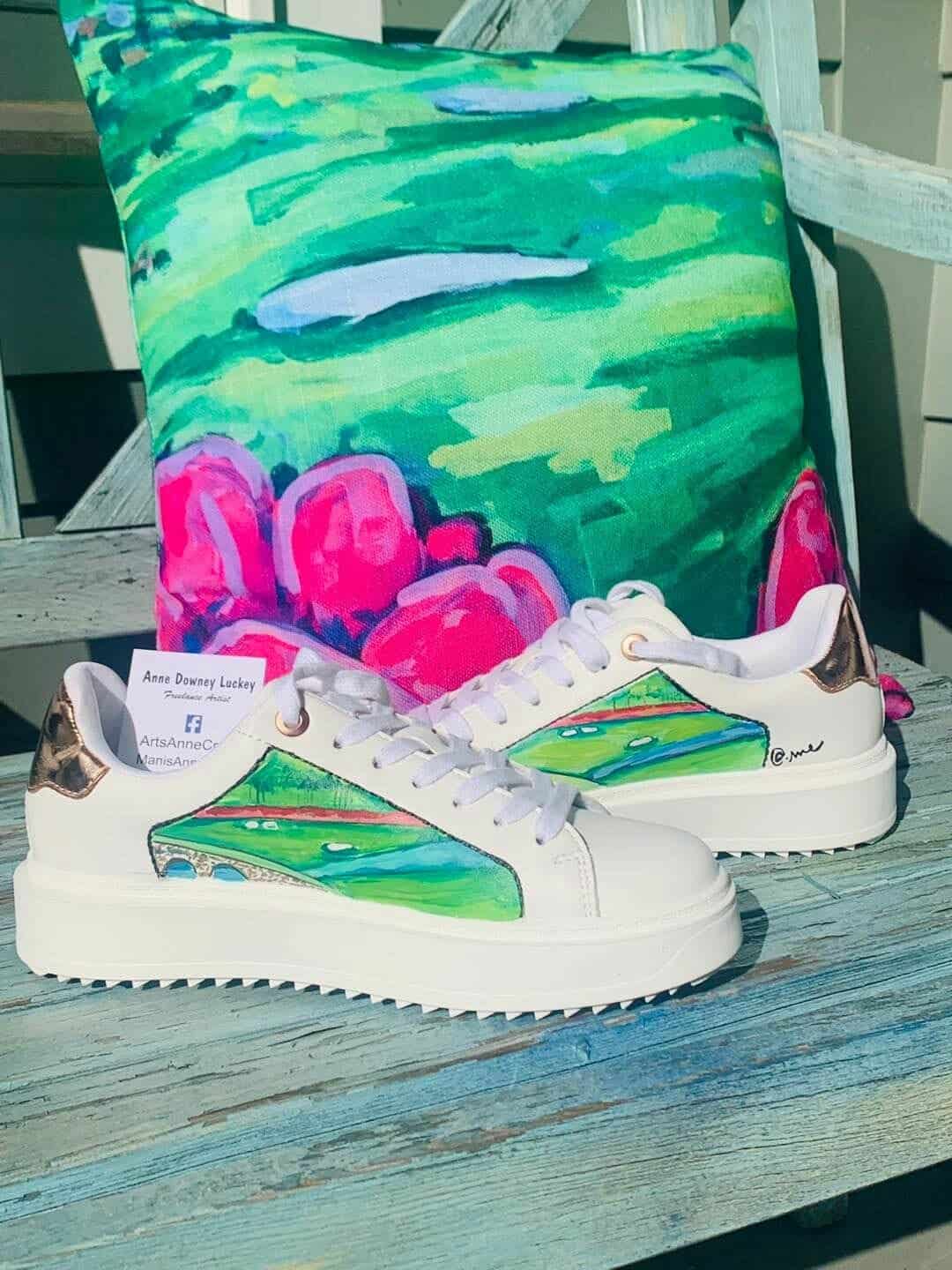 For this project, her customers have supplied the shoes, and she has used leather paint. Luckey also creates other Masters items, including prints, koozies, and earrings. Many of her products can be found at two local retailers: 3 Chicks Boutique in Surrey Center and Cudos2u in Evans.
To avoid copyright infringement, she's very careful about using logos and always runs her ideas by her sister, who works as a judge.
Luckey graduated from Augusta University with a Bachelor of Fine Arts degree in painting and drawing. In college, she painted murals at the Children's Hospital of Georgia. At that time, one of her friends bought boxes of Dansko shoes, which are often worn by nurses and other healthcare workers. He asked Luckey to paint them, and he resold them on eBay for hundreds of dollars.
"That was 20 years ago," she said.
Luckey recently painted a mural at River Ridge Elementary School in Columbia County for a retiring teacher. She also creates a variety of crafts, including boutonnieres and corsages.
"The shoes fall under arts and crafts," Luckey said. "They've been fun."
She said each pair of shoes takes between an hour and an hour and a half to complete.
For more information, visit her Facebook page. To place an order, contact Luckey on Facebook Messenger.