Tedrick Hudson offers the CSRA's only group volleyball skills training program for kids as young as 7, but people often stop by his business to find out what he does.
Hudson, owner of Next Level Training Academy located at 3839 Martinez Blvd., Suite 1 in Martinez, will host an open house on Saturday, Aug. 12, from 10 a.m. to 2 p.m.
He said the event will be an opportunity to show the community his sports training facility, which specializes in not only volleyball, but also basketball and athletic performance training for children, teens, and collegiate athletes. It will also include food, training session giveaways, and vendors, such as 5 Star Nutrition.
"It's really to get the word out," said Hudson, who also coaches basketball for Freedom Park School on Fort Gordon. "We do mobility training and weightlifting for all athletes."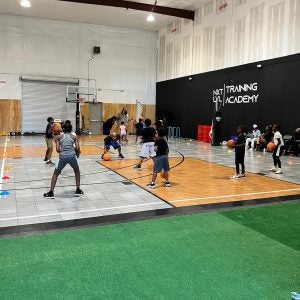 He provides basketball skills training at Next Level, which he founded in 2019.
"We're excited to launch football training, which we're looking to start in August," Hudson said.
His wife, Cassandre, a licensed therapist, currently provides volleyball training and will soon begin offering mental performance training as well.
"We focus on developing the whole athlete; we talk to the kids about their grades because that's really important," he said.
Next Level also offers camps for volleyball and basketball. This summer, Hudson offered a STEM, sports, and mindset camp for children ages 5-12.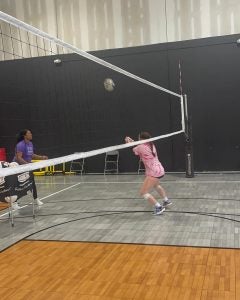 "I'm huge on injury reduction," he said. "There's no way to prevent injuries, but there are techniques for reducing sports injuries."
As a former collegiate basketball player, Hudson tore his ACL.
"The rehab for that was very mentally taxing for me," he said.
Hudson also served in the U.S. Army.
Next Level helps high school athletes prepare for college recruiting.
"I got two players into college this summer," Hudson said.
He plans to bring in college coaches to speak to the kids.
Next Level currently has about 70 active members, but Hudson would like to increase that number to at least 150. He hopes 150-200 people will attend the open house.
"We've gotten most of our business through word-of-mouth marketing," Hudson said.
He said when people visit his business for the first time, the services he offers aren't obvious from looking at the outside of the building.
"A lot of times, they say, 'We didn't know this was here," Hudson said.
For more information, visit thenlta.com/.
Do you enjoy and benefit from ABD's business news? If so, CLICK HERE to find out ways you can help ABD achieve and expand our mission!