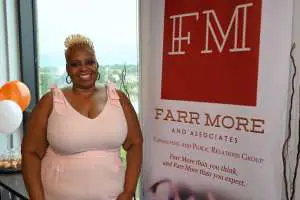 Tonia Gibbons had an idea to launch her own consulting and public relations firm, but she knew she needed to develop some fundamental business skills.
Gibbons – founder of Farr More and Associates in Augusta – completed an intensive 12-week entrepreneurship certificate program called Make Startups offered by theClubhou.se – a small business incubator located on the third floor of the Georgia Cyber Center off of Reynolds Street in downtown Augusta.
"The training prompted me to work on my business plan, do research on my market to make sure it's viable, encouraged me to make sure that the business is structured right and can earn money to sustain and grow," she explains. "This class gave me a roadmap that was easy to follow." The class, which will meet Tuesdays and Thursdays from 7 p.m. to 8:30 p.m. starting on Sept. 20, covers four key elements for launching a successful startup: planning, technology, financing, and law. While the class is virtual, participants have the option to attend in person.
Participants are required to pay tuition of $5,000 and an enrollment fee of $149. They must also buy QuickBooks online. Need-based financial assistance is available for Georgia residents, veterans, and their spouses. Participants can also apply for zero-interest loans to cover the program costs. Those needing financial assistance should register by Tuesday, Aug. 18 at 7 p.m. The registration deadline for all other participants is Friday, Sept. 10. Students also receive weekly one-on-one mentoring and a nine-month membership at theClubhou.se.
Grace Belangia – co-founder of theClubhou.se and the Make Startups program – wants to help budding entrepreneurs build successful startups. "Successful entrepreneurs are those who invest in growing these skills that are necessary to achieving the success their vision deserves," says Belangia. "We work with investors, bankers, and financial service professionals to teach entrepreneurs how to acquire and manage investment." Training partners for Make Startups include the Georgia Power Foundation, Fifth Third Bank, and Vinea Capital.
The University of Georgia Small Business Development Center, which has 18 locations throughout the state, also offers a variety of courses designed to help entrepreneurs succeed. In Augusta, the center offers a four-hour class called the Business Prep Workshop, which covers several topics, including finance, operations, and marketing. The cost to take the class is $99, and the next class will be held on Saturday, Oct. 9 from 8:30 a.m. to 12:30 p.m. at the center located at 2907 Professional Parkway, Suite B in Augusta. The SBDC has also developed an eight-week course called Start Smart, which helps entrepreneurs develop stronger knowledge of business concepts, create a business plan, conduct market research, and more.
Making Startups typically requires participants to devote four to six hours a week to the program. As for Gibbons, she's pleased with her decision to complete theClubhou.se's program. "Without a doubt, I truly recommend anyone who is serious about starting a business to invest in themselves first by taking this course," she states. "The amount of knowledge and confidence you gain from the course is priceless."
For more information or to register for the Make Startups program, visit theclubhou.se/apply-yourself or call 706-969-4602. For information about classes offered through the Small Business Development Center, visit georgiasbdc.org/training or call 706-650-5655.