Chicken Salad Chick just made a sweet acquisition. Chicken Salad Chick bought Atlanta-based dessert bakery Piece of Cake for an undisclosed price.
All 245 Chicken Salad Chick restaurants will be serving Piece of Cake baked goods including the three Augusta locations. One is in the Washington Walk Shopping Center near Augusta National, at 2817 Washington Road, the other locations are in Grovetown, 4990 Steiner Way, and in Evans at 4429 Washington Road.
However, when ABD contacted the location at Washington Walk, we were told they aren't yet offering the Piece of Cake baked goods and that may not happen until the first of the year. When it does begin, whole cake and by-the-slice options will be available.
CEO, Melissa Jernigan founded Piece of Cake out of her Atlanta condo in 1985. Jernigan will remain with Piece of Cake as its "cakexpert," the companies said.
The company uses Jernigan's family recipes, and all cakes are hand-frosted.
"Over the years, Piece of Cake cakes have been a mainstay at the table as our family celebrated holidays and special occasions together," said Chicken Salad Chick CEO, Scott Deviney. "Melissa and her team have consistently offered the best cakes in the business."
Stacy and Kevin Brown founded Chicken Salad Chick out of their home kitchen in Auburn, Alabama, in 2008. Atlanta-based private equity firm Eagle Merchant Partners bought the chain in 2015 and sold it to Los Angeles firm, Brentwood Associates in 2019. Today, roughly 70% of Chicken Salad Chick's restaurants across its 18-state footprint are franchised.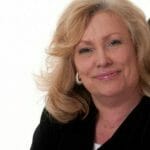 Editor's Note:
Mitzi Oxford is a veteran broadcaster and features writer who also worked at the same television station in Columbus, Georgia as Augusta's Brad Means! If you have a South Carolina story idea for Mitzi, please email her at mitzioxfordcreative@gmail.com.
Do you enjoy and benefit from ABD's business news? If so, CLICK HERE to find out ways you can help ABD achieve and expand our mission!