The Jessye Norman School of the Arts used the concept of the TV show, "Shark Tank" to develop its J-Tank business competition, but it wasn't exactly like the show.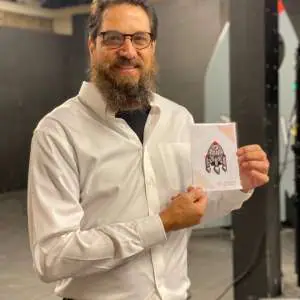 On Saturday, Sept. 18, nine local families pitched their business ideas to a panel of five judges, which was mostly comprised of faculty members from Augusta University's James M. Hull College of Business. They included Dr. Rick Franza, the College's Dean, Dr. Cathy Slade, Professor of Management and Dr. Dinesh Hasija, Assistant Professor of Management. Unlike the show, "It wasn't really competitive," says Gary Dennis, the school's Executive Director. "The idea was to provide some formal business planning support." The event was hosted by Jay Jefferies, meteorologist for WFXG Fox 54.
Dennis explains each of the nine families will receive at least $500 to invest in their businesses. "A couple of the businesses were already in existence," he states. For example, the family of 10-year-old, Kiana Jones has been providing swimming lessons through their business called the Institute of ALOHA, but they never had a business checking account. "We ended up hiring one of the participants, La'Tashia Hooks," Dennis explains. Hooks, owner of Writefully Written LLC, which provides grant writing and resume writing services, will work part-time at the school, running its academic support program. Families can choose where they deposit their checks, but Dennis says he will encourage them to deposit the money in an account with First Community Bank of South Carolina, one of the competition's sponsors.
The Jones family has already received its check, but he states the remainder of the checks will probably be presented next week. In addition to funding, each family will be paired with one of the judges or another coach to mentor them in various aspects of business development. "I'll be a coach, I'll probably work with two of the families," Dennis states. Meetings will be "coordinated between the coaches and the families," but they must take place at least once a week for 13 weeks. These meetings can be held either virtually or in person.
He says he hopes to make J-Tank an annual event. "I felt like this was a really important project," adds Dennis. "So far, it's exceeded my expectations." By early next year, he says they should know the local economic impact of the nine businesses. "Some of them are already having an impact on the economy," Dennis states. "It's just adding to the positive business climate in Augusta."