Lakeya Collins has found a unique way to honor her son's memory on his birthday and help a local student at the same time.
In 2022, Collins, a registered nurse and owner of Robert's Angels Scrubs established the Robert Ballard Scholarship. Ballard was a 16-year-old football player at Greenbrier High School who drowned in Clarks Hill Lake in April 2016.
The scholarship was designed to help one CSRA college student each year. Last year, the amount was $500. This year, she hopes to double that amount by raffling off a PlayStation 5 and using the money she raises to fund the scholarship.
"I want to be able to bless someone with more than $500," Collins said. "The goal is to obtain more than $1,000."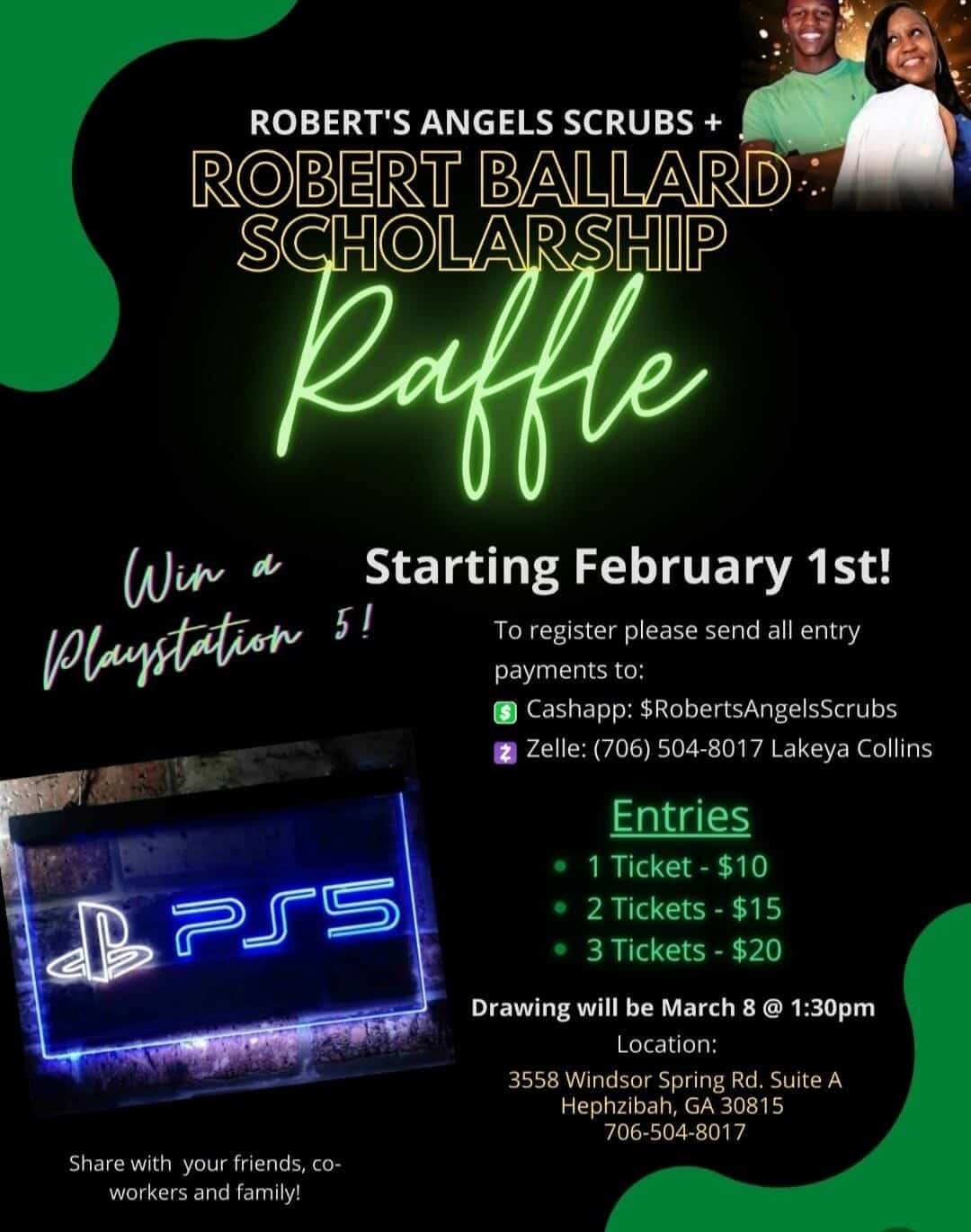 From now until Wednesday, March 1, she's selling raffle tickets for $10 for one ticket, $15 for two tickets, and $20 for three tickets. As of Monday afternoon, she had already sold $420 worth of tickets.
The drawing will be held at the store located at 3558 Windsor Spring Road, Unit A on Wednesday, March 8, which would've been Ballard's 23rd birthday, at 1:30 p.m.
She thought about asking for donations to the scholarship fund but decided to hold the raffle instead.
"People are more inclined to donate when they have a chance to get something back," Collins said.
To be eligible for the scholarship, a student must be enrolled full-time in a healthcare program, have at least a 2.8 GPA, and write a short essay about why he or she chose that program. The student must also be able to visit the store on March 8 to pick up the scholarship check.
"An application can be picked up at the store from now until March 1 at 6 p.m.," she said.
Besides the raffle drawing and scholarship presentation, Collins also plans to celebrate with cupcakes, games, and prizes. She will sell all scrubs for $23 that day only.
March 8 is typically a hard day for Collins and her family, but she said the event makes it a little easier.
"Last year was phenomenal," Collins said. "It's such a beautiful day."
What makes the day even more beautiful is carrying on her son's legacy.
"Something he (Robert) loved was helping others," she said.
To buy raffle tickets, stop by the store or contact Collins by phone at 706-504-8017 or by email at robertsangelsscrubs@yahoo.com.
Do you enjoy and benefit from ABD's business news? If so, CLICK HERE to find out ways you can help ABD achieve and expand our mission!