Lawmakers head back to Atlanta in January and local Chambers of Commerce are holding the traditional pre-legislative session breakfasts.
The Augusta Metro Chamber held its event on Oct. 24 at First Baptist Church of Augusta. Cosby Johnson, mayor of Brunswick, was the keynote speaker. Legislators attending were Representatives, Gloria Frazier (D-District 126), Dr. Mark Newton (R-District 127), Karlton Howard (D-District 129), Lynn Gladney (D-District 130) and Brian Prince (D-District 132, chairman of local delegation) and Senators Harold Jones (D-District 22) and Max Burns (R-District 23).
Johnson, who is also vice president of government affairs for the Georgia Chamber, noted that the state had been successful in growing economic development, particularly in the field of electric vehicles. He said Georgia has logged growth in EV production and support industries, such as EV batteries and the material needed to produce them.

"Because of the decisions that are made in Atlanta during the session, it ensures that you all are able to not only bring investment to your area, but also build a workforce that is ready for the jobs of tomorrow," said Johnson. "They haven't been focused on investing in Old World technologies, they haven't been focused on investing in jobs that we know will die in 10 to 20 years, they have been focused on investing in jobs that we know that will be the next generation of what your children and your grandchildren will be learning."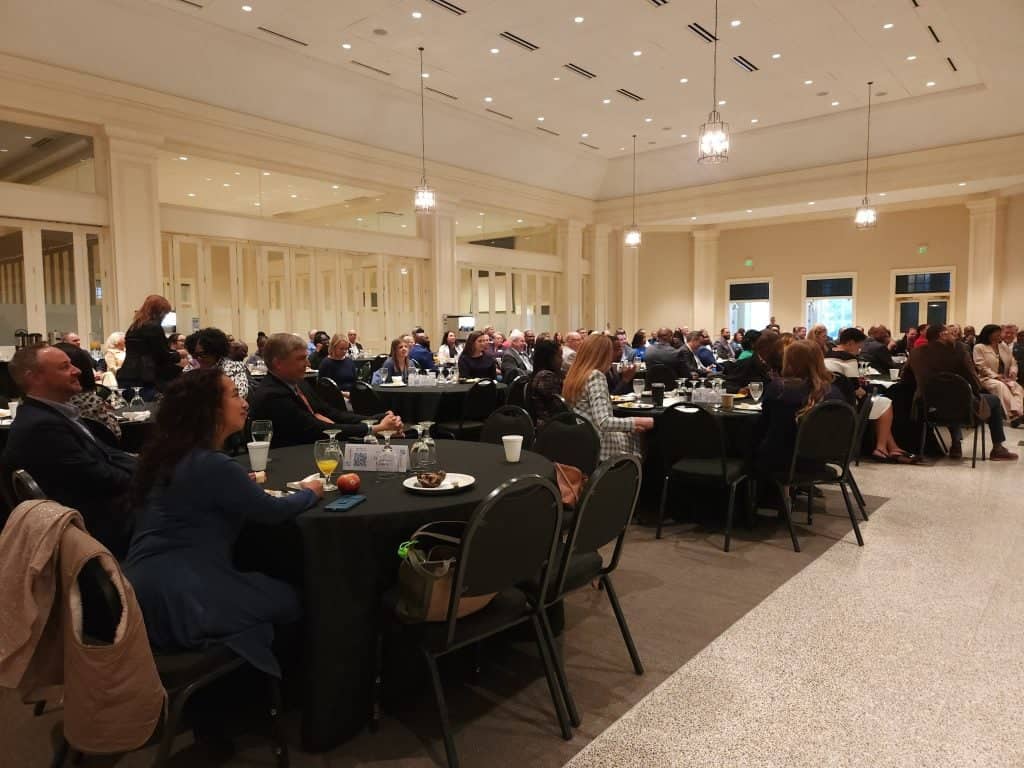 He said there remains the challenge of preparing an educated workforce to fill the growing labor market, particularly at a time when Baby Boomers are beginning to retire, and younger workers need specialized training. That can mean removing barriers, especially financial barriers, that keep students from achieving the training and graduating.
"Many of our TCSG (Technical College System of Georgia) students get to their last year, their last semester of work, and before they get that degree, they drop out," he said, explaining for many it is due to a lack of funding for college.
He added, "We're losing some of our best and some of our brightest right at the finish. And if we can put dollars into a state budget, if we can put dollars into that last mile grant that will ensure those who get to 70 to 80% of their degree that we are there with the financial backing to ensure if they are struggling with a car note, that they are struggling with rent, they are struggling with daycare, that we can help them with those base bills, so that they can finish that schooling and become a productive member of our society."
Each member of the Augusta-Richmond County delegation spoke briefly about what they see as important issues in the upcoming session.
Newton agreed that job creation and workforce development are high on the list.
"There's probably three main things that we're looking at. We're looking at are there jobs? Are we attracting jobs to come into Georgia no matter what, but are we attracting new industries?" he asked. "We'd like to see that the jobs are above the median for an area. We want people in Georgia now to have options for jobs that are better than maybe the one they have now. If they get extra training, if they get technical school training, we want to make sure they're able to move up."
For Howard, an important goal is improving education and starting at an earlier age. He will propose an initiative called "Zero to Three."
"Statistics say that in wealthy families, by the time a child is three years old, they would have heard 30 million more words than a child from a less fortunate family. So, zero to three, we think that initiative can be put in place in Georgia, can be expanded into what is called expanded childcare," he explained. "I think that will help us 20 years from now with workforce development, less focus on prison, and more productive citizens."
The Columbia County Chamber of Commerce has also scheduled a pre-legislative session with the area delegation on Nov. 2 at Savannah Rapids Pavilion.