A variety of new retail and construction businesses are coming to North Augusta.
Brighter Side Roofing – founded in 2002 – plans to open a second location at 726 Edgefield Road in North Augusta, according to Samuel Leverette, the business's owner. "We hope to break ground on construction by the end of the year," says Leverette. "It's no rush." He explains Brighter Side previously had a location off West Avenue in North Augusta for seven years "Until we outgrew that location." Leverette says he's currently trying to find a general contractor available to complete the work and hopes the cost of materials will decrease. Once the new building opens, they will continue to serve customers from their current location at 472 Flowing Wells Road, Suite H4 in Martinez. Leverette looks forward to returning to North Augusta. "We love North Augusta," he states. "North Augusta has always been a great place."
Construction is currently underway at the site of a new Circle K convenience store at 425 Martin town Road, according to an employee with Cummings Construction, a Matthews, North Carolina-based business that's handling the project. She doesn't know when the new store will open. Circle K already has numerous locations throughout the CSRA, including stores in Augusta, North Augusta, Grovetown, Aiken, Evans and Martinez.
A new 2,500-square-foot Jiffy Lube Multicare is scheduled to open in October at 158 Laurel Lake Drive off Exit 5 on I-20, according to Rob Ashe, president of AdMAX Advertising Inc, the agency of record for Jiffy Lube.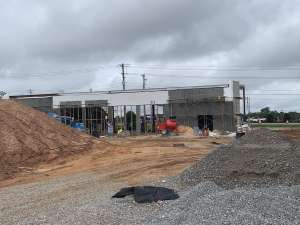 Ashe explains Multicare locations not only perform oil changes, but also provide a variety of car repair services, including brake replacements and front-end alignments. There are several in Augusta, including shops on Washington Road, Peach Orchard Road, and Perimeter Parkway. A new Diablo's Southwest Grill will be built next door to Jiffy Lube, but he isn't sure exactly when that will open. Diablo's currently has several CSRA locations, including Augusta, Grovetown, and Evans. "Diablo's will most likely have a drive-thru," Ashe states.
Do you enjoy and benefit from ABD's business news? If so, CLICK HERE to find out ways you can help ABD achieve and expand our mission!