Do you want the good news or the bad news? My wife always says give me the bad news then cheer me up! So, last month I reported that the Augusta Metropolitan Statistical Area (MSA) area was the worst-performing labor market in Georgia over the last year (bad news), but the Leading Economic Index (LEI) has continued good news. After rising 0.6 percent in February, it increased by 1.2 percent in March using a three-month moving average.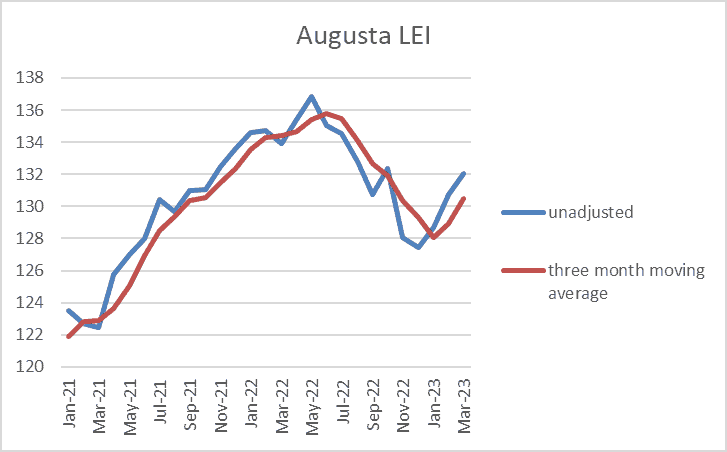 The LEI is made up of local (MSA), regional (State), and national indicators of future real economic activity. Importantly, the local indicators have both had continuous improvement in the first quarter of 2023. Residential permits have increased from 215 in January, to 239 in February and 270 in March which were all seasonally adjusted. This bodes well for the residential construction industry in the coming months. Initial claims for unemployment insurance have declined from 1571 in January, to 1108 in February and 938 in March which again, was seasonally adjusted. Claims are still higher than a year ago, but trending in the right direction. Hopefully, this foreshadows a decline in the actual unemployment rate which ticked up to 3.7 percent in March, after being 3.5 percent since October 2021.
Job openings in Georgia fell to 395,000 in March but they rose to 189,000 in South Carolina. Regional inflation continues to fall, being 5.3 percent in March. The Dow Jones Industrial Average, an indicator of future profits of firms, ended the first quarter only slightly up at the end of the fourth quarter.
So, although the current labor market data is not strong, the Augusta LEI is indicating improvement over the next three to six months.
Do you enjoy and benefit from ABD's business news? If so, CLICK HERE to find out ways you can help ABD achieve and expand our mission!