Over the first six months of the year, ten Metropolitan Statistical Areas (MSA) in Georgia saw improving labor market conditions and four declining conditions as measured by the Labor Market Index (LMI). By contrast, the best-performing labor markets were Dalton, Columbus, and Rome. The worst-performing metro area was Warner Robins. The Augusta MSA grew by 0.2 percent, slightly below the state average of 0.5 percent.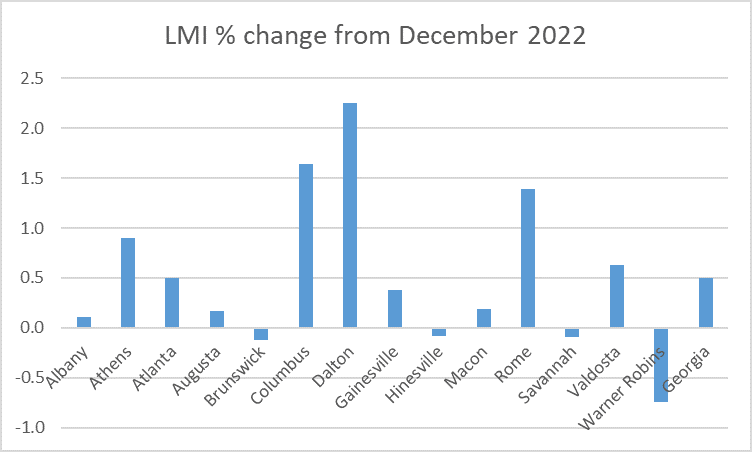 In Augusta, employment fell slightly, and unemployment increased between December 2022 and June 2023. However, the labor force and average weekly earnings increased. Hours worked fell by about 36 minutes. In Dalton, all labor market indicators improved, except unemployment which remained at 4.1%. Employment and the labor force increased by 300, average earnings increased by over $100 per week, and hours worked increased by over 2 ¼ hours. As anyone who has driven along I-75 knows, Dalton is a global center for flooring and carpet manufacturing. Overall, manufacturing increased by 300 in the first six months of the year.
All metro areas, except Dalton, saw slower growth in their labor market compared to three months earlier. As the Federal Reserve aims for a "soft" landing for the economy, some metro areas of Georgia have more room for maneuver than others.
Do you enjoy and benefit from ABD's business news? If so, CLICK HERE to find out ways you can help ABD achieve and expand our mission!