Painting curb numbers in the summer heat may sound like a brutal way to make a buck, but for young entrepreneurs, Bailey and Reese Kirkland, it's the perfect summer job. The twin sisters started their business in mid-May.
They had little input and a lot of support from their family. Think of it as a summer gig to make a little pocket money. So far, these young ladies surpassed their goal of a couple of hundred dollars by a long shot, with earnings of a couple of thousand.
"The idea for our business, Curb ID, came from our dad, and we took it and ran with it," explained Reese.
Kudos to dad, first. Curb numbers are important for mail delivery and fire or medical emergencies, but Bailey and Reese are doing the heavy lifting, so to speak. Not that a paintbrush, paint, and stencil are heavy, but they are working outside in some sweltering conditions.
"It's really hot," Bailey said, "but it does help the paint dry faster."
In the past month and a half, the twins have painted more than 100 house curbs, as many as 17 in one day.
"We've been contacted by two HOA's that we'll be working on with at least another 100 houses before the end of the summer. That's on top of the other neighborhoods we are working in. Trying to fit in all the jobs is a good problem to have."
The Kirkland twins are well-positioned for running a successful business. Both are enrolled in the Aiken Scholars Academy, a program that combines high school curriculum with college courses on the USC campus.
Bailey and Reese may look alike and sound alike but that is where the similarity ends. Reese plans to major in business finance and pursues a master's degree in project management. She's getting some great experience with Curb ID. Bailey is already a certified yoga instructor and plans to major in physical therapy and eventually, open a yoga studio.
For now, they aren't kicking their current business to the curb. Based on their success to date, "We've decided to make this a year-round business because we can fit it in with our class schedule."
Curb ID can not only paint your house number for $30, but they can also add your favorite team symbol including an A for Alabama or the Braves, a G for the Dawgs, SC, or Clemson among others, for an additional 10 bucks. For more information or to contact Curb ID, visit their Facebook page, or call 803-220-1755.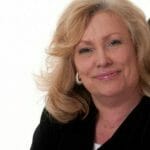 Editor's Note:
Mitzi Oxford is a veteran broadcaster and features writer who also worked at the same television station in Columbus, Georgia as Augusta's Brad Means! 
If you have a South Carolina story idea for Mitzi, please email her at [email protected].