Tis' the season for special get togethers and parties! In late October, some members of the Augusta Business Daily team and family members spent the day overlooking the field at SRP Ballpark and the night in the bullpen at Brinkley's Chop House.
With a successful Conference and Expo behind us, my business partner, Larry Rudwick, our Editor, Mitzi Oxford and her husband, and my wife, Melissa, and our daughters wanted to celebrate!
"Dinner at Brinkley's was one of the most memorable food experiences of my life on so many levels. The private dining room was the perfect atmosphere to catch up with my ABD colleagues," said Oxford.

Our family-style meal started with an interactive experience with Wagyu beef and a 700-degree heating element commandeered by my partner Larry, who traveled in from Northern Virginia.
"I've been to a lot of restaurants, but never had an experience like this," said Rudwick.
The American Wagyu Beef Tasting is one of several small plate appetizers that Executive Chef Ed DeFelice offers. That's right, they do more than just serve up amazing steaks and entrees, they also have a wide variety of tapas and small plates. These interesting and varied dishes illustrate the culinary muscle of the kitchen team at Brinkley's Chop House.
We sampled a Wedge salad, Shrimp Scampi Toast, Lollipop Lamb Chops with Whipped Goat Cheese and Jalapeno Jelly, Shrimp, Pork & Crab Spring Rolls.
"We will be rolling out a winter menu in a few weeks, featuring heartier seasonal garnishes to our entrees and new variations on our small plates and tapas," said DeFelice. He also added, "All of our prime steaks are now served with a parmesan potato croquette, poached asparagus, and a delicious house-made demi-glace."
One thing that separates Brinkley's Chop House from many other similar restaurants is their Butcher Boards which are large wooden cutting boards populated with various cuts of steak, grilled shrimp, lamb chops, lobster tails or confit duck, two large sides, and two handcrafted sauces. The most elite Butcher Board, The Chairman's Board, features a 40 oz. Tomahawk Ribeye, a 38 oz. Prime Porterhouse, two confit duck legs, two broiled lobster tails, and a dozen grilled jumbo shrimp.
They also offer The Neptune Board, for pescatarians or those taking a break from beef, featuring fresh fish and seafood including jumbo king crab legs and broiled lobster tails.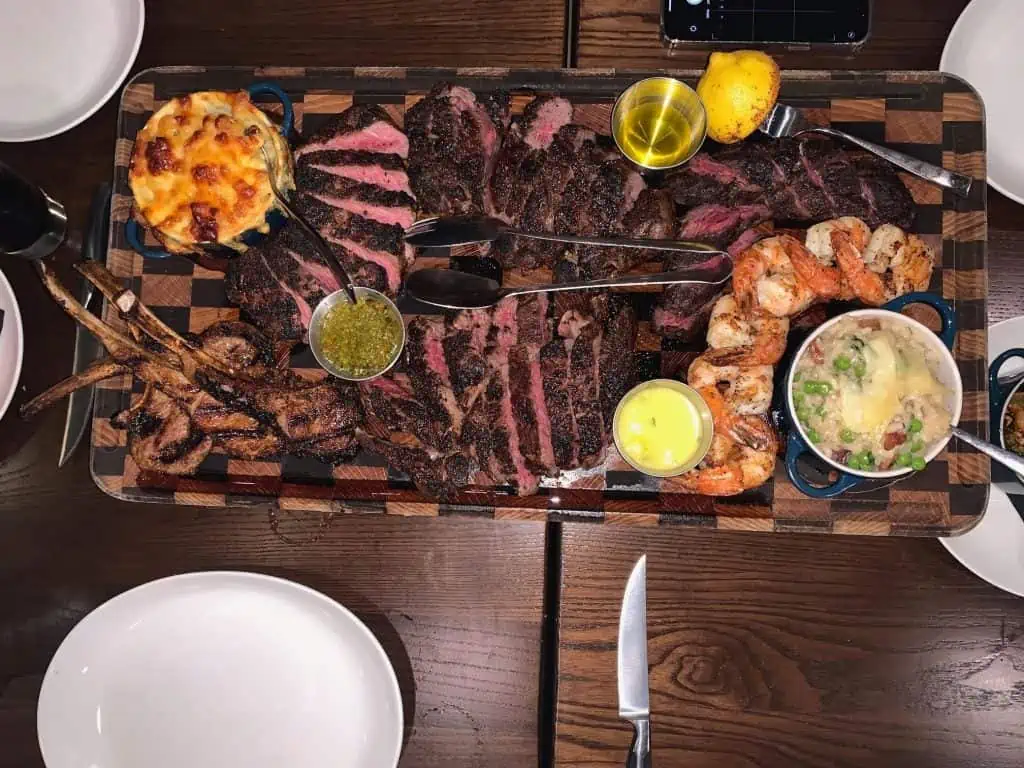 We were served a specially prepared board made just for us by the chef. This amazing butcher board featured a 10 oz. Prime Hanger Steak, a 14 oz. Prime Ribeye, a 12 oz. Prime NY Strip and their signature cut, the 16 oz. Duck Fat Delmonico, accompanied by grilled jumbo shrimp, and New Zealand Lamb Lollipops. These incredible proteins were complimented by a creamy English pea and bacon risotto and a four-cheese mac'n cheese.
"Our house steaks are all prime which differentiates us from others in the area. The rich marbling creates more tender and flavorful meat," said DeFelice.
Mitzi Oxford approves. "I've eaten at some of the best restaurants in Chicago, Dallas, Los Angeles, and Atlanta. I would put their Duck Fat Delmonico Ribeye and other steaks up against any of those. Cooked and seasoned to perfection, they were melt-in-your-mouth delicious."
We shared a bountiful array of side dishes. Brinkley's offers delicacies like Grilled Jumbo Asparagus, Creamed Spinach, Creamed Corn, Sauteed Wild Mushrooms, and Parmesan Truffle Steak Fries. We ordered Loaded Mashed Potatoes, Crispy Szechuan Brussel Sprouts, Macaroni and Cheese, Bacon, and Sweet Pea Risotto that perfectly complimented the Land and Seaboard.
Prior to dessert being served, our table took the time to acknowledge what an experience it was being in the bullpen.
"Our waitress was helpful with suggestions and anticipated our every need," said Oxford.
Turns out it starts at the top.
"As we approach our first anniversary, we continue to try to refine our operations and our brand to establish ourselves as one of the best dining experiences in the CSRA. Brinkley's provides the best possible food delivered by trained staff with impeccable service," added DeFelice.
The final course was an amazing dessert board featuring a sampling of chocolate torte, chocolate bread pudding, Basque cheesecakes, apple pie, crème Brule, and pecan pie.
"I rarely eat dessert, but I would walk a mile for their chocolate torte," laughed Oxford.
Before Rudwick headed back to the Beltway, he summarized his experience. "Being in the bullpen private room and enjoying great food and service after our important event will be something I will remember forever," he added.
DeFelice is excited about celebrating the one-year anniversary and all the special events between now and 2024. With the holidays coming up, Brinkley's can offer more. One special promotion is "Sunday Funday" afternoons to attract football fans and those wanting a nice relaxing time. Appetizers are 25% off from 2 pm to 4 pm and specialty cocktails are half-priced from 2 pm to 6 pm.
"We not only offer physical gift cards for purchase at the restaurant, but we also can email a card to the recipient of your choice," added DeFelice. "Additionally, the Bullpen is the perfect place to celebrate a holiday gathering or company Christmas party."