After years of selling his own hot sauce brand, Mark Alison decided to try his hand at creating a new chicken wing sauce. After experimenting with various flavor combinations, the '64 Wing Sauce was born. The name celebrates the first chicken wing sold at the Anchor Bar in Buffalo, New York in 1964.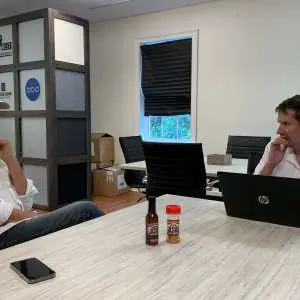 Alison – former owner of marketing firm, Alison & Associates Inc. in Augusta, wanted to create a sauce with a sweet, citrusy flavor without much heat. He chose key lime as one ingredient and tried different sweeteners, such as sugar and honey, before choosing agave. "We were looking for flavor," says Alison.
While similar sauces are often red, his is a "brown sauce really designed for flavor." He knew he didn't want to create another hot wing sauce. "Some sauces are so hot, you can't taste anything," Alison states. The '64 Wing Sauce has more of a mild flavor that allows people to enjoy more wings without burning their mouths. "The more you eat, the warmer it gets," he explains.
Three CSRA businesses sell his sauces: Lanier's Fresh Meat Market in Augusta, Grice's Butcher Shop in Aiken, and the Pot Smoker BBQ, which has locations in North Augusta and Aiken. Vendors also sell the sauces in various locations throughout South Carolina, including the Charleston City Market. Often, when he travels through Georgia Carolina with his wife Melanie, he stops in local stores and picks up new accounts that he can service with new cases each time he comes back through town. Even with Alison's personal touch and friendly, face time, he can't compete with the convenience of on-line access.
"Well over half the sales come through the website," Alison states.
Brad Strozier – owner of My Guitar Supply of Martinez, sampled Alison's sauce by using it as a marinade for grilling wings on his grill. "It's very sweet with just the right amount of heat, and it doesn't burn your mouth off," says Brad. He also enjoyed the wing sauce as a dip for leftover chicken he had on a different day. His wife, Addie, owner of Addie Strozier Photography, also loved the flavor and mild heat. "This sauce, used as a marinade, was just the right amount of heat," Addie says. "You could still taste the flavor of what you were eating."
Alison began bottling and selling the sauce about a month ago. "We tested it on a lot of people," he states. "I get a lot of positive comments." While his new wing sauce is a hit, Alison is no novice to creating sauces with unique flavor combinations.
Eight years ago, he developed his own hot sauce brand using serrano peppers and named it Help Me Jesus, which is now a registered trademark. Six months later, Alison created a ghost pepper sauce for those who like more heat. The name was inspired by a story that took place in Lowe's in North Augusta on a Sunday afternoon. Alison was looking testing electric switches for his home, when his brand-new iPhone vibrated, and he thought he had been electrocuted.
It scared him, and he threw his hands up. Two women still dressed in their church clothes were on the same aisle and cried out, "Help me, Jesus!" They started praying. "That was it," Alison adds. "That was the name."
When he first developed the sauce, he gave jars of it away to friends. "I never thought too much about selling it," Alison says. He says he likes hot sauce, but most brands he tried had heat and almost no flavor. Alison developed the sauce in one day by experimenting with different flavors in his kitchen. "I'm a pretty good cook," he explains. "I just kept trying it until I found what I liked." Alison had to tweak his recipe to mass produce the sauce. He estimates he's sold more than 10,000 bottles of hot sauce so far.
For now, Alison is focused on promoting his new wing sauce and likes to "hear people's response when they taste it," he adds. "It's a different sauce."