In the past few years so many excellent restaurants have opened in Aiken that it becomes difficult to distinguish oneself with a name.
When Lou and Stephanie Giusto (photo above) opened their oasis of flavors at the historic corner of Park Avenue and Laurens Street in Aiken two years ago, their application for an alcohol license was not approved for whiskey. That was fine. The Giustos are wine people anyway, so they named their rather intimate culinary retreat "Solo Vino" which in Italian means "Only Wine."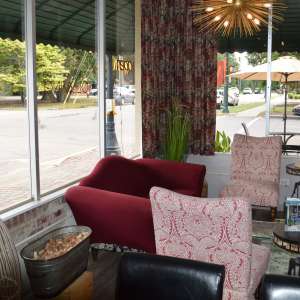 It's a sophisticated sounding name, which is good for a sophisticated restaurant operated by a devoted staff with years of learning at some of the country's, and the world's finest restaurants, but many people assumed it was an Italian restaurant. Surely many came in thinking about spaghetti or perhaps prosciutto?
Italy is famed for its fine foods and wines, many of which you can enjoy at Solo Vino, but their arc of gastronomic delights swings all across Europe and North America.
To re-direct the question to her family's heart and soul, Stephanie describes Solo Vino as "genuine American cuisine, a casual upscale dining experience that doesn't limit itself with labels. A fine restaurant is the sum of all its priorities; the quality of the food, the wide selection of the wine and the ability to advise on the best wines with each dish, the proper service, the proper table setting and presentation of the courses." How smoothly everything runs and how enjoyable everything is, becomes the mark of an excellent restaurant, she explained.
Through the gauntlet with the rest of us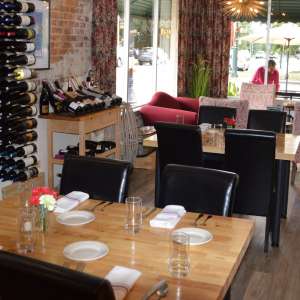 The restaurant just passed its second anniversary and is now thriving although, like all of us, things were very difficult during the first year of the pandemic. "We lost our entire staff except our family, Lou in the kitchen, our son Nick as the waiter and myself out front. But we were so fortunate that our wine club saved us.
"We have a wine club that meets for a dinner monthly and during the statewide restaurant closings, the wine club came and bought take out dinners. We didn't know that filet mignon would save us, but it did," Lou laughed, more out of relief than humor. "For seven or eight weeks it was takeout only and primarily from our wine club. Did it work? It paid the light bill until we could open again."
On Monday, Sept. 30, they had an all-champagne wine dinner for their wine club. "We had five courses, all paired with a champagne to match them. We now have 200 members and nearly another hundred on a waiting list and we couldn't thank them more," said Stephanie.
Solo Vino made one concession to the pandemic that has produced a great result. "During the worst of it, it became very difficult to buy fine cuts of meat for restaurants all over the country and we had to switch to more fish and seafood. And our guests were just as pleased. We learned that people in South Carolina love fish and seafood," said Lou.
Of the nine entrees on the main menu the night that Augusta Business Daily visited, there were 4½ fish or seafood items; scallops, salmon, Mahi Mahi, Atlantic Salmon and the half was Shrimp and Andouille Sausage Etouffee served over rice.
The meats were a center cut filet Mignon, two interpretations of New York Strip steak, one of them Steak Giusto, named after the chef, and a double-cut Berkshire pork chop.
"Everything is fresh," explained Stephanie in the few minutes before the kitchen opened at 5 on a Friday, their busiest day. "We have no freezer, no fryer, nor a microwave. We source locally whenever we can, but it is also important to buy the best so, in some things other than fresh fruits and vegetables, we buy from the best restaurant purveyors," said Lou.
"With the re-emergence of the Covid-19 variant, new supplier shortages have begun but we all hope we have learned from last year," Lou said.
The smallish serving area holds eight tables with four more outside during good weather. There is also a "living room-like" setting up front with a couch and chairs where friends may enjoy wine together or new arrivals may wait for their table with glass in hand.
Solo Vino is open for food service from 5:00 p.m. to 9:00 p.m., and from noon to 5:00 p.m., for retail and bulk wine sales. They believe they are the only restaurant in Aiken with a full-time sommelier, Christine Hoffman, originally from South Africa before study around Europe, especially in Tuscany. Lou is also a certified Sommelier although a listing of his food and wine credits would be too long for this story. Their son Luke, the manager and head waiter, is also studying the craft.
An impromptu exercise in pairing wines and food
Joining the Augusta Business Daily writer in sharing a meal were Camille Clifton, owner of Pompadour D.C., on Pendleton St., in Aiken and also in Washington, D.C. and McLean, Va., and her mother Michele Clifton, a French native who teaches French at St. Mary's grammar school here in Aiken.
The three shared two appetizers followed by one main course and a dessert. The point was to engage in the centuries old, and often exuberant, European exercise of suggesting half-a-dozen wines for each course. The discussion was fast and furious, and often in French, so the writer (who doesn't drink) had very little to add at this point.
Blackened Shrimp seared in butter with a blue cheese dipping sauce and Prince Edward Island Mussels in white wine, butter, shallots, parsley, garlic, tomato, and cream. With the help of sommelier Christine Hoffman, and the lifelong expertise of the two French wine experts sitting at the table.
The Mussels were paired with what proved to be a very popular red, Domaine des Gaudets – Morgon Cote du Py 2019.
The Shrimp were paired with a Reisling, whose name the group failed to document, but which went very well with the spicy shrimp.
The Berkshire Pork Chop was paired with a Domaine du Vieil Orme Sauvignon Blanc 2020, Touraine, France.
And the highly complemented Hummingbird Cake, which was large enough to serve three, was successfully paired with a Cremant Sparkling White Bordeaux – a big hit to end the evening.
Solo Vino Wine Parlor – 200 Park Ave. SW, Aiken, S.C., 29803, www.solovinoaiken.com (803) 262-5335.