The Kirk's location is in the Shoppes at Camelot in Evans. (photo by Neil Gordon)
The Healthy Hangout is set to open later in July or August. If you visit Arissa Kirk's energy bar in the Shoppes of Camelot, you'll likely have to pass by the smells of Shane's Rib Shack and the adjacent Sonic Drive-In.
"When I'm stressed or overwhelmed or upset I turn to food," she said.
To help you fight your unhealthy food urges, Kirk will serve you parfait bowls, low-calorie smoothies, a metabolism energy drink, or a "skinny shot" which can curb appetites and help target the midsection and so much more.
"Our energy drinks do not give you a negative side effect—like the jitters," the 27-year-old mother of three says.
She says she and her clients have learned first-hand how her nutritional program helps promote weight loss, builds muscle, and may relieve symptoms that cause heartburn, constipation, high blood pressure, cholesterol issues, and more.
The Evans location will be the 20th healthy café/energy bar Arissa and her husband Brandon have been part of in Southern Arkansas and Northern Louisiana— since she rose to nearly 300 pounds after the C-section birth of their 3rd child.
It was then she turned to her Grandfather for advice after complaining about how she felt one day.
She was battling self-confidence issues. "He said Arissa my dear if you can't fix a problem you become the problem."
That pearl of wisdom caused Arissa to reflect and to start helping herself and focus on changing her life.
"It starts with you!" Arissa said.
Shortly after, Arissa was introduced by a friend to a local healthy energy bar in Arkansas like she is opening here in Evans.
It was at that moment Arissa decided to change careers and become an ambassador to help others struggling with their health and with their self-image.
Arissa was a drug and alcohol addiction counselor in South Arkansas but didn't feel as if she was in a relatable place to serve her purpose of helping others.
"We are all addicts in our own way. Mine has always been with food."
Her business exploded back in 2018, as some of Arissa's sayings resonated with clients.
Live to Inspire. Inspire to Live. Our journey is the definition of turning impossible into IM POSSIBLE.
"Health is everything and it starts with what you are feeding yourself. It is 80% nutrition and 20% exercise.," added Arissa.
"The Healthy Hangout" concept is a café like feel where like-minded people hang out, share a healthy energy vibe, and enjoy the nutritional drinks tailored to their health issues.
Within the space, people can do a free wellness evaluation.
There will be opportunities for customers to purchase vitamins, supplements, and more "to go".
"There are a lot of new families here away from friends and family and their hometowns. We want the hangout to be a place where friendships are made and a place to come be yourself.
After some serious health issues with Arissa, which are now under control—the Kirks decided to make a fresh start by relocating to Georgia and specifically Evans after seeing the positive national press about our community.
The timing of the move coincided with Covid 19 and rather than open the café at a spot in Grovetown, they opted to return home to be with family and work closely with employees and business partners to keep their stores safe through the pandemic.
They returned in late 2020 and decided against Grovetown… ended up finding a spot in Evans across from the Evans Wal-Mart with long-time tenants.
"Our building we have now in our center in Evans even has palm trees which I'm fascinated with. Arkansas doesn't have palm trees so it felt like it was meant to be," she said.
"We love Evans. Evans shows what we stand for. It's a true example of growth and expansion and community. We can tell that Evans is all about health and there is a demand here for it."
The Healthy Hangout will begin to serve parfaits at some point after the energy bar launches. (photo courtesy Kirk family)
She expects to have their soft opening in July. Local businesses are supporting her with raffle giveaways, there will be some live music and Arissa will do free samples in the community.
Children under 10 always have healthy drinks for free with an adult purchase.
Mrs. Kirk bragged, "My husband has done all the build-out. He is the best! He believes in me and our dreams and helps me achieve them," she added.
While construction continues Arissa Kirk will continue to monitor the progress of her colleagues in Arkansas and Louisiana with daily phone and zoom conversations…and she'll continue on her own personal journey.
Like so many—she's gained a little bit of weight back through the pandemic. She says the key is always determination and consistency.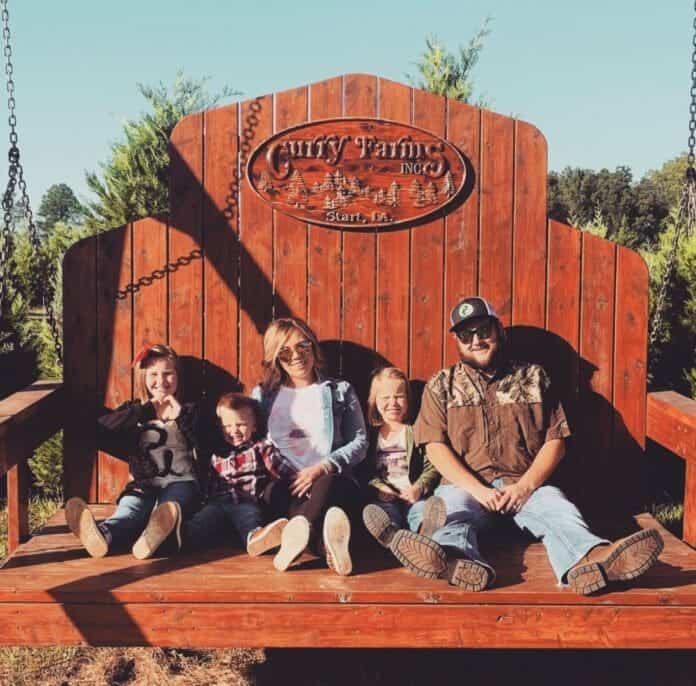 "I will achieve my goal again once I open and get back grounded in my own self-discipline and hope to lock arms with others who may also be struggling!"