Patients being treated at the Georgia Cancer Center (GCC) at Augusta University have new members on their team, and they know all about working as a team.
Student-athletes at Augusta University launched the "Here to Win" campaign during a recent news conference. The campaign will bring awareness to cancer prevention and early detection, while also raising funds to support research projects at GCC.
Ryan Erlacher, athletic director at Augusta University, said Jaguar athletics has long partnered with GCC for cancer awareness games. However, they looked for a way to advance the teamwork.

"That leads to the 'Here to Win' campaign which displays how Georgia Cancer Center laboratory scientists are passionate and dedicated about finding new treatment options for various forms of cancer and new ways to detect and identify cancer in early stages," he said. "It highlights the passion AAU student-athletes and coaches have for their respective programs and their commitment to being champions on the playing surface, in the community, and in the classroom."
The campaign will be highlighted at games across all AAU sports. Fans will have the opportunity to make donations for the GCC. There will also be unique opportunities during gameplay, such as pledging an amount for every dig the Jaguar volleyball team has during the match. The cancer center will also have an educational display at the games to promote healthy living, cancer prevention, and the importance of cancer screenings.
Money collected will go to GCC to help fund research projects underway at the center.
"I think every penny that anybody donates is a drop in the ocean to add to that volume. There is no amount of donation that is too little," said Dr. Balveen Kaur, associate director for cancer research at the Georgia Cancer Center. "100% of the funds that we raise go towards research that we support. We have supported clinical trials and we have supported epidemiological studies which look at our patient population."
GCC has found the state has a disproportionate number of cancer diagnoses with poor outcomes, particularly in minority and underserved populations. Kaur said those groups often also face financial hardships, what is called 'financial toxicity,' when they are diagnosed with cancer.
"For some of these patients, it's a choice of buying their chemotherapy drug or milk for their children. And these are very overwhelming decisions for people to make. And these patients are also afraid to tell this to their physicians, and there are programs to help this patient population. But an early identification of people who are at risk of this financial toxicity because of the diagnosis is very important," she said.
Among the athletes joining the GCC team is Timmy Sellers, a senior on the basketball team. He said it is important to participate in this to represent the university, but also representing something bigger than themselves.
"It's not just one game for any team. It's just a constant university support and that we are here within a community to help. To just be a positive statement and have a positive impact on communities, just show they're not alone. And it's not just a one-game thing. It's actual ongoing support," he said.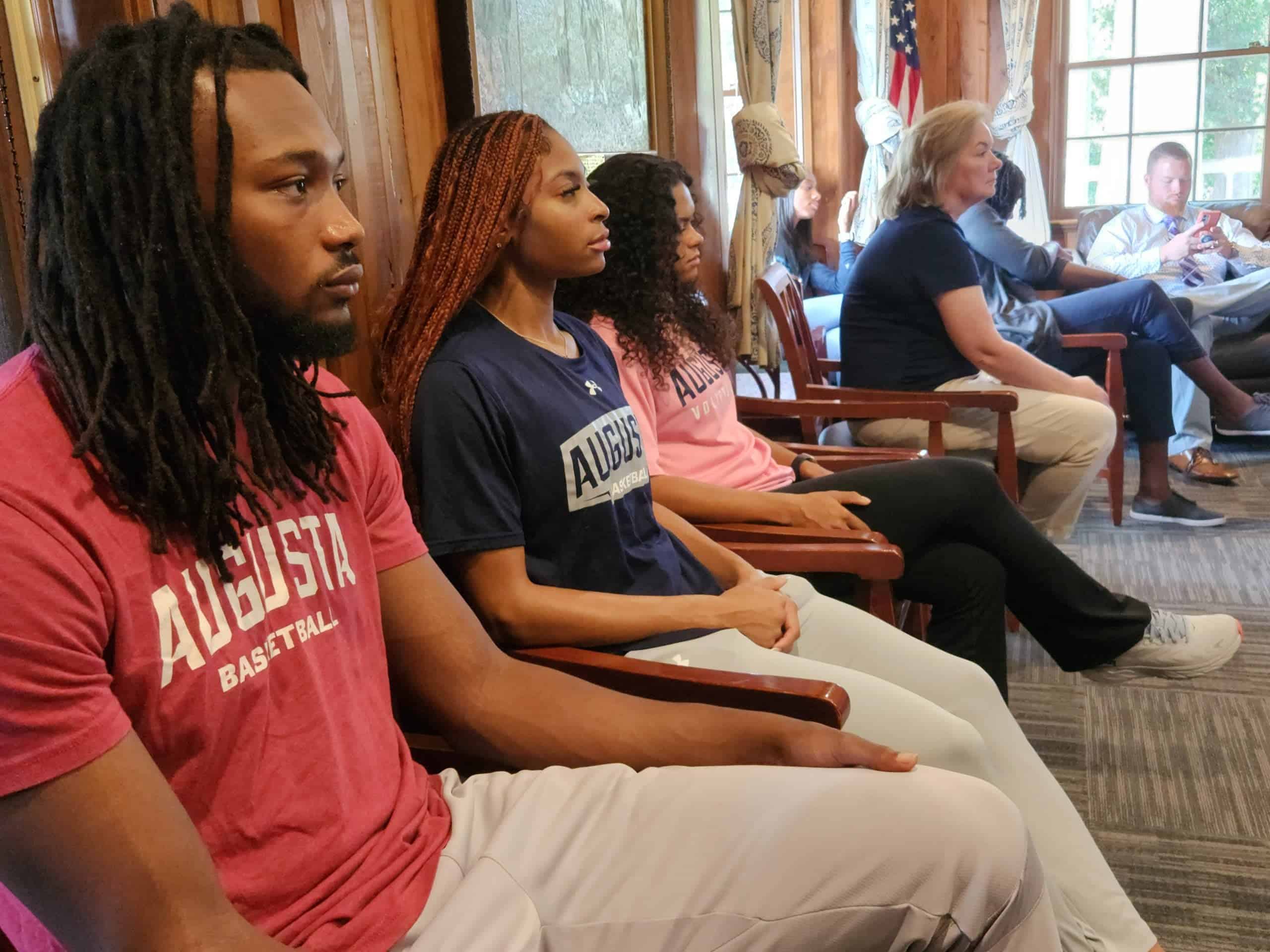 Kaur said that the level of engagement is incredible and gives patients and their families a sense of being supported.
"I think worse than hearing a diagnosis of cancer is hearing your loved one has a cancer. There are a lot of really good treatments. We have made a lot of progress. But rather than celebrate on the progresses, we have refocused on the journey that's ahead of us. And in this partnership, there is so much interest in the cancer center to really integrate with the community," she said.
Sellers want cancer patients and their families to know they are not alone in the fight.
"The message that I have is just stay strong and just always try to stay positive and just know that you're not alone," he said. "No matter how down you may feel, l just know that somebody loves you. Somebody cares about you and that people want to see you do good and people want to see you happy."