As an entrepreneur, Alex Myers understands the value of preparation in running a business.
Myers co-owns two local IHOP franchise locations: one on Peach Orchard Road in south Augusta, and the other on Washington Road in Evans.
"You can never be too prepared for the inevitable things that happen in business," he said.
Yesterday, Myers was one of several CSRA business leaders who attended this month's Augusta Metro Chamber of Commerce's Third Thursday Business Builder event. The speaker was Ed Enoch, an attorney with the Enoch Tarver Law Firm in Augusta. Enoch has been practicing law in Augusta for 30 years and specializes in various types of cases, including business planning and employment law.
The title of his presentation was "Business CheckUp," which focused on various details small business owners can't afford to overlook, such as renewing their annual registration with the Georgia Secretary of State.
"Owning a business should be like owning a boat: the happiest days are the day you buy it and the day you sell it," he said.
Unfortunately, it doesn't work that way for many business owners because they don't complete the steps necessary for starting, running, and transferring their companies.
"Don't let the government run your business," Enoch said.
To do that, business owners need to create an operating agreement, which includes many details, including members' ownership percentages, voting rights, and profit and loss distributions. This document is important for maintaining a business's liability protection.
He strongly recommends working with a business attorney who can help ensure an owner has taken the right steps to protect that liability.
"If you get a letter from the government, you need to give it to your lawyer right away," Enoch said.
He also discussed how employment law affects small businesses, which includes requiring employees to acknowledge they have received and read the company handbook. Enoch has seen businesses with five employees offering Family and Medical Leave Act (FMLA) in their handbooks, but to qualify for those benefits, the company must have at least 50 employees.
He also talked about intellectual property, specifically trademarks.
"Trademark is a big issue for small businesses," Enoch said.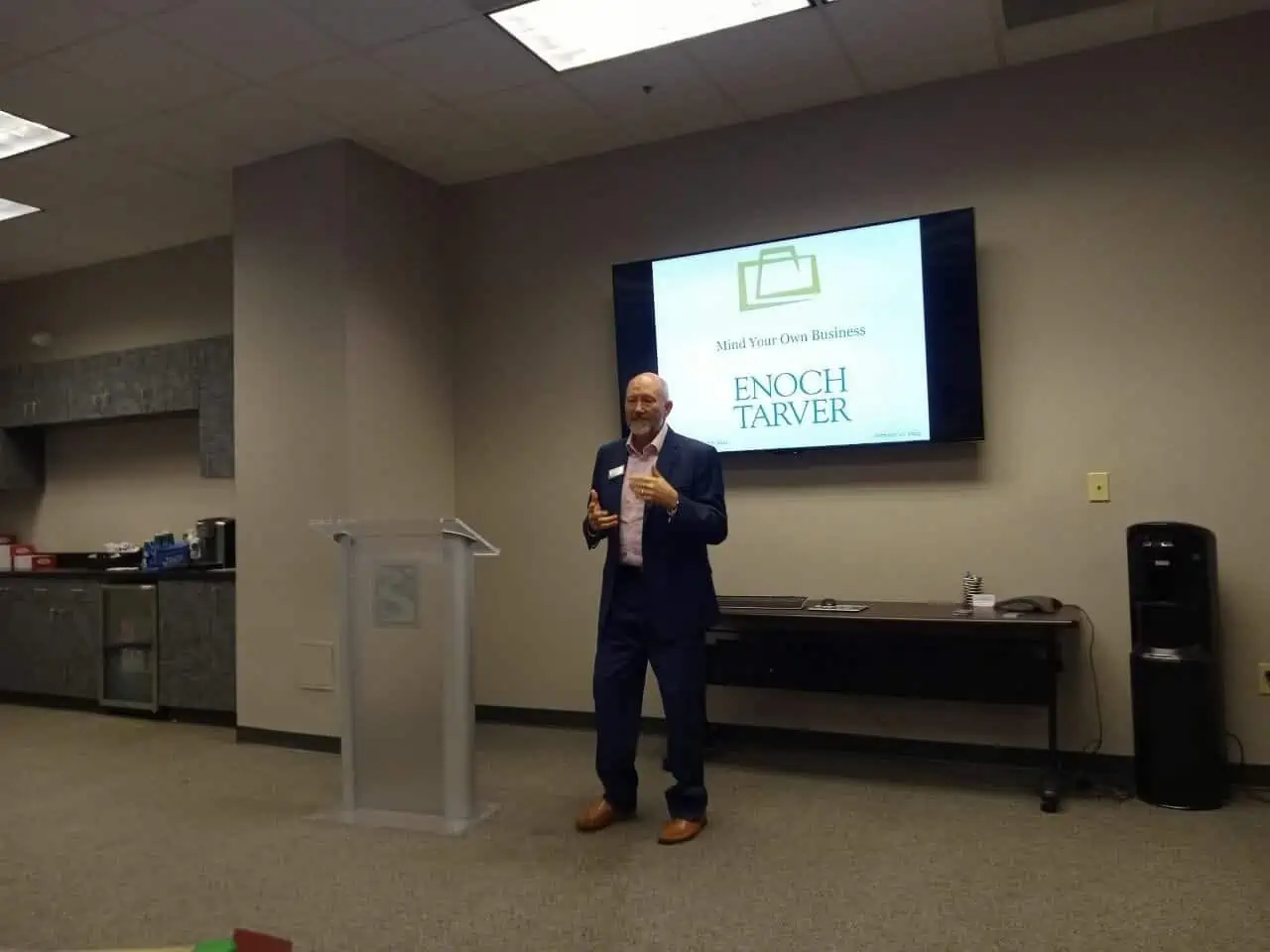 He gave the example of a former CSRA restaurant owner who wanted to expand his business, so his attorney tried to get a trademark for the business name. The problem was many other businesses throughout the U.S. had the same name, so he couldn't trademark it. Instead, he changed the name and was forced to shut down the business shortly after that because customers thought it was a new business and stopped eating there.
Another important concept in running a business is preparing to transition out of it.
"You should run your business like you're ready to sell it all the time," Enoch said.
He said many entrepreneurs run their businesses like it's their job by doing all the work. In those cases, the business has no value without the owners' work.
"Without a plan, small businesses die when the owner dies," Enoch said.
A few years ago, a small business owner in Evans died, but he was the only person authorized to make decisions for the business.
"The business shut down for two weeks while we filed an emergency probate appeal," he said.
For more information, visit enochtarver.com/.