Editor's Note:
Wes Hennings never met a meal he walked away from and is an opinionated eater! Each Thursday he shares the results of a business lunch he's had with a colleague as a way to advise our business community on the good, bad, and tasty across the CSRA. He doesn't let ABD or the restaurant know where he is going and his opinions are his own. He grades the restaurants he visits on a 1-5 scale with "5" being outstanding. We call this our "Real Business Lunch Review".
Food Quality: 4
Service: 4
Business Meeting: 5
Value: 4
Average Score: 4.25 of 5
Today's dining is one of those distinctly Augusta experiences. It's one of the first places I visited as a wee lad just emerging from college and interviewing for jobs far from home. I believe it was a meal during my weekend job interview.
It's also one of those spots that I instantly think of when out-of-towners ask where they can eat with a local flair. And while I don't think the Boll Weevil downtown is as good as it once was, it's a tasty meal that can always end with a bang.
The riverside of Reynolds Street in Augusta is one of my favorite places. If you're not up on the history, the old brick buildings there were cotton warehouses, where Georgia's cash crop would wait to board boats and chug down the Savannah to worldwide destinations. That's where the name Boll Weevil originates, named for the bug that once devastated the cotton crops. Local legend also says it's where the phrase "high cotton" originates because at peak season the cotton was so high you could barely walk or see.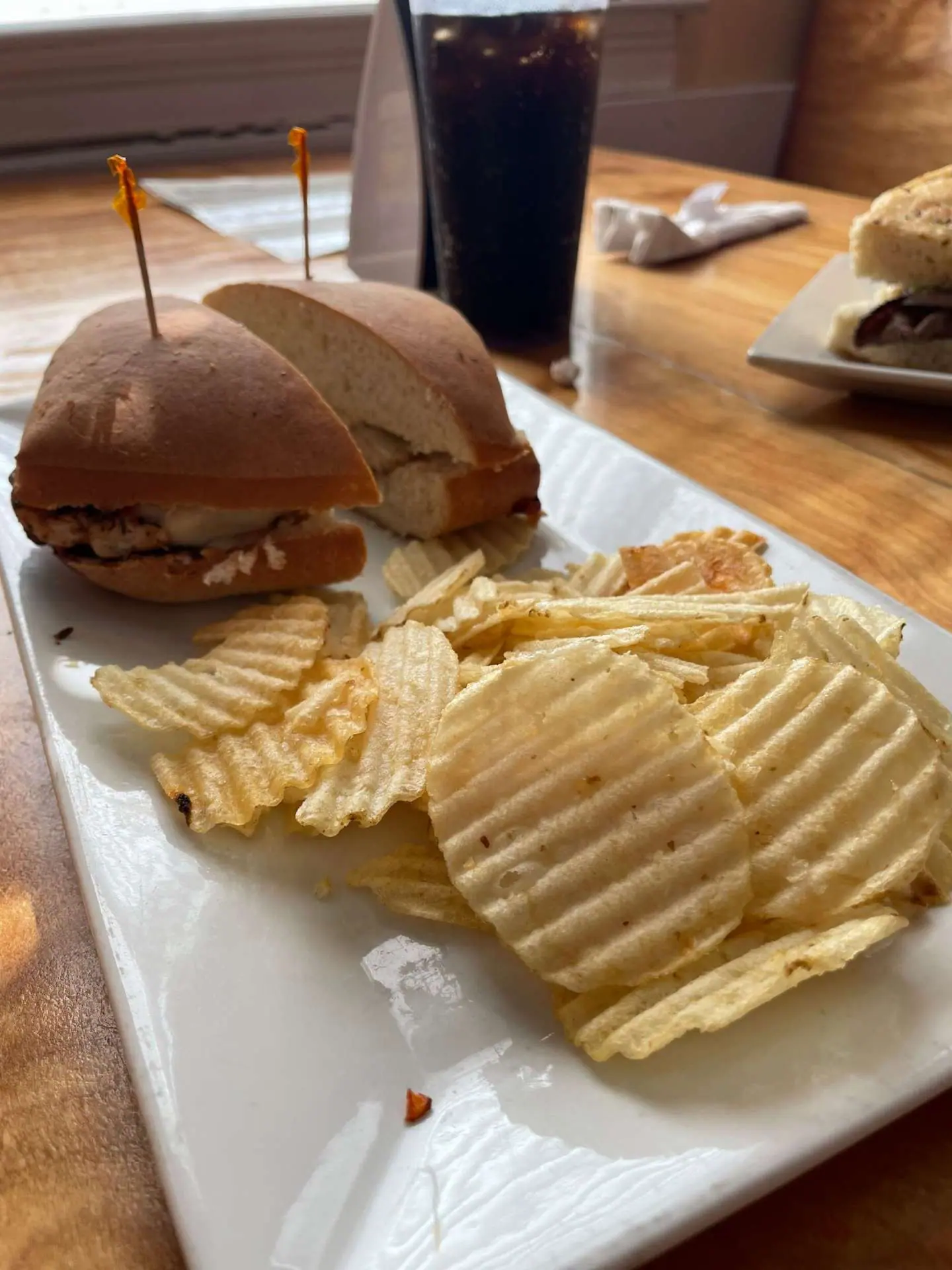 So simply walking into the Boll Weevil makes you part of Augusta's history. You'll be in for a good lunch, if not a historic meal.
On this particular day, my companion ordered The Jerk chicken sandwich, and I opted for the Southern Gent. This roast beef on focaccia also includes a delicious fried green tomato. I splurged with the upgrade to lobster bisque as the side as well.
A decade ago, I raved about the soups at Boll Weevil, particularly the potato and the bisque. They seemed to have lost their flair, however, and feel a little less creamy and a little more watery – also with a little less of the good stuff tossed in. Again, that's probably everywhere right now as everyone is forced to pinch their pennies. Less lobster and more water is probably our fate for at least the next while.
The sandwiches are the star of the show, and at least some of the bread is homemade. I often peel back a bit as it seems there's a higher bread-to-filling ration than I prefer, but I'm probably odd that way.
However, my extra bread was a great addition to the soup. We had a great conversation in a nice setting, so I'd always recommend this spot for a lunch with clients or colleagues, and it was fast enough, if not the speediest place around.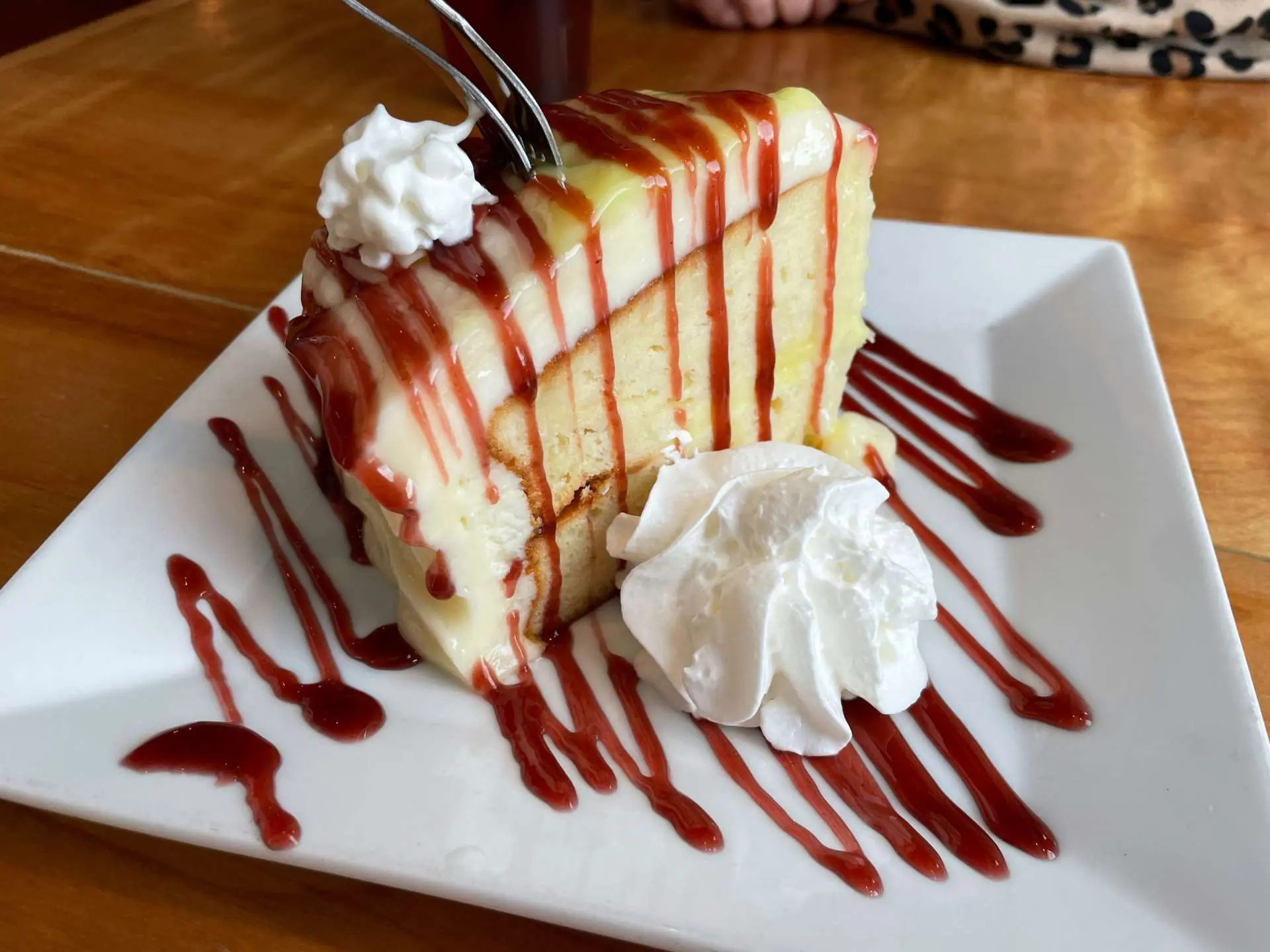 And then, there's the capstone. Dessert is the reason to go to the Boll Weevil, and if you're not that hungry, skip the meal and go straight for the cake. I've had dinner downtown with dessert here down by the river, more than once. While the slices aren't cheap at $9 each, they are huge and delicious. Apart from my disdain for coconut, I don't think I've ever had a bad slice, so pick anything from the menu.
On this particular day, my companion was set on the canary lemon, which it turns out was frozen, so we had some temperature issues, but the flavor was the same as we always love and we put the frozen bits in a box for later.
I wish the Boll Weevil was the same amazing spot it was a decade ago, but it's still a delicious lunch and an incredible dessert, so it's one to keep on the list, particularly for out-of-towners looking for that Augusta flair. And with reasonable prices, you can be in high cotton without eating too high on the hog.