Editor's Note:
Wes Hennings never met a meal he walked away from and is an opinionated eater! Each Thursday he shares the results of a business lunch he's had with a colleague as a way to advise our business community on the good, bad, and tasty across the CSRA. He doesn't let ABD or the restaurant know where he is going and his opinions are his own. He grades the restaurants he visits on a 1-5 scale with "5" being outstanding. We call this our "Real Business Lunch Review".
Food Quality: 5
Service: 5
Business Meeting: 5
Value: 4
Overall Rating: 4.75 out of 5
It seems like May has become a month of celebrating. Whether it's moms, grads, or the upcoming Memorial Day, there is plenty going on. So, I'm straying from the rules a bit to recommend one of my favorite spots in town that's perfect for a celebration.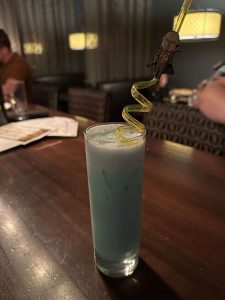 It's been around for a while, so I'm a bit late to the party, but Craft and Vine on Broad Street downtown has proven itself to be one of the CSRA's top spots both times my wife and I have visited. Its hybrid nature between trendy night spot and high-end chef-curated menu makes it a hot ticket, especially when my lady and I most recently visited before a show. The cocktails and parts of the menu are often themed around the season or fun holidays, and this visit had a Star Wars theme on the weekend following May the 4th (be with you).
We started with some happy hour drinks. I was skeptical when the server said the option I chose had a creamsicle vibe, but it certainly did with a fun straw to match. My wife went for the dark side. We saved our appetites for the main course, but I will tell you from history that the pretzel bites are worth a starter splurge and the pork rinds also intrigued me.
My date always opts for the pizza if it's an option, and this pepperoni has just enough elevation to make it an awesome choice, even for a night out. I went with the pork medallions and scalloped potatoes, plated so artistically it was hard to tell which was which before digging in.
Neither entree disappointed. I was wavering before I ordered between the pork and the poutine, so when my neighbor was served his cast iron skillet full of fries and the fixins, I definitely had order envy. However, that disappeared as I savored the nicely cooked "other" white meat and also helped myself to a slice of the wife's pie.
We debated the desserts, but ended up only ordering coffee as tired parents who needed to stay awake during a late show. It was served with sugar and cream from a French press delivered to the table. It was a classy way to end a classy meal in a location that's not too pretentious.
So how am I bending the rules? Well, this is not an establishment that opens itself up for lunch. But it's definitely a place I'd recommend for a business gathering or happy hour, with an incredible environment, great service, and that downtown Augusta flair that's not the cookie-cutter suburb fare (even though you know I love a chain restaurant). Craft and Vine is one of those establishments that's really making the downtown Augusta scene pop, and while it's definitely not a "value" meal, I'd be surprised if a visit didn't put it on your list of top spots as well.
Craft and Vine
1204B Broad Street
craftandvine.com