Editor's Note:
Wes Hennings never met a meal he walked away from and is an opinionated eater! Each Thursday he shares the results of a business lunch he's had with a colleague as a way to advise our business community on the good, bad, and tasty across the CSRA. He doesn't let ABD or the restaurant know where he is going and his opinions are his own. He grades the restaurants he visits on a 1-5 scale with "5" being outstanding. We call this our "Real Business Lunch Review".
Food Quality: 4
Service: 4
Business Meeting: 4
Value: 4
Overall Rating: 4 out of 5
Sadly, I feel like the past few weeks I've been on a run of lunches that haven't impressed. So, this week, we traversed to the Augusta Exchange and Genghis Grill in an effort to change the trend. This was not the meal to break an unlucky streak.
It's honestly been several years since I visited Genghis. It has a buffet element, which didn't fare well during a global pandemic, but it's a feature that I generally like. The build-your-own bowl is the most common meal, and for lunch, a medium size is 10 bucks.
You choose a base, like rice or udon noodles, and then you go to a buffet of raw ingredients, like steak, shrimp, and all the veggies. You even season and sauce it yourself. Then, you hand the bowl over to the chefs and they cook it on a large, open, circular grill while you wait. It's fun just to have a bit of a different experience at lunch.
I opted for the noodles and cabbage as my base, with shrimp, steak, and summer sausage inside. Water chestnuts and baby corn are also ingredients I like in the bowl. My lunchmate for the day did a base of double rice and stuck mostly to the shrimp.
The nice part about the meal is that you see that the ingredients are fresh, and you put a colorful array on the counter for the chefs to cook up. What's a little troubling is that all the color is lost during cooking, making you wonder how much butter and oil is added during the process and if it's cooked a bit longer than necessary.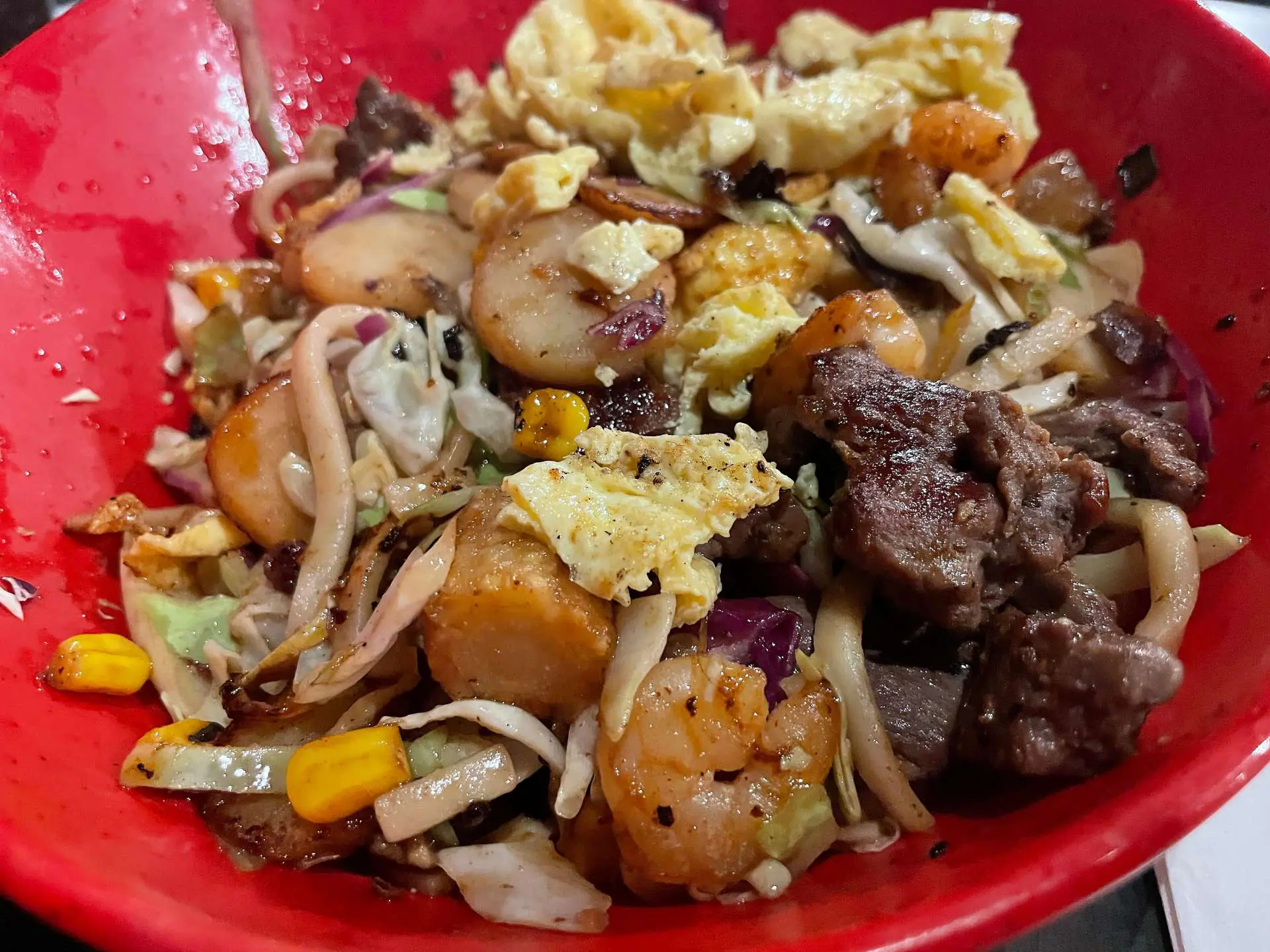 My bowl was pretty good. I liked the meat options inside, and you don't get to have that kind of variety at this price point in many locations. The summer sausage really jumped out to me as tasty on a rainy, summer day in the city. And the noodles were the right choice – because my friend's rice bowl really left something to be desired. He had trouble finding words to describe the rice other than mushy and gelatinous. Also inedible. He avoided the rice and basically had a keto lunch. That could be great if you were looking for that sort of thing, maybe not if you were hoping for a yummy rice bowl.
We also ordered pot stickers to start. This was another $10 and there were five not-large dumplings. They tasted fine, but were nothing outstanding and they came with a high price point. The service was fine but nothing extraordinary. The appetizer took quite a while to arrive and then we waited a while for the check as well.
The atmosphere was also good enough for a business chat. The buffet-type element might make it odd if you're trying to have a serious discussion and most of the tables are high-top, which always feels a bit more casual to me.
Maybe that's why today's scores are consistently just below top marks. Nothing stands out as a lunch that I really need to run back for, but it wasn't bad. So, while its namesake was quite a conqueror, Genghis Grill doesn't seem like it will be overwhelming the Augusta food landscape anytime soon.
Genghis Grill
250 Robert C Daniel Jr Pkwy
www.genghisgrill.com