Editor's Note:
Wes Hennings never met a meal he walked away from and is an opinionated eater! Each Thursday, he shares the results of a business lunch he's had with a colleague as a way to advise our business community on the good, bad, and the tasty across the CSRA. He doesn't let ABD or the restaurant know where he is going and his opinions are his own. He grades the restaurants he visits on a 1-5 scale with "5" being outstanding. We call this our "Real Business Lunch Review".
Food Quality: 4.5
Service: 4
Business Meeting: 5
Value: 4
Average Score: 4.375 out of 5
The eyes of the world fall this week to a modest flow of water that winds through Augusta. The most well-known and photographed spot at Augusta National Golf Club is Amen Corner, and Rae's Creek cuts through the pristine landscape to set up all the action and drama on golf's biggest and most exclusive stage.
But a couple of miles upstream, Rae's Creek has more humble beginnings, and that's where you'll find a more humble establishment that becomes one of Augusta's hottest tickets outside the course during Masters Week. In any other town, what would be the decor and feel of a beach bar is what we call fine dining this week. It's tucked deep in a residential section of the hill and it's where you'll find tournament regulars as well as the first timers looking for a local experience.
Because everything gets classier this week in Augusta, today's column is a dinner review instead of lunch, and my wife and I found ourselves with a table at Rae's on the Sunday that starts Augusta's biggest week. Supposedly it's walk-in only, but a select few obviously snagged a reservation. I would complain, but we actually found one of those reservations through a connected local, but still waited a little over a half hour to be seated.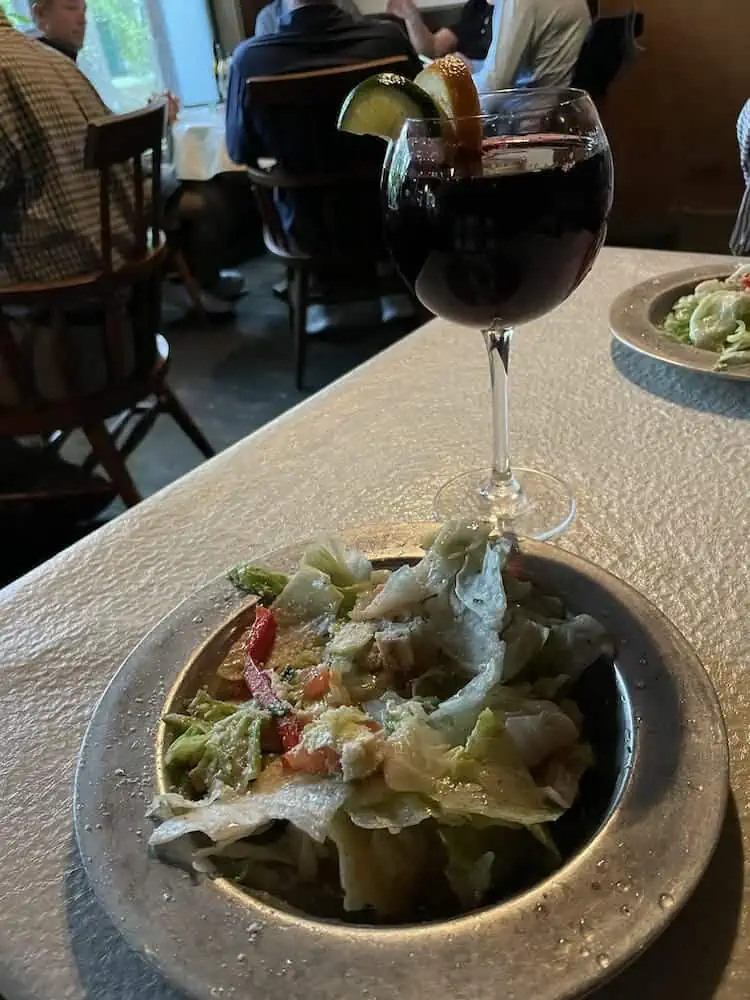 Walking in, you notice the bar, the outdoor patio, and all the kitschy Caribbean decor. But as you look at the menu, you'll notice the food offering and the prices are definitely on the upper end of Augusta's offerings. Jerk is the flavor that is most prominent, and what my wife decided to consume upon a breast of chicken. The ribeye steak came recommended, and so I couldn't pass up the chance to indulge my carnivorous side with 12 oz of grilled beef.
The meal began with rolls and butter, though the butter portion could have been more ample. Appropriately, green jacket salads on cold plates were next, with pita chips as the topping and heavy dose of the oily green jacket dressing. Some might think the dressing drowns the rest of the toppings, but it was delicious and that can be easily overlooked.
The entrees were where this reviewer was of two minds. The ribeye was amazing. It was cooked perfectly to order with a great sear and the char or the grill prominent in the taste palette.  But this amazing steak was paired with very uninspiring new potatoes. They tasted like what I would boil at home if I forgot to season them before serving. The wife's chicken was juicy, and the jerk was not too much of a jerk. It tasted delicious. Her side of beans covering rice were tastier, but not a standout. Had just a bit more care gone into the side dishes, the meal would have been a home run.
That said, Rae's Coastal is a truly unique Augusta experience, and one I certainly recommend. A meal for two with some drinks will set you back over a C-note ($50 for the steak and $26 for the chicken – which is the cheapest dish), but it's a fine-dining experience set in a casual atmosphere, which feels true to the Augusta experience – a world-class week that's not too pretentious.
(P.S. – if you're still looking for the best lunch in town this week, it's behind the golden green gates on Washington Road. The pimento cheese gets all the hype, but for me, the best $1.50 I'll ever spend is for the egg salad.)
Rae's Coastal Cafe
3208 W Wimbledon Dr
raescoastalcafe.com