Securing financial stability can hinge on having the skills an employer is seeking, but that doesn't necessarily require a four-year college degree.
Augusta Technical College is holding a series of open houses to show the advantages to enrolling in one of the diverse programs it offers.
The first of four open houses will be Mon, March 13 from 5 p.m. to 7 p.m. at ITC 100 Building on the Augusta campus. It is for students interested in the School of Aviation, industrial, Engineering, and the School of Public and Professional Services.
On Tues., March 14, the School of Business & School of Arts and Sciences and Adult Education will set up from 5 p.m. to 7 p.m. downstairs in the 1300 Building on the Augusta Tech campus.
On Wed., March 15, anyone interested in the School of Health Science can visit the Piedmont Summerville campus at 2260 Wrightsboro Road. This session will be 4 p.m. to 6 p.m. This year marks the beginning of the partnership between Piedmont Hospital and Augusta Tech to use the Summerville Hospital, formerly St. Joseph Hospital, to expand educational opportunities in the field of health care.
The final open house is for the School of Cyber & Design Media. It will be Thurs., March 16 from 5 p.m. to 7 p.m. in the Plug-N-Play Auditorium at the Georgia Cyber Center at 100 Grace Hopper Lane in downtown Augusta. This is an information session. Paid parking is available in the center's parking deck.
The open houses coincide with a special offer from Augusta Tech.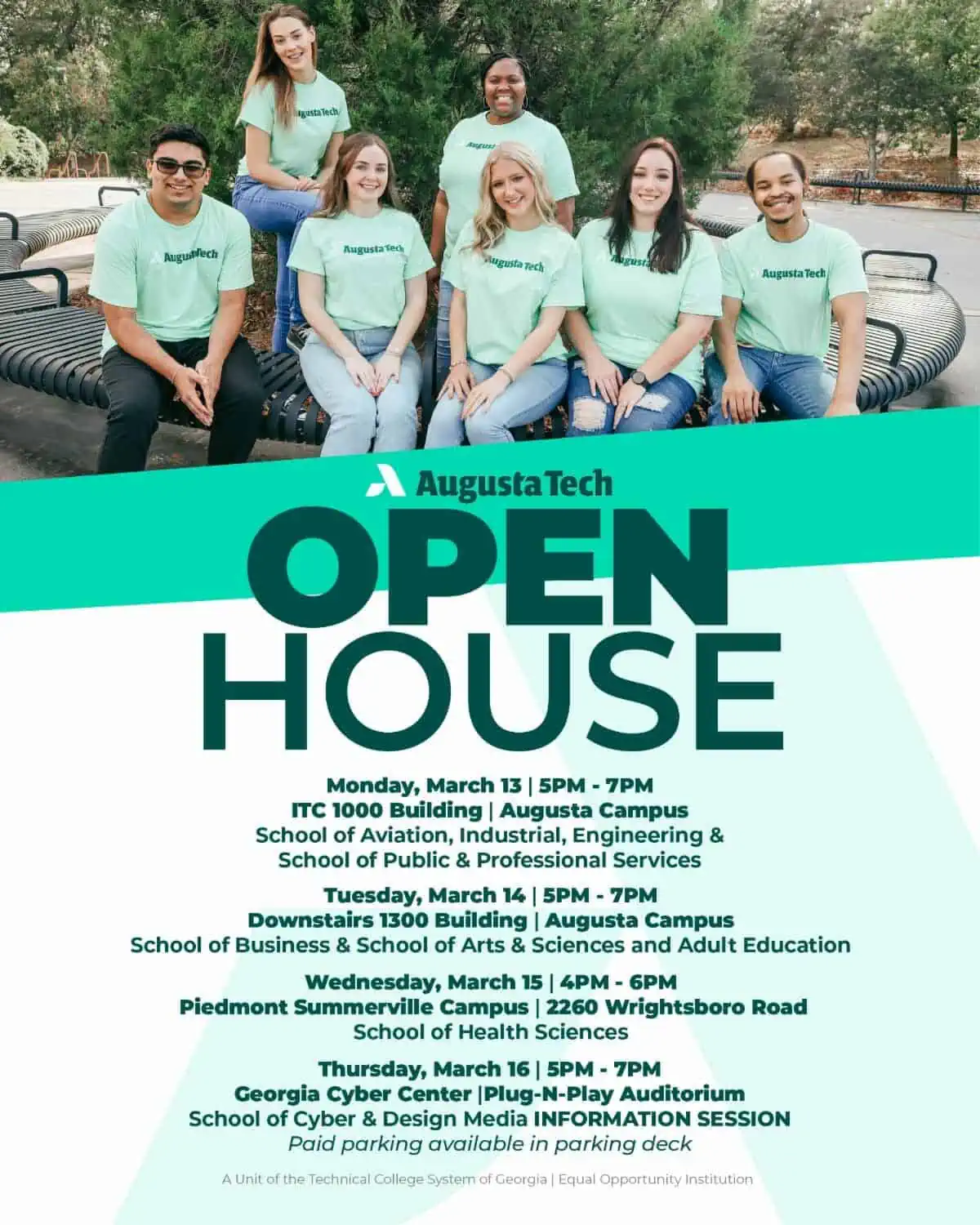 Application fees will be waived for anyone applying between March 13th and March 24th.
Apply at any campus or online at www.Augustatech.edu.
Use code MARCH 2023.