Of all the locations you would expect to find a dive shop, Harlem is probably not one of them. But Rose Bennett and her late husband, Bob, opened Bubbles or Not in the small Georgia town in June 2016.
Located off Gordon Highway at 211 North Louisville St., Bubbles or Not offers a variety of scuba classes for both beginners and advanced divers. The business also offers the Open Water Diver certification class, which prepares students to dive anywhere in the world.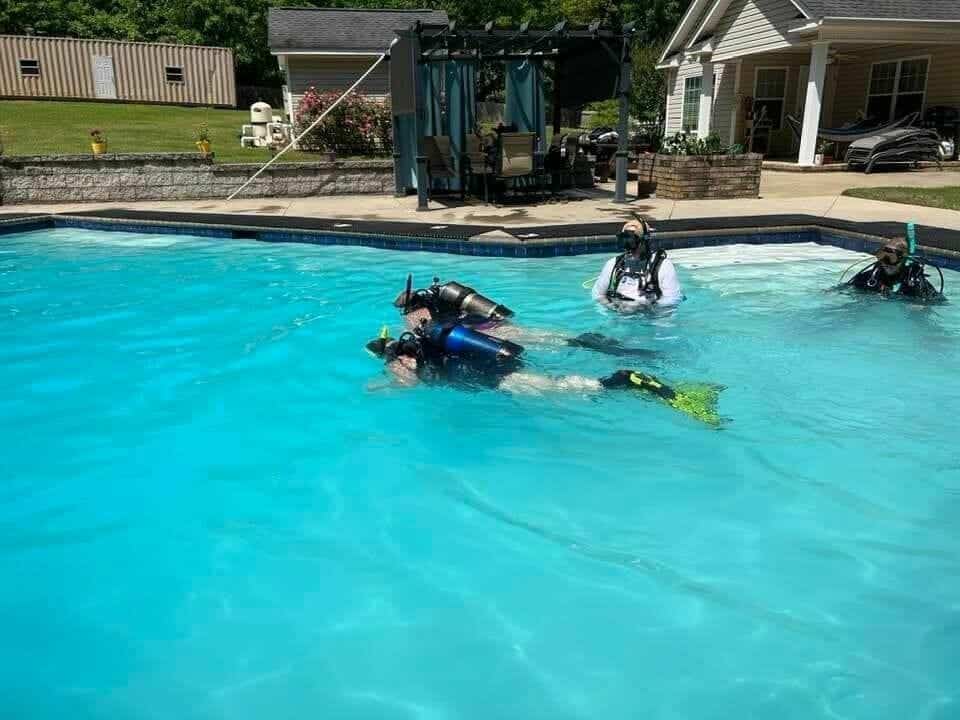 Training typically begins in the pool at Bennett's home in Dearing, and dives are performed in various locations, such as Clarks Hill Lake and the Blue Grotto Dive Resort in Florida. Each class is taught by a certified instructor, and prices vary.
She has had people travel from Alabama, North Carolina, and even California to take classes at Bubbles or Not. They either heard about the business from someone who lives in the area or found the website.
Bennett, who has been diving for 20 years, and her husband, a U.S. Army veteran and experienced diver, were having dinner at a restaurant in Harlem when he mentioned the idea of opening a dive shop.
She agreed it was a good idea to share their passion for diving with others.
"This building happened to be available for rent," Bennett, who was born in the Philippines, said.
She said there's only one other dive shop in the CSRA, and it's located in Augusta. Bennett began diving because of her husband.
"I got tired of hearing about all the things he saw when he came back from diving," she said.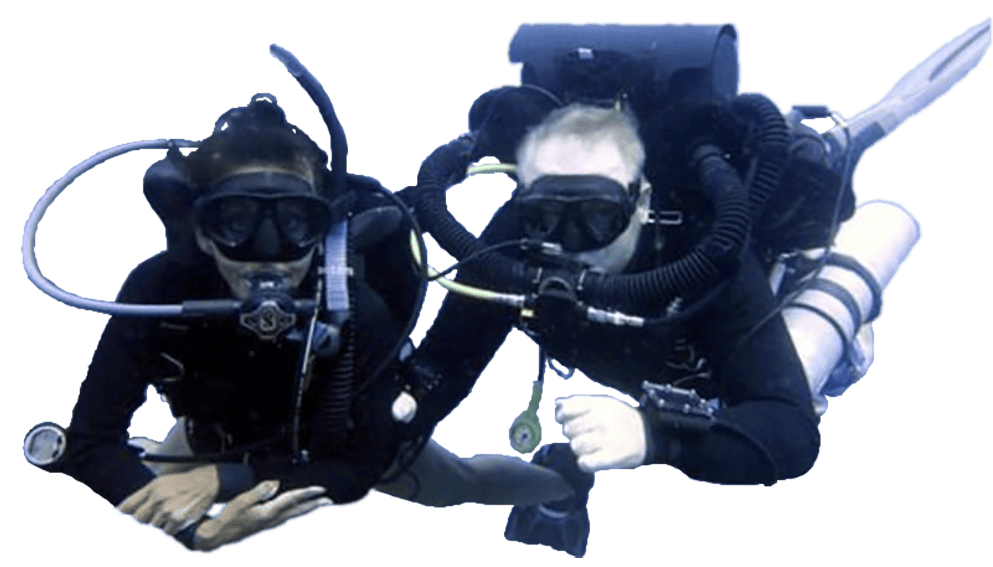 One of the most common obstacles beginning divers must overcome is fear, which prevents some people from completing classes. In those cases, Bennett allows them up to one year to come back and complete the training.
"The anxiety is going to be there," she said. "If you've never been in the water, you don't know what to expect."
For those who complete the training and can't get enough of the sport, Bubbles or Not organizes dive trips to various locations, including the Philippines and Grand Cayman. Bennett takes groups of 10-12 people on these trips.
"Next April, we're going to Belize," she said.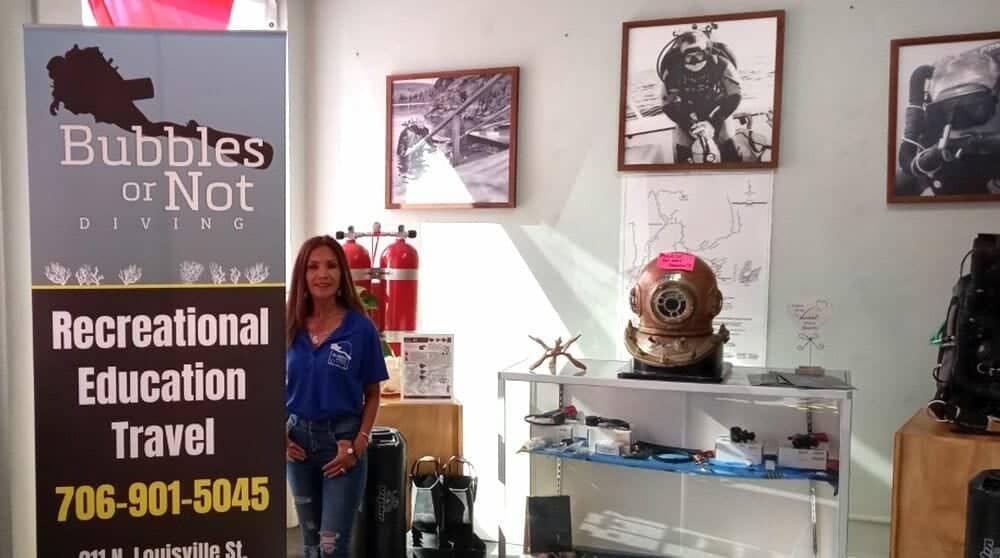 But even those who aren't certified can still go on the trips and have fun. They just can't dive.
Bennett said they have taught people ranging in age from 10 to about 70. Ten and 11-year-olds must dive with a parent or instructor.
James Currence, a 22-year military veteran and one of the instructors at Bubbles or Not, began working at the shop in September 2021. Currence became a certified diver in Savannah in 2019.
He said he's enjoyed many physical benefits from diving, including pain relief. Currence struggles with persistent knee and back pain, but when he dives, the pain goes away, thanks to water pressure. Diving also eases stress.
"I love being in the water; it's the most peaceful thing," Currence said.
He loves being an instructor because it allows him to see people accomplish something they never thought they could.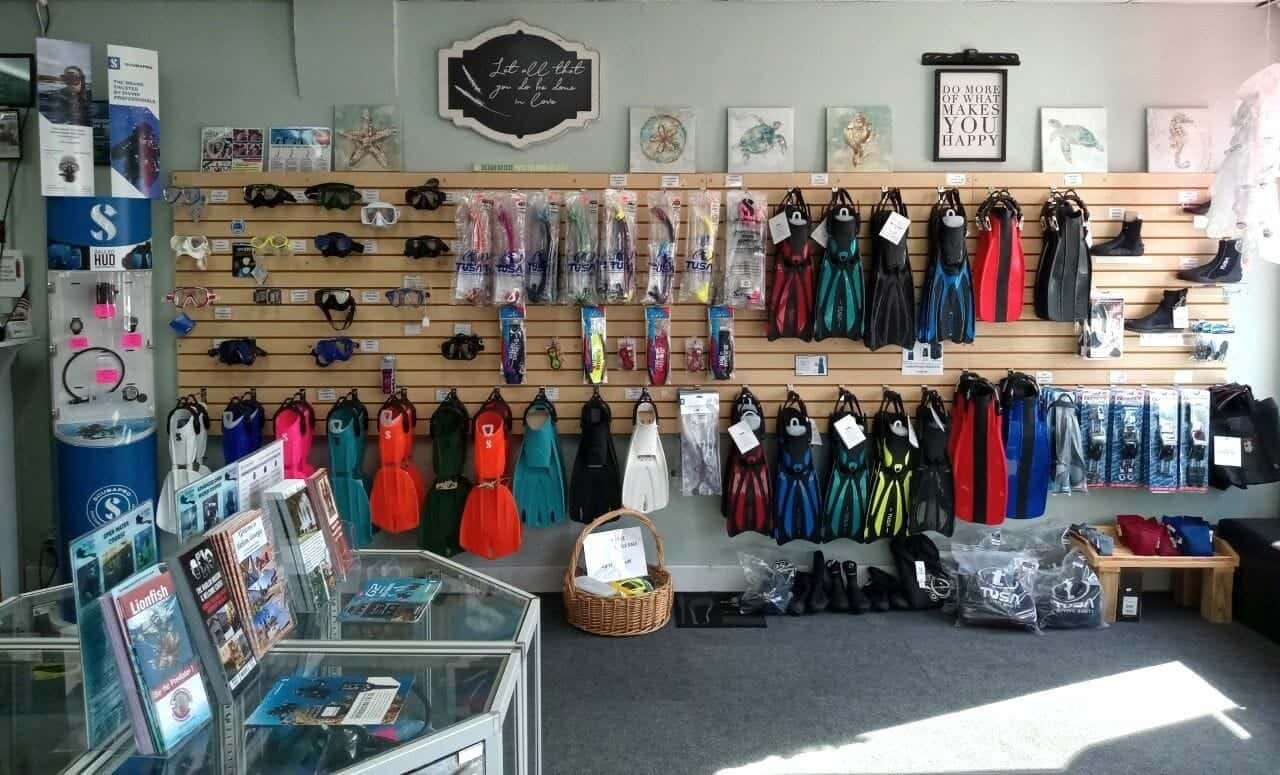 In addition to classes and trips, the shop also sells scuba gear, including masks and fins. Bennett loves meeting divers, regardless of whether they buy items from her.
"We wanted a place where divers can feel at home," she said.
Because many are surprised to find a business like hers in such a small town, Bennett had T-shirts made that say, "Yes, there's a dive shop in Harlem."
Bubbles or Not is open Tuesday through Friday from 11 a.m. to 6 p.m. and Saturday from 10 a.m. to 5 p.m. For more information, visit bubblesornot.com or call 706-901-5045.