Two large retailers are opening new locations in the Mullins Colony Shopping Center, near Belk in Evans.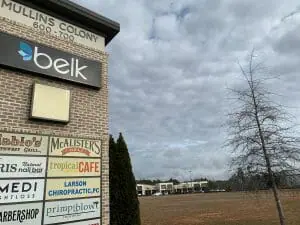 Brazilian Wax and Spa by Claudia (see photo above story) offers a variety of services, including waxing, facials, and Botox treatments. Founded in Charleston in 2007 by Claudia Rissardi, Brazilian Wax and Spa has more than 20 locations in four states: Georgia, South Carolina, Florida, and Pennsylvania. According to the company's website, the company will soon add more locations, including one in Charlotte. Augusta already has one location at 2907 Washington Road in Washington Crossing, which also includes HomeGoods, DSW Designer Shoe Warehouse, and Paris Nails and Spa Augusta.
PlantHouse sells plants, pots, and accessories, such as water bottles and potting kits. The company also offers workshops for both adults and children. PlantHouse was founded in 2018 as PlantBar by Kelle and Elizabeth Ryan and their daughter Bailey. They renamed the company in 2020. "PlantHouse is a terrarium workshop and premium plant store," says Juli Means, director of marketing for Jordan Trotter Commercial Real Estate, LLC. "Individuals or groups can drop by for an adult beverage and plant shopping or participate in a terrarium-creating workshop. PlantHouse currently has six locations in Georgia, South Carolina, North Carolina, and Virginia. Jordan Trotter represents Mullins Colony and has two 1,400-square-foot spaces available for lease in that center.
For more information, visit the companies' websites at brazilianwaxandspabyclaudia.com and planthouse.us.