Maxine
Maxine Emerich has established herself and earned credibility for her Engineered Equine Performance (EEP) business in a short period of time as Aiken's "Horse Business" continues to spread out and diversify.
Aiken was never a "one horse town." For most of the past 130 years, it was primarily a three-horse town: Thoroughbred racehorses, fox hunters and polo "ponies."
Of course, several other horse disciplines began to train here over the years, but it has been in the past 20 years or so that it seems the whole equestrian world is discovering Aiken, its safe and soft, sandy soil and its huge fraternity and especially sorority of like-minded horse-loving devotees.
It is for all of them that Maxine has established her physical therapy business designed for indoor and outdoor therapy along an equestrian dominated stretch of S.C. Highway 302. The centerpiece of her therapy is the only cold saltwater treadmill of its design in the United States. But there's more to see at EEP.
In her education and work experience, Maxine has a Masters in Electromechanical Engineering and a degree in Medical Manufacturing. While she was an engineer at the Savannah River Site, she also worked with veterinarians for 15 years in rehabilitation veterinarian training.
Her methodology works with any horse; one that has been injured or another that is healthy, and their owner wants to improve their performance. "In fact, of my current clients, most of them come here to get more fit. Usually, their owners see that they are not walking in a straight line, which can cause problems, and when that is corrected it lengthens their stride back to their natural motion," said Mrs. Emerich in her unique combined language of engineering and physical therapy speak.
Master
Right on schedule, two groups showed up for training of one form or another.
A delegation from the Ocala, Florida Chamber of Commerce, a city with an even bigger equestrian population than Aiken but is otherwise similar, that included the U.S. representative of the Ocala based Equine Therapy International, Alan Davies, makers of Maxine's unique treadmill. Also along were Louisa Barton and Brett Barnes of the Chamber for a demonstration.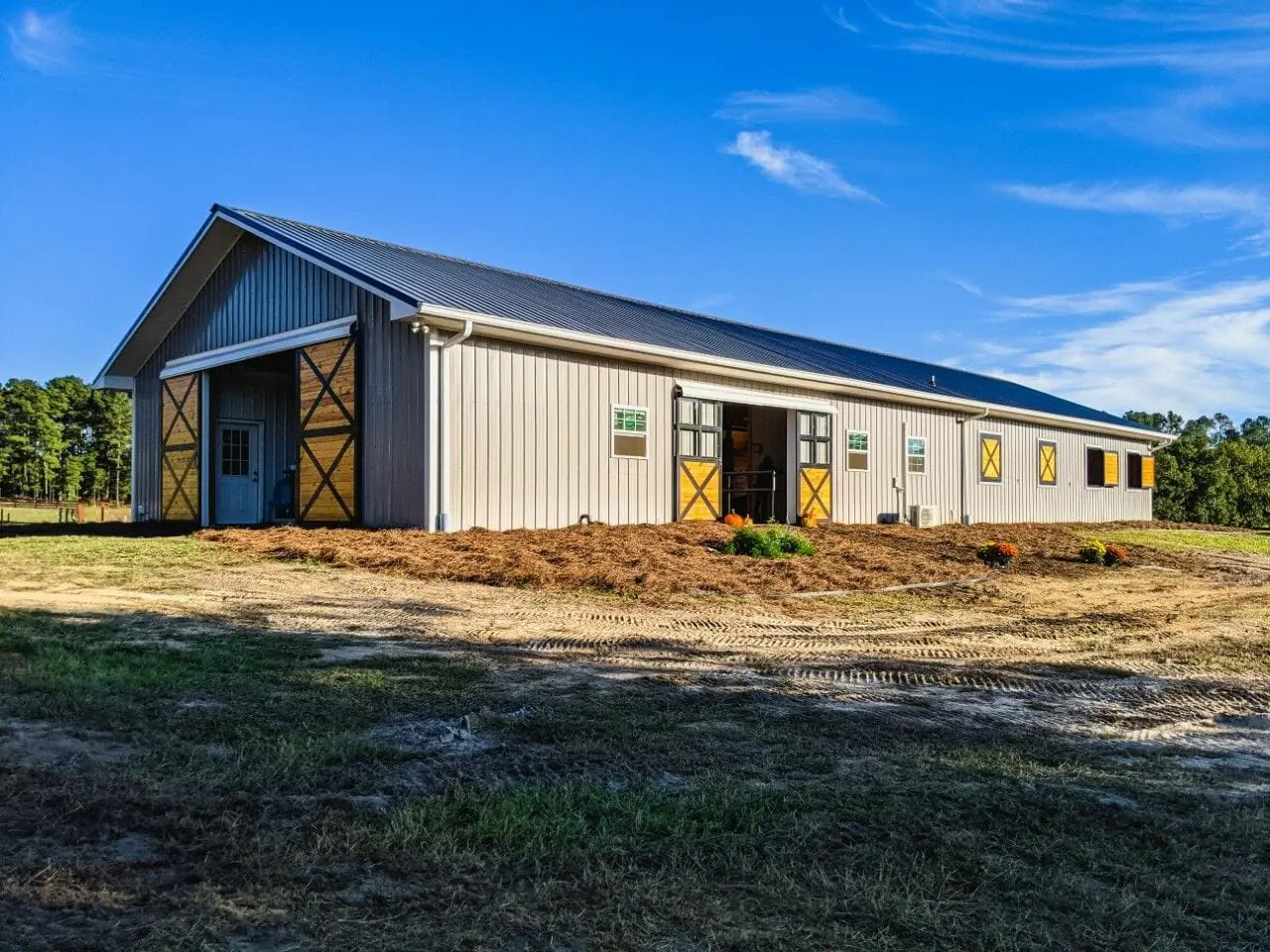 Within a few minutes came two more stars of the show, an off-the-track Thoroughbred named Master and his owner Allison Blood, now living in Aiken. Master, a beautiful black 8-year-old former racehorse, who won $400,000 in his career (and was sired by Quality Road who won eight out of 13 starts and $2,232,830) took calmly to the treadmill as the cold water began to splash around his hoofs. This was his eighth trip to EEP and he walked right into the machine like he owned it.
Ms. Blood was there for exactly the two things that Mrs. Emerich had said she has the most requests. With a perch beside Maxine, elevated above the treadmill, it was easy to see Master's backbone move in a wave as he walked and see it get straighter as the water got deeper, just letting him naturally return to the straight gait he was born with. It will follow naturally from that, as he will take a longer stride and perform better in the field with less chance of injury. When asked, Ms. Blood said she has seen a marked improvement in Master's gait in the past two months. "I don't see it right away from session to session, but after about four sessions, you can easily see the difference and now that he has been here eight times, I am very pleased with his improvement," she said, knowing that Aiken's serious fox hunting season starts on Thanksgiving and Master should have Allison up with the hounds!
The only therapy device of its kind in the country
Using the one of its kind in North America cold saltwater treadmill from Equine Therapy and designed by the renowned German firm Sieman's Engineering, Maxine and her assistant Starr Strother, stand on a platform beside and above Master while they watch him closely and almost continuously alter the horse's challenge. They will raise and lower the grade of the moving ramp he is trying to climb, change the water temperature or velocity and other variables in order to manipulate the muscle groups decided upon before the session. The staff had already mixed Epson salts to a precise formula of parts per million before each horse's lesson. The salts stimulate the horse's lymphatic system and are a natural auto microbiological agent.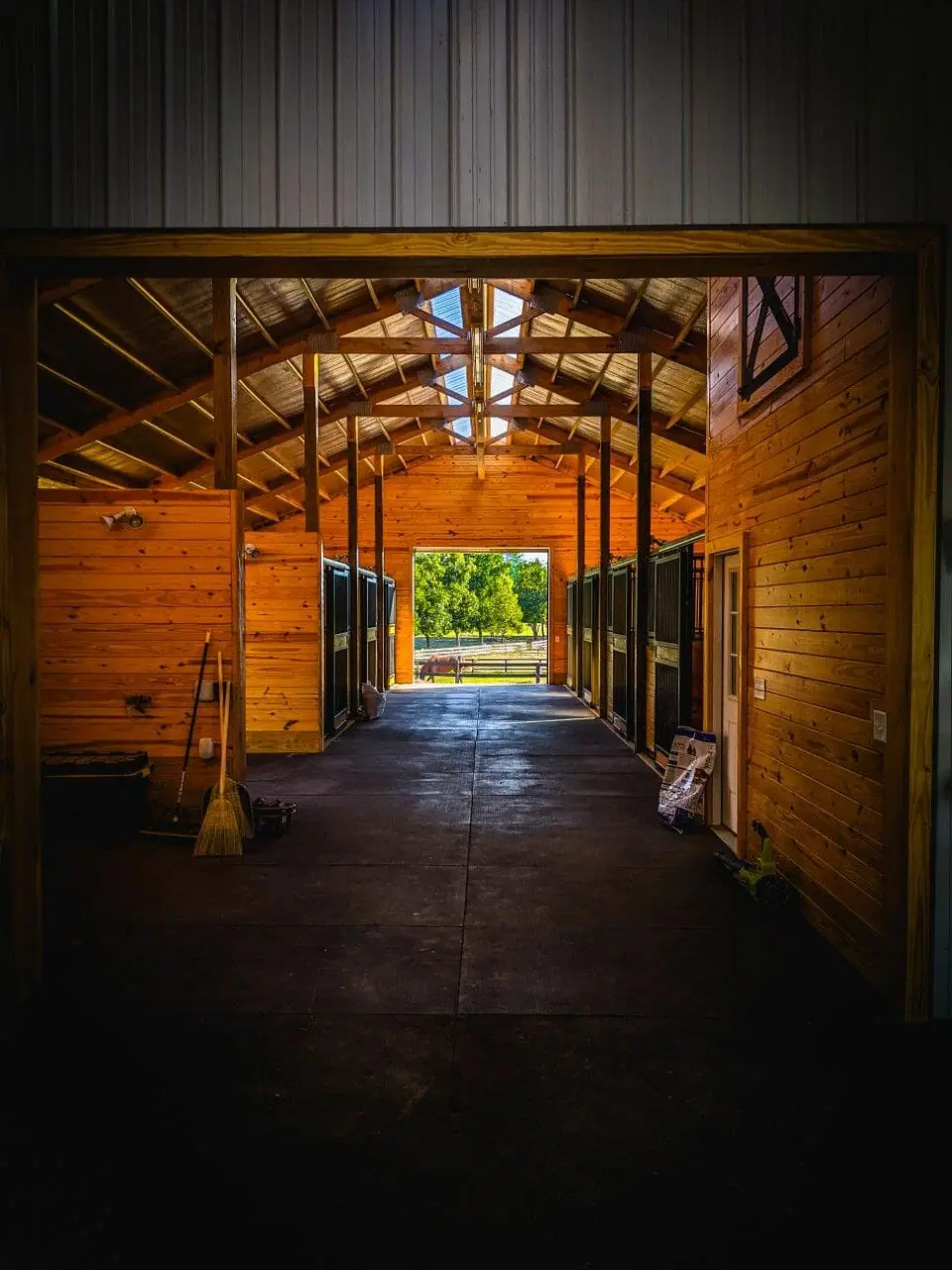 The water is never chlorinated, as some treadmill makers do to combat biological contaminants, but Maxine considers chlorine to be too harsh on a horse's skin and his lungs. The Epson salts take care of that and have the added advantage that they leave the skin slightly tighter, like getting out of the ocean, and that has a cooling effect.
"During these sessions, we keep the small muscles in the legs cold and the large groups in the neck, shoulders, back and hind quarters warm through the active walking. The cold reduces inflammation and is very beneficial for their tendons," she explains.
The treadmill isn't the only cool gadget she puts her four-legged clients through.
She has a floor level platform that is just a bit larger than a horse and has a simple rope line to tell the animal to stay on the platform. Then it vibrates side to side, but after standing on it ourselves, it felt like it was swiftly but gently massaging us from our feet up. Maxine says it has a calming effect on the horses and other medical effects that the others may have understood.
Master left looking calm and happy, and Ms. Blood was certainly happy with the way her big boy is coming along.
The Ocala group was on some semi-secret mission, but Mr. Barnes hinted at a plan to establish regional sites, starting with Ocala, Aiken and Kentucky, to place the cold salt water treadmills for these first three equestrian centers as part of a grander plan.
Rehabilitation, conditioning, and injury prevention
Maxine said that her work focuses on three levels. Conditioning Masters back so that he walks straighter and naturally longer will likely prevent a back injury in him in later years, forcing him into a more-rigorous rehabilitation regimen.
"We work with local area veterinarians and specialists to assess each horse's individual needs with expert quality and care. With all rehabilitation and conditioning services performed under professional guidance, we have the equipment, facilities, and experience to help your horse recover and return to work," she said with her believable candid confidence.
Absent at the session was EEP's No. 2, Kerry Zemlicka, Trainer and K2 Equestrian. She is a certified massage therapist and is formally trained in dressage and has worked with horses of all breeds and disciplines. She is the coach of the USC Aiken equestrian team. "She is a huge help and when the students get here a lot gets done."
Engineered Equine Performance
Maxine Emerich/Kerry Zemlicka
4064 Wagener Road
(803) 646-8754
maxine@engineeredequineperformance.com
https://eepaiken.wpengine.com