For the second time this year, Augusta has welcomed First Lady, Dr. Jill Biden to tout economic growth and workforce development. In July, she visited Augusta Technical College. Wednesday's visit brought her to the Aurubis Richmond, LLC plant under construction in the Augusta Corporate Park.
Biden was first given a tour of several sections of the facility and was briefed by Aurubis COO, Inge Hofkens on what the plant will do when operational. Also on the tour were Aurubis CEO, Roland Harings, Superintendent Kenneth Bradshaw, Richmond County School System (RCSS), Dr. Forest Mahan, President of Aiken Technical College, Dr. Jermaine Whirl, President of Augusta Technical College, and Coryn Marsik, Director of International Investment, Georgia Department of Economic Development.
Following the tour, Biden spoke to the crowd about the administration's efforts to rebuild America's middle class.
"So, what does that mean here in Augusta," she began. "It means that the airport has the resources it needs to renovate. It means that Solvay has the funds it needs to build that new battery materials plant in South Richmond – the one that will inspire the students at Glenn Hills Middle and Cross Creek High and so many others in the area to pursue careers in clean energy. It means Augusta University has the funding it needs so that a student who loves computers has the opportunity to follow her dream and work in cybersecurity."
Augusta is one of five cities designated earlier this year as "Hub Cities." In a fact sheet released by the administration: "The Administration's efforts will focus on preparing and creating pathways for people in Augusta and the surrounding areas to access the good-paying jobs created in the clean energy industry, among others.
"There's a bright, vibrant future ahead of Richmond County. A future filled with hope – one everyone in this room can be a part of," Biden told the crowd, which included students from A.R. Johnson Health Science and Engineering Magnet School and the Reaching Potential Through Manufacturing (RPM) program, a partnership between RCSS and Textron.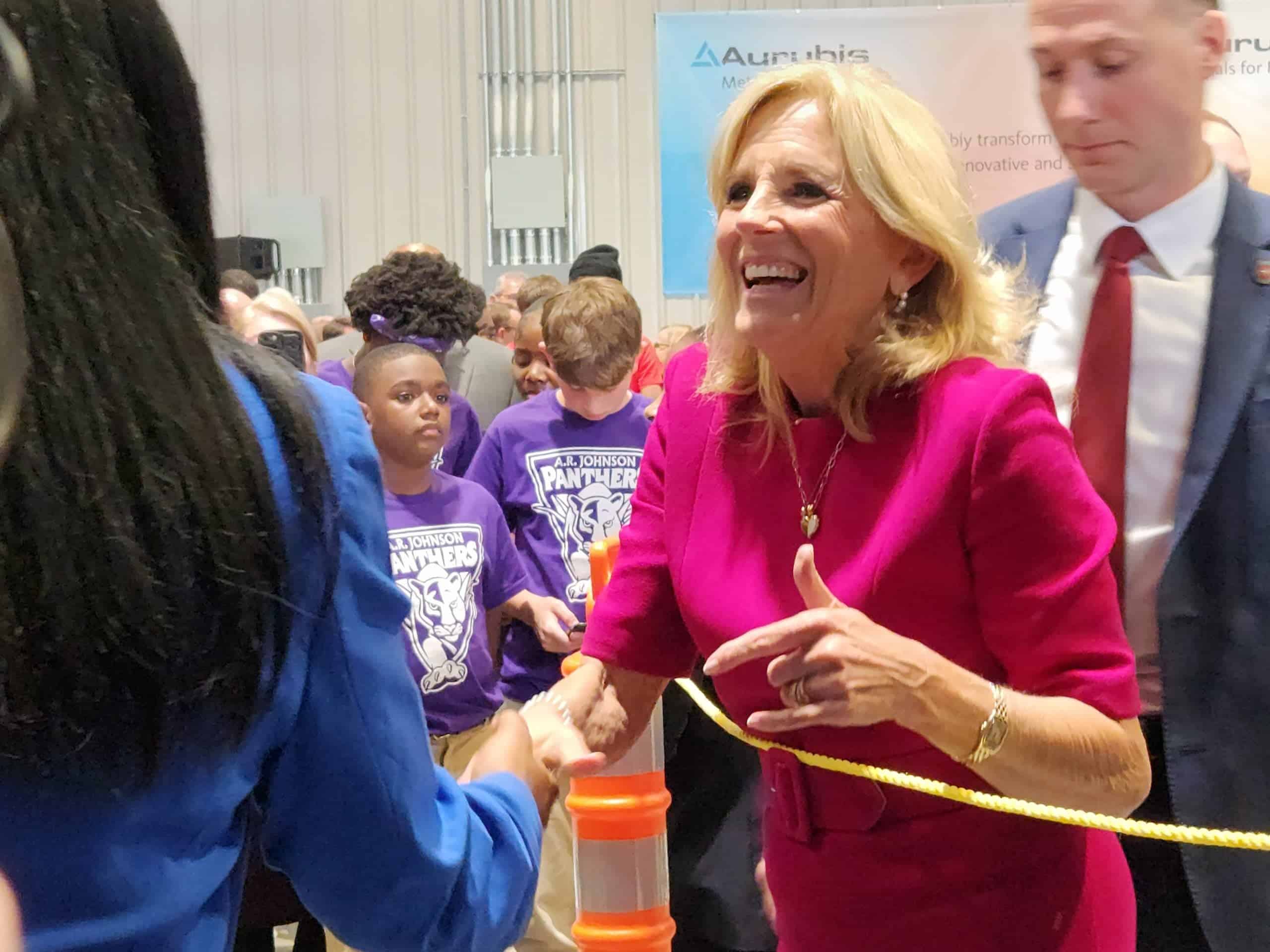 The Aurubis plant will recycle copper, precious metals, and non-ferrous materials nationwide, once it is in operation. That is expected to be early next year, according to a release from the company.
"The world needs metal which can be recycled without loss of quality or performance for cars, mobile phones, batteries, cables, and computers," said Harings. "These are things that we all depend on every day."
While the facility is being built in Richmond County, both Whirl and Mahan told ABD that Augusta's designation as a workforce hub has a regional impact.
"I think today was timely, given all the momentum in the region, to have her come and give a shot in the arm to Augusta saying, 'You all have done a great job. You're a leading community in the nation. And we need to have this as an exemplar for other communities.' I think that's a pretty strong message coming from the White House," said Whirl.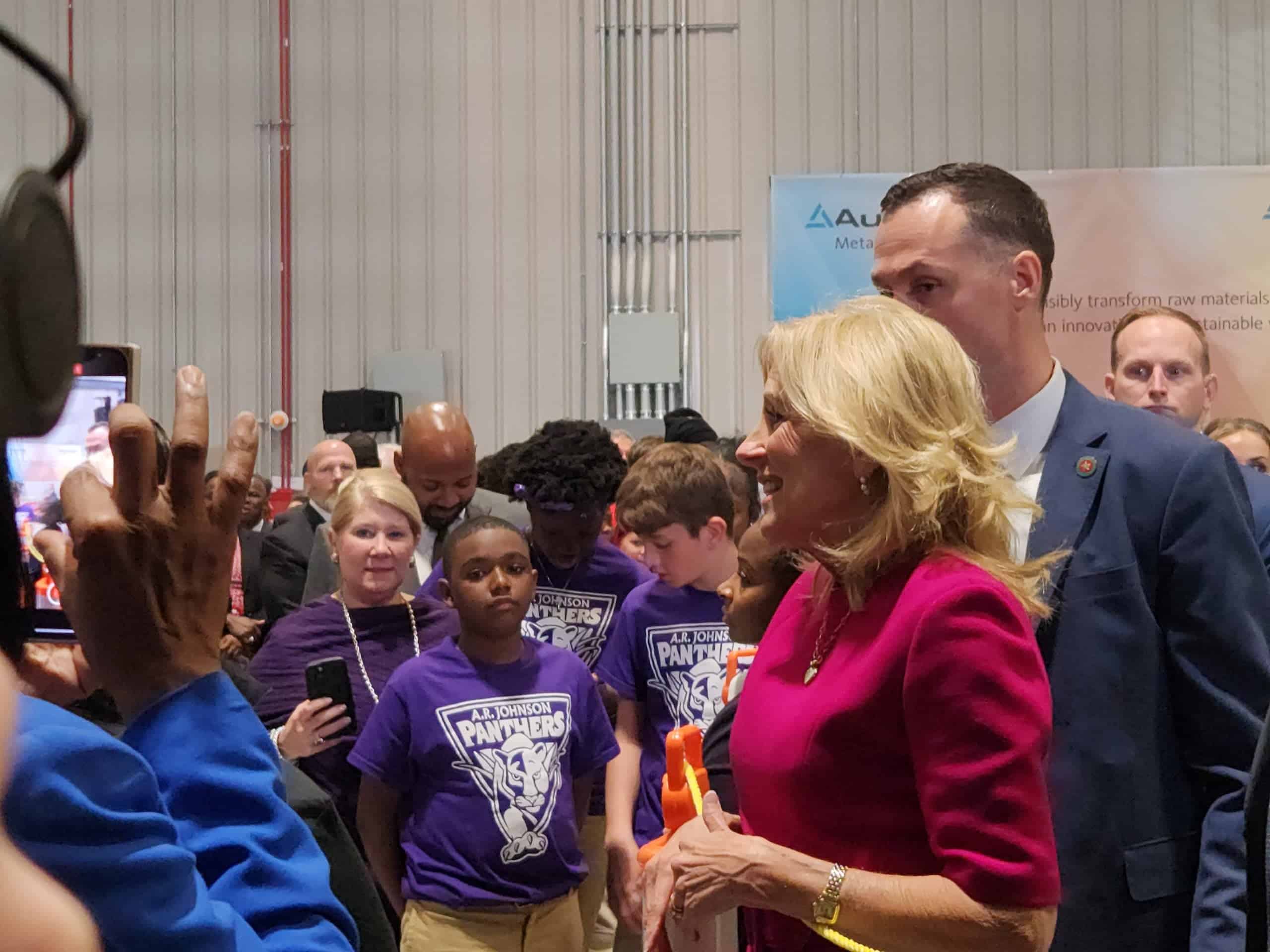 "I think it's important that we understand that workforce development is, for us, part of the regional aspect of helping make sure that we provide those good paying jobs to our local citizens," agreed Mahan. "It's part of the effort, you know, be part of the CSRA. And it goes kind of very much along the lines of what we've already been doing working with the Savannah River Site."
Aurubis says the plant will have the capacity to process up to 90,000 tons of complex metals, including printed circuit boards.
Do you enjoy and benefit from ABD's business news? If so, CLICK HERE to find out ways you can help ABD achieve and expand our mission!