A $2.4 million bequest from the estate of Victor Rattner has created the Lillian P. & Victor Rattner Computer Science Scholarship Endowment. The gift will provide scholarships for in-state and out-of-state students attending the School of Computer and Cyber Sciences at Augusta University.
Rattner first attended the University of North Carolina at Chapel Hills and earned a Bachelor of Arts degree in 1969. He planned to attend graduate school in North Carolina, but a diving accident left him a quadriplegic.
He persevered, enrolling at then Augusta College. He earned a Bachelor of Science degree in 1986 and a Master of Business Administration in 1994. He retired after a successful career in the information technology industry.

Rattner died in 2020 at age 72. He created the endowment to help students with physical disabilities, acknowledging computers gave him the ability to have a successful life. However, Schwarzmann said, while preference will be given to students with disabilities, it is not a requirement. Any student is eligible, based on merits or needs.
"Augusta University is becoming more visible, and we are successful in building educational programs in computing disciplines and Cyber Security Sciences," said Alex Schwarzmann, dean of the School of Computer and Cyber Sciences. "This is a substantial endowment, and it will increase our visibility and hopefully, encourage others to help us build this educational institution that is bound to be a cybersecurity educational hub for the southeast."
Schwarzmann expects about $80,000 in scholarships will be awarded each year. He anticipates individual scholarships will range from $5,000 to $15,000. He said the scholarship can help retain students who might have to drop out due to financial constraints.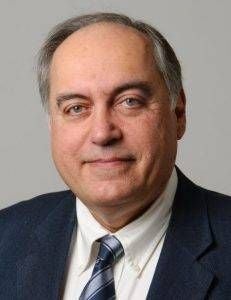 "This is very important for us because we need to work hard to retain our best and overall successful students," he said. "An endowment like this with the substantial scholarships for students will help us retain our successful students, make their experience here focused on research, not on financial issues, and launch them into successful careers."
According to the College Tuition Compare website, the average cost of attendance (COA) of Georgia colleges and universities this year is just over $21,000 for state residents and more than $26,600 for out-of-state students. That includes tuition, fees, books, on-campus room and board, and other living expenses.
Another website, reports the COA at Augusta University for the 2022-2023 academic year is just under $40,000 when a student lives on campus and $40,608 when living off-campus. That includes tuition, fees, book & supplies costs, room & board, and other living expenses.
Criteria for the scholarships can be found at www.augusta.edu/ccs/scholarships.php. Schwarzmann expects the first scholarships from the endowment will be awarded in the 2024-2025 school year. That will allow it to accrue interest on the $2.4 million.
Contributions are also being accepted to the endowment. The information is at www.augusta.edu/giving/gift.php?fund=399005.
Schwarzmann said growth in the School of Computer and Cyber Sciences can help university President, Brooks Keel reach his aspirational goal of "16 by 30," 16,000 students by the 2030 academic year. Schwarzmann said when he joined the university five years ago, the school had 320 students.
"This year, we have about 820 students, so we more than doubled our enrollment. And in the next couple of years, I see us getting into the 1000 territory," he said. Adding students used to be primarily from the metro Augusta area, but the majority of incoming freshmen are from outside the metro.