Editor's Note:
By day, Kevin Jay (see photo above) puts marketing plans together for the remaining privately-owned newspapers across the U.S from his home office in Martinez. He often travels to different cities to work with salespeople to grow their customer base. When he does, he tries to enjoy his passions on the road like good BBQ and Car Shows!
During the holiday months, Kevin hit the road and as always came home to the CSRA with a case of "Road Rash", good sauce and a broken umbrella. This is his story!
I am a car enthusiast. Probably too much. I love looking at cars. All types of cars. I do not discriminate. I do, however, tend to like muscle cars, exotic cars, and high-end luxury cars to ogle over at any random parking lot.
For many years, I've watched the Pebble Beach Concours d'Elegance when televised on TV. Seeing all the old cars in pristine condition as they drive alongside the golf course and surrounding area, really plays at the heartstrings of any car enthusiast. This event is the high bar for any car show. I have always dreamed of one day attending a d'Elegance.
I learned in late summer, I'd be attending the 19th Annual Hilton Head Island Concours d'Elegance and Motoring Festival and writing a column for the Augusta Business Daily.
As a bonus, I would be able to bring a friend, Tony Perrotto, along for the ride.
There are 80 U.S. based Concours events at locations like Amelia Island and Pebble Beach. Hilton Head Island's event attracts some 20,000 attendees from all over the country and overseas.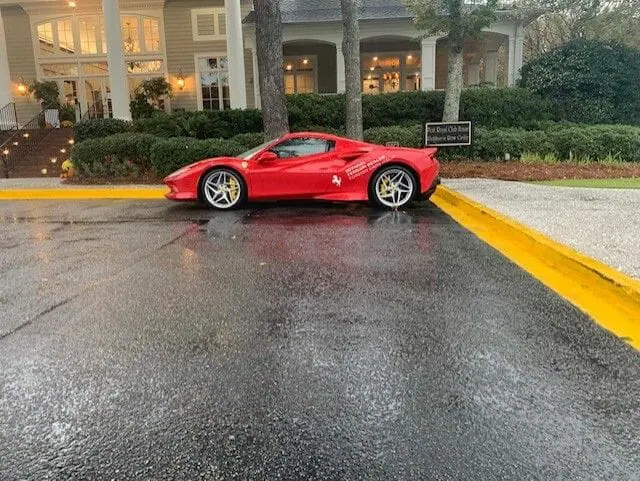 This is a big show, geared just not to car enthusiasts. Many businesspeople are in the crowd. 500 + cars, boats, motorcycles, and aircraft are normally exhibited. Any typical year, Hilton Head Island Concours d'Elegance is a multi day event with a mix of vintage racing in nearby Savannah, Georgia, educational and informative seminars, gala parties, and a dedicated show on Saturday for car clubs to feature their members' cars. The final Sunday concours, which is the main event and the highlight of the weeklong celebration.
Unfortunately, the weather forecast was not looking good for this November weekend. Nothing a few warm layers of clothes, an umbrella and raincoat could not handle, right?
As we drove up Friday evening, the rain never stopped. The wind never stopped. The temperatures dropped into the 40's that night and as we awoke to near freezing temperatures, we bundled up for a great show.
Umbrellas were in high demand Saturday morning at the Port Royal Golf Club. The cold cut through all layers of clothes from a chilling wind. The front stalled off the coast and the rain came down sideways for most of the day. The rain did nothing to deter eager car enthusiasts like us from attending the motor festival, which was back on after COVID-19 canceled it last year. People brought raincoats and thanked the owners of the cars for being "good sports" to demonstrate.
The organizers with their southern hospitality kept everyone informed on the conditions and how it affected exhibits.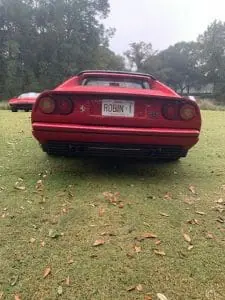 You know what they say about business. "The show must go on". We managed to stay for a few hours dodging the rain from vendor tent to tent listening to their pitches.
We finally gave up and threw in the towel as the afternoon came and we retreated to our hotel and watched a UGA football game.
The choice was clear before we even headed out for dinner what was on the menu, BBQ. Tony and I both share the love of BBQ. We went to school to become certified Kansas City Barbecue Society (KCBS) and Southern BBQ network judges together almost 10 years ago and have judged many contests around Augusta, even the local Papa Joe's Banjo BBQ. That evening we ventured out in the rainstorm and went to a local spot off the island called Choo Choo BBQ located on 129 Burnt Church Rd in Bluffton, SC. The owner was friendly, and the sauce was amazing. We each bought a bottle for the trip back to the CSRA.
On a typical Saturday, there will be over 125 "club" cars as well as vintage aircraft and other displays to visit. Sunday morning usually brings another 125 "show" cars come out. Rain or shine you will need to bring your walking shoes since the event is spread over several holes of the golf course and the clubhouse. The main hotel is the Westin Hilton Head Island Resort and Spa, they provide shuttle service to and from the show. The show itself takes place at the Planters Row Golf course.
As we woke up Sunday and turned on the local weather, the outlook did not favor more time at the show as the rain continued out our window, we decided to play it safe and stay healthy and return to Augusta. As Murphy's Law would have it, the rain stopped, and the sun did make an appearance later that afternoon.
The Hilton Head Island Concours d'Elegance & Motoring Festival is more than a car show; it is an event. Tony and I are looking forward to a return visit next year and seeing the entire weekend's festivities. If you would like more information on the festival for next year, here is the link https://www.hhiconcours.com/. You can also contact Lindsey Harrell, President, at [email protected].