This week, we conclude our series on tracking software by delving into a hot topic right now, hiring. Ever since COVID shut down the workplace in 2020, the hiring process has changed quite a bit. Hiring managers have had to reform to meet the needs of their company. One way that technology can help with the process is by using Applicant Tracking Software (ATS). Like the CRM concept we discussed last week, but specifically geared towards industries and needs of the hiring side of your business. Let me provide you with a real-world example of a local CSRA company who finds that an ATS is an asset to their business.
Jeff Asselin serves as the Recruiting and Training Manager for Busby's Heating and Air Conditioning. Their go-to software is HireThing. He mentions that this is an industry-specific software that captures people's data when they apply, holds resumes, contact info, and your notes so that you can recall previous conversations that you may have had with that person. Should the applicant be hired, the software also connects with payroll and helps with the onboarding process. It is pretty much an all-in-one solution that handles the process from A-Z.
Asselin says, "The value as a recruiter is that we can reference previous conversations that you have had with that particular applicant."

Additional options that Asselin mentions are Workday which you may have seen on television and could be considered the largest provider. Then, Bullhorn is another option if you are in the market for an ATS for your company.
Busby's Heating and Air Conditioning handles installation, service, and maintenance of residential and commercial heating and air conditioning.
Busby's Heating and Air would be a part of the Trade industry. If your business does not fall into that industry, you may be wondering how to find one that fits your needs. The best way I have found to discover the best software for specific business needs is to Google it, but not just any Google search. I look for articles that compare the top-rated ones from independent sources. This information will allow you to narrow your search. Then, you'll need to determine your specific needs, your budget, and identify someone within your company to help with software setup and help with training other employees. Without the proper process in place, you will not get the most out of this convenient software solution.
There you have it folks, now you have some practical insights on how to track applicants in your ATS and customers in your CRM. Look into these and I am sure you will notice the impact it can have on your business in saving you time and money in the long run.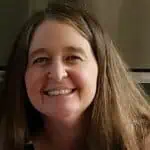 Erin Campbell has worked in and around technology, media, and digital marketing in some aspects throughout her entire career. She loves being able to share that knowledge with you to help you succeed in business and in your career.
If you have ideas for technology in the workplace and how it can help you be more productive, send her an email at erin@augustabusinessdaily.com