While the nursing industry continues to struggle nationwide to hire and retain personnel, other medical fields are also facing challenges. A ceremony at Aiken Technical College on Aug. 11 will provide a measure of relief.
A pinning ceremony was held for 64 graduates of the college's health science programs.  This cohort was for students in the expanded duty dental assisting, medical assisting, medical coding, and surgical technology programs.
"We gather to celebrate not just your accomplishments graduates, but also the profound impact you're poised to make in the fields of healthcare through your dedication to dental assisting, medical, assisting, medical coding, and surgical technology," Aiken Tech President, Forest Mahan told graduates. "Your journey has been one of growth, learning, and resonance, and it is with great pride that we commend you for reaching this significant milestone."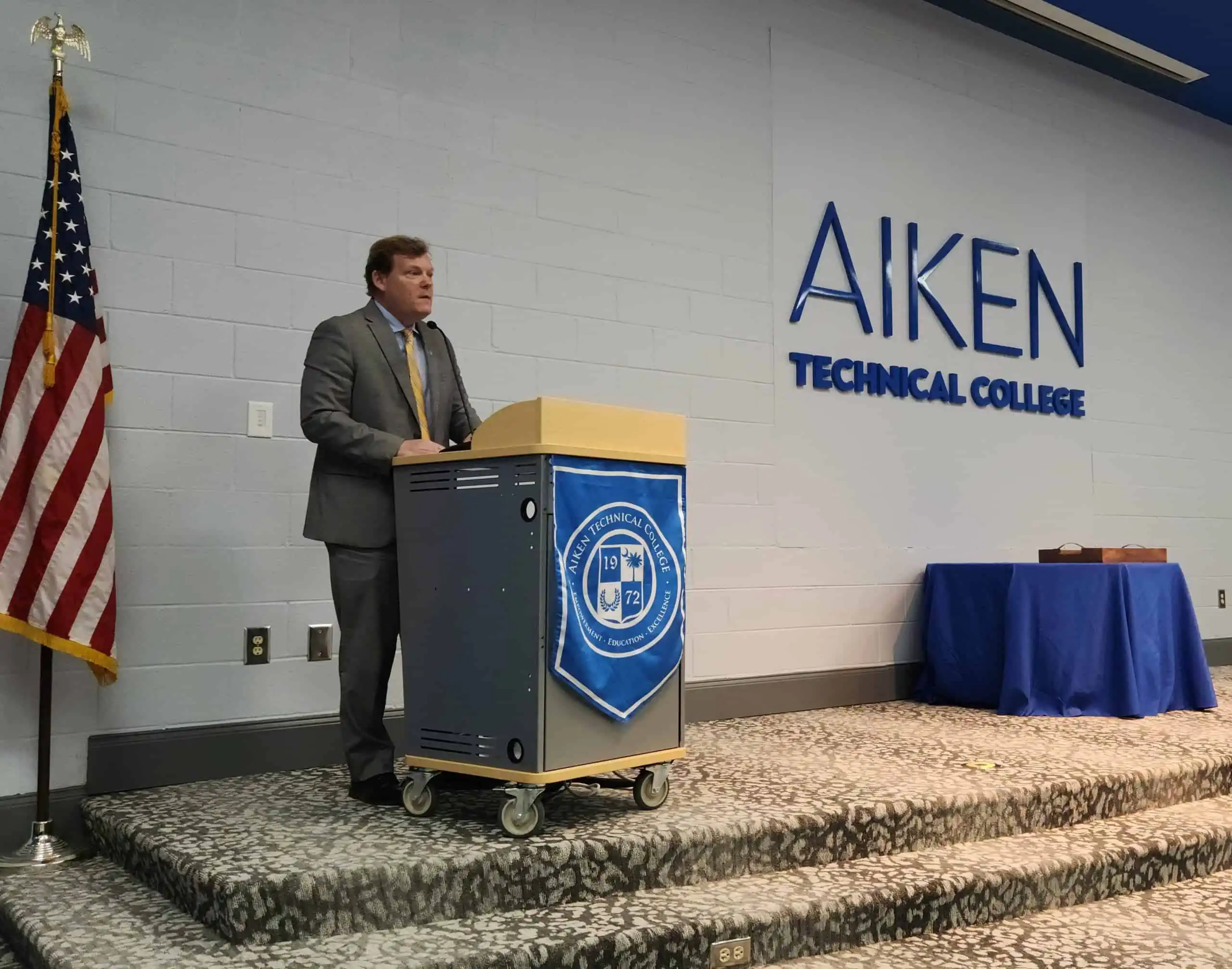 The largest group of graduating students, 29 in all, came from the medical coding program. They are the individuals responsible for preparing reports detailing a patient's medical diagnosis and treatment. Those are then submitted to insurance companies for payments.
The Bureau of Labor Statistics projects there will be 14,900 openings for medical coders every year, between 2021 and 2031. Many of those openings are expected to result from workers who transfer to different occupations or exit the labor force, such as retiring.
An April 2023 report from the American Medical Association shows there is currently a 30% shortage in medical coders.
Brian Logan, Dean of the School of Health Sciences, said those shortages are reflected across all allied healthcare categories.
"We're doing our best to try to get as many folks as we can out there. I get phone calls every day from dental clinics, hospitals, doctors' offices, they're just begging for health care professionals," he said. "We're doing our best to try to get them out there and provide a service to the community. And that's what it's really all about the end of the day is taking care of people and making sure that they're highly trained and ready to go when they leave."
Logan said one thing helping draw new students to the healthcare field is wages have been steadily increasing. BLS said, as of May 2022, the average salary for medical coders in Georgia was just over $47,000 a year. In South Carolina, it was $52,000.
Tessa Abney, who graduated as an expanded duty dental assistant and valedictorian of the class, said it was the right choice for her family and Aiken Tech was the right place.
"It was close to home. I knew that a lot of people got jobs afterwards and it just fit my schedule," she said.
Chad Crumbaker, Vice President of Academic and Student Affairs, said this phase of their training is complete, but urged them to always keep learning.
"The field of healthcare is constantly evolving, and it is through continuous learning that you will remain at the cutting edge of healthcare practice," he said. "I wish you great success in the future. And remember that the possibilities of your career and your future education are only limited by what you've done with what you do with the education you received right here at Aiken Technical College."
He added integrity is the foundation upon which trust is built and always doing what's right will ensure they provide the best care for their patients and families.
Do you enjoy and benefit from ABD's business news? If so, CLICK HERE to find out ways you can help ABD achieve and expand our mission!