Orange Otter Toy Store will celebrate its first year in business with a ribbon cutting with the North Augusta Chamber of Commerce this week.
Customers are invited to celebrate the company's milestone at their location on Aug. 17, from 4 p.m. to 6 p.m. A free board game and Kona Ice will be offered to those in attendance.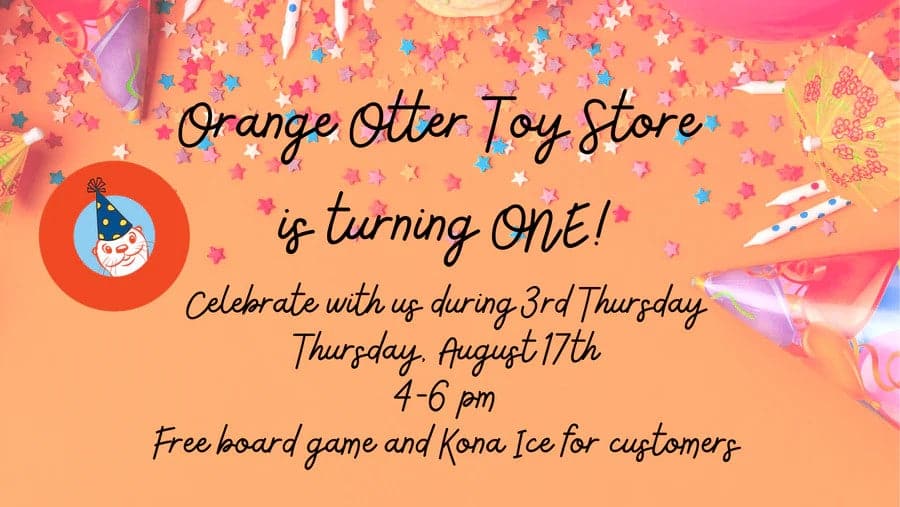 In a statement, Aubrey Hinkson, owner of Orange Otter Toy Store, said, "We created this store with busy parents and families in mind, and we are honored to help folks find unique, special gifts that are sure to make a child's eyes light up. We want the toys purchased from us and the memories made in our store to last a lifetime."
Geared toward children 12 and under, the store sells a variety of toys, games, and books for kids to enjoy.
During the store's time in business, they've served over 5,000 children and their families in the area.
Hinkson said, "We are so thankful for the community's response and support of Orange Otter Toys."
In a press release, the company writes that they hope to offer new toys every quarter and provide in-store services like parties for kids in the year ahead.
Orange Otter Toy Store is open Monday through Saturday at 336 Georgia Avenue Suite 105 in downtown North Augusta, S.C.
Visit www.orangeottertoystore.com for more information.
Do you enjoy and benefit from ABD's business news? If so, CLICK HERE to find out ways you can help ABD achieve and expand our mission!