Augusta University, both the Health Sciences campus and the Summerville campus, are educating the workforce of the future while pumping millions into the state and local economies.
The latest report by the University System of Georgia found Augusta University and AU Health, including the campus in Athens, are responsible for a $2.94 billion economic boost to the Georgia economy in 2022 and employed 21,250 people. Add to that, the $8.6 million and 69 jobs from campuses in Albany, Savannah, Brunswick, Rome, and Dalton.
"Augusta University and AU Health are not only leaders in education, research, and patient care – we are also proud of the economic impact our campuses provide in the Augusta region and throughout Georgia," said Augusta University President, Brooks Keel. "We are grateful for all our students, faculty, and staff who help us fulfill our mission as the state's leading university in health sciences, and cyber sciences and improving the future success of students, and we look forward to continuing to add value to the lives of our fellow Georgians."
Those numbers will certainly grow if Keel is successful with an initiative he launched in 2019 called "16 by 30." It is an ambitious plan to increase AU's enrollment from 9,813 students enrolled in the fall of 2022 to 16,000 students by 2030.
Helping to achieve that goal is the addition of Augusta University Online, which launched in Fall 2023, just one year after it was announced.
"We managed to get it out of the gate, which is, gosh, it's such both a relief and excitement. Because it's pretty rare that we get a whole website and three programs stood up with that kind of speed," Dr. Marc Austin, dean of AU Online, told Augusta Business Daily.
Initially, AU Online will offer a Master of Public Health, a Master of Science in Information Security Management, and a Master of Education in Instruction.
Even the 9,813 students enrolled in 2022 represented growth, a 17.8% increase since 2015 and a 2.2% from fall 2021. That is the second-highest percentage of growth in the university system and one of only eight of the 26 institutions to show growth.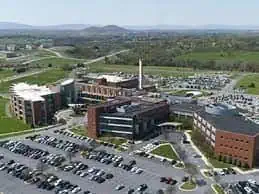 "This is a pivotal time for our university, and that is shown in the continued growth of our student body, the addition of quality academic programs, and the number of successful graduates those programs produce," Keel said.
Overall, the state's universities accounted for a $20.1 billion economic impact in fiscal year 2022, up from the $19.3 billion the year prior. The 2022 figure includes $14.2 billion in spending by students and by personnel and operating expenses for USG's 26 colleges and universities.
It is not just the state and local economies that benefit. The report includes the impact on graduates' earning power. The study found graduates with at least a bachelor's degree will earn over $1 million more throughout their lives.
"USG's 26 public colleges and universities, individually and collectively, make a significant economic impact across the state, helping to put Georgians to work while spending money in local communities and helping their regional economies support Georgia's growth," USG Chancellor, Sonny Perdue said. "At the same time, our graduates are the real winners with this million-dollar deal. We're focused on continuing to help all our students be successful as they use their degrees to prepare themselves for their future prosperity."
The full USG report is available at https://www.usg.edu/news/release/university_system_of_georgias_economic_impact_grows_to_20.1_billion_as_graduates_earn_1_million_more_with_their_college_degrees
Augusta Technical College is also a driving force in the Augusta area economy. A study by Dr. Greg Course, founder and director of the Center for Economic Analysis at Middle Georgia State University's School of Business, determined Augusta Tech generated an annual economic impact of more than $58.6 million in 2021. The study went on to project the college will generate more than $320 million over the next five years, adjusted for inflation.
Part of that, $24.5 million, comes from the college's 399 employees, plus an additional 115 jobs in the local economy.
"The numbers alone only represent our direct impact on employment and spending activity. We are most proud of our 87% graduate placement rate in-field, and that 94% of our graduates come from the CSRA and 96% stay after graduation," said college president, Dr. Jermaine Whirl. "Our graduates are business managers, corporate executives, entrepreneurs, healthcare professionals, information technology experts, public service leaders, and skilled tradesmen and women. With our new strategic plan in place, we look to exponentially grow our impact throughout the region for years to come."
The full report is available on the college's webpage:
https://www.augustatech.edu/skins/userfiles/files/EIS/Augusta-Technical-College-EIS-May-12-2021.pdf
Do you enjoy and benefit from ABD's business news? If so, CLICK HERE to find out ways you can help ABD achieve and expand our mission!