For Michelle Rutter, COVID-19 turned out to be a blessing in disguise.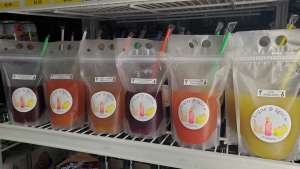 Before the pandemic, Rutter was working three bartending jobs. Within 24 hours she was laid off from all three, due to the pandemic. Stuck at home, the experienced bartender came up with her own business concept in April 2020, and Sugar and Spice Cocktail Mixers LLC was born. Rutter began by creating margarita mixers for her neighbors and then decided to advertise her products on Facebook.
"My husband told me, 'If you do this, our lives will never be the same,'" says the Akron, Ohio native.
He was right.
In addition to her full-time bartending job at Champions Retreat in Evans, she serves her mixers with or without alcohol at various events, including weddings, parties, and the Evans Market. "I just did a birthday party a couple months ago," Rutter states. Local businesses, such as AR Workshop Evans and A&M Beverage Company – a liquor store in Grovetown – also sell her products.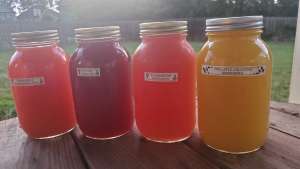 Her mixers come in a variety of unique flavor combinations, such as basil blueberry lemonade, blackberry hibiscus mojito, and peach ginger margarita.
Rutter sells mixers in 32-oz. heat-sealed jars for $15.99 and pouches for about $8. Rutter also provides bartending services at events, such as weddings, and offers some of her mixers as drink options.
Renee – executive director of a local nonprofit – sampled a  few flavors for future fundraisers. First, Renee tried a blackberry hibiscus mojito with vodka. "I love this one. It's so light and fruity," she states. "You can't taste the alcohol, and there's no aftertaste." Renee also tasted the strawberry mango margarita with, of course, tequila. "It's a good drink for tequila lovers," she adds.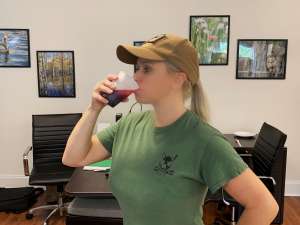 Rutter rents the kitchen at the Elks Lodge behind Edgar's Grille in Augusta to create her concoctions. While Rutter loves what she does, running the business can be challenging, especially with a full-time job. "Sometimes it can be hard juggling, but my job is supportive of my business," she explains. For example, her employer gives her time off when she needs it. Creating and packaging her mixers can be time-consuming processes. "Production is a challenge," and so is marketing, Rutter adds. She is currently working with Alison South Marketing to promote her business, manage her social media sites, and create a webpage. Despite the challenges, Rutter is pleased with the fruits of her labor. "These last couple months have been wild," she says.
Rutter was recently a vendor at one of Columbia County's Food Truck Fridays events and had so many customers, she nearly ran out of her products.
Her advice for potential business owners is "Just jump in with both feet. Don't overthink it." Rutter developed her business concept at home in about four hours. "I didn't have time to have a lot of doubts," she says. For Rutter, the benefits of owning Sugar and Spice have included more than financial gain. "It definitely brought me out of my COVID funk," she adds.
To order Rutter's cocktail mixers, contact her on Facebook or Instagram. You can also email her at sscmixers@gmail.com.