At times, business owners must confront trespassers, but alleged incidents involving a local man have forced Laurie Pratt to take additional steps to protect her business and staff.
Pratt – owner of Serenity Massage & Wellness Spa LLC located at 3406 Middleton Drive in Augusta – attended a court hearing in Richmond County on Friday, Jan. 14 to request an order of protection against Scott Bowden (see photo above story) of Augusta. She says Bowden first visited Serenity on Dec. 8. "He came in and made an appointment for the next day," but he didn't show up for that appointment, explains Pratt, who lives in North Carolina.
She later found out about an alleged incident at Tuscany, A Classic Italian Spa in Evans. In that incident, Bowden was accused of grabbing a massage therapist, who is also his ex-wife. Leigh Ann Keels – co-owner of Tuscany – informed him he was no longer allowed on the property, but he returned to the business about half an hour later. "He tried to make another appointment," Pratt states. Keels also requested an order of protection against Bowden. At the initial hearing, she was granted a temporary order. The judge granted her a 12-month order of protection at the second hearing. He was then accused of violating that order and arrested.
Bowden returned to Serenity on Thursday, Jan. 6 to schedule another appointment. Pratt says her staff didn't recognize him this time because he had changed his appearance. In December, Bowden had longer hair and didn't wear glasses, but he now had much shorter hair and wore glasses. Her staff scheduled him for a 4 p.m. appointment the next day.
When she discovered who Bowden was, Pratt tried to contact him to let him know his appointment was canceled, and he wasn't welcome at the spa. He had given the wrong phone number, so she sent him a Facebook message. Pratt asked her staff to let her know if Bowden came back. The next day, he returned at 2 p.m. – two hours earlier than his scheduled appointment. She was notified by her staff that Bowden was back. "As the owner, I wanted to deal with it," Pratt explains. She called the police, filed a report, and hoped it was the last she would hear of him. But Bowden had other plans. On Saturday, Jan. 8, Pratt received another call from her staff because he was back again. She let them know to keep him there until the police arrived. A deputy came to take a report, and Bowden became angry at Pratt. He left and was arrested again the same day because he was accused of aggravated stalking. She doesn't know if that arrest was based on the police report she filed, or if there was yet another case against him.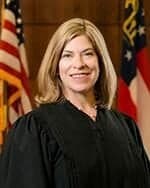 In the hearing, Pratt requested the order of protection from Superior Court Judge Ashley Wright, who granted a temporary order and scheduled a second hearing on Jan. 28. Bowden was in jail and didn't appear in court. The order states he's prohibited from coming within 500 yards of her, her business, or her daughter because she stays with her when she comes to Augusta. "It's kind of scary," she adds. "It could have been worse than it turned out."
A 2019 article from the Small Business Chronicle discussed the legal rights of business owners to ban people from visiting their businesses. "Businesses are within their right to establish their own rules for admitting or banning people from the property," the article states. "State statutes define 'defiant trespass' as someone entering or staying in a place where he has been told not to enter or has been ordered to leave."